Germany: Public Condemns China's Live Organ Harvesting
September 16, 2018 | By a Falun Gong practitioner in Germany
(Minghui.org) Falun Gong practitioners introduce Falun Gong to the residents and tourists in front of the famous Brandenburgplatz in the German capital every Saturday. They also expose the Chinese Communist Party's (CCP) brutal persecution of Falun Gong and the CCP state-sanctioned live organ harvesting from Falun Gong practitioners.
The practitioners held an activity on Paris Square near the Brandenburg Gate on September 8, 2018 to raise awareness of the CCP's live organ harvesting.
There were two signature petitions on the table, to be submitted to the federal parliament, which call for stopping the CCP's organ harvesting. Many passersby signed the petition, hoping to help stop the persecution as soon as possible.
Some tourists and passersby saw the large banner from a distance and walked to the stand. They carefully read the contents of the petition and signed the form.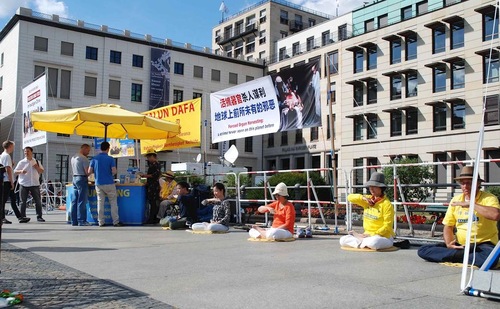 Event venue.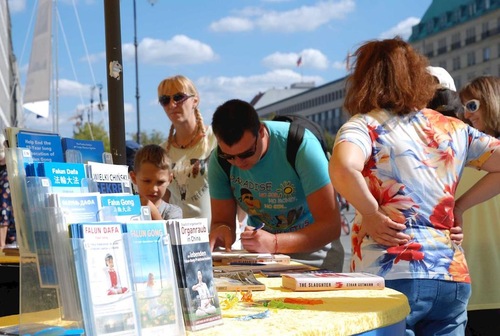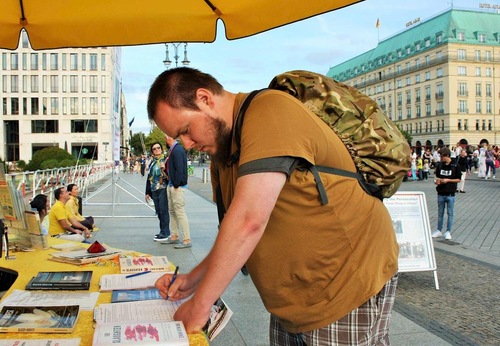 Passersby signed the petition calling for stopping the CCP's persecution.
After signing the petition, Joe Garen said that it was a terrible thing for Falun Gong practitioners to be tortured by the CCP and even subjected to live organ harvesting, just because of their healthy lifestyle.
Daniela Koehler said she opposed the torture and organ trafficking. She still remembered cases of persecution in East Germany under the control of the Communist Party thirty years ago. "I think this is very bad," she said. She signed the petition to help Falun Gong practitioners.
Christa also came to the stand and signed the petition. She said, "What is happening in China is actually known to many people here. It only needs to be further publicized." Krista said that she hopes her signature will make a difference in stopping the persecution.
Some tourists also learned about the characteristics of Falun Gong, how to practice it, and the benefits. Falun Gong practitioners shared their own experiences and distributed flyers with information about practice sites in Berlin.