Falun Gong Practitioners Celebrate Moon Festival in Manhattan's Chinatown
September 10, 2018 | By a Falun Gong practitioner in New York
(Minghui.org) In celebration of the upcoming Moon Festival, also known as the Mid-Autumn Festival, Falun Gong practitioners in New York City staged a variety of performances in Manhattan's Chinatown on September 2, showcasing traditional Chinese art forms. Practitioners offered dragon and lion dances, performances by the Tian Guo Marching Band, waist drummers, Chinese music, martial arts and calligraphy demonstrations, and demonstrations of the Falun Gong exercises.
The Mid-Autumn Festival is China's traditional harvest-time festival and one of the most important family celebrations for Chinese people throughout the world. This year, the festival falls on September 24.
New York City Councilwoman Margaret Chin wrote in her congratulatory letter for the event, "I would also like to send my heartfelt thanks to all the practitioners of Falun Gong for promoting a Chinese spiritual practice that combines meditation and qigong exercises with a philosophy that is centered on truth, compassion, and tolerance."
The festivities took place in Sara D. Roosevelt Park on Manhattan's Lower East Side.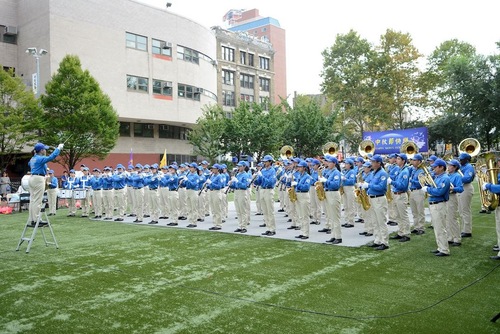 The Tian Guo Marching Band performs for the Chinese community in Manhattan.
The dragon was a big draw for children.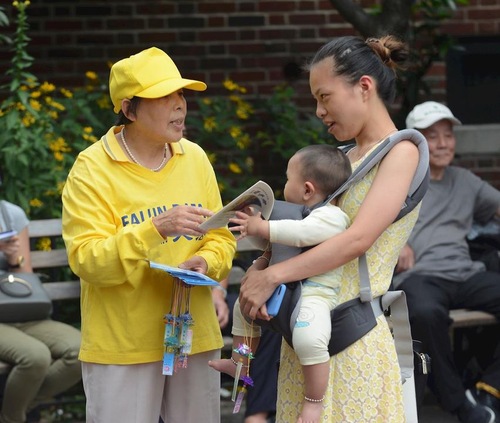 A local resident chats with a Falun Gong practitioner.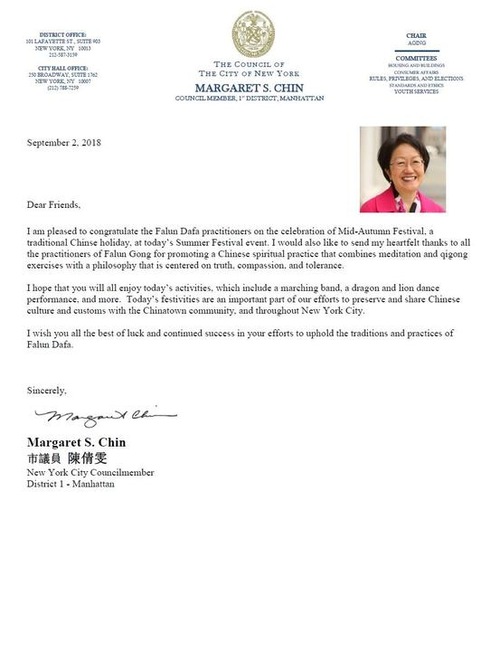 Congratulatory letter from Ms. Margaret Chin, Councilwoman for the 1st District of New York City.
Gu Huachi, former chief of a police department in Guangdong Province, China, watched the Chinese martial arts performance. He noted the performers' smooth flow between movements and commented that a female performer demonstrated "strong fists" and was both powerful and entertaining to watch. He also remarked that a Taichi performer looked like a beautiful Chinese painting as he moved softly and steadily with the flow of the elegant background music.
Mr. Chen has lived in Manhattan's Chinatown for over a decade. He said, "Very rich and interesting performances! I wish you could be here every week!" A mother who brought her children to the celebration said with a smile, "My kids have been counting down to this event since yesterday. We were also able to take part in the balloon blowing competition. We had a great time!"
Many tourists enjoyed the event as well. Charlotte from Belgium said that the performances were beautiful. Colleen from Ohio was also delighted to come upon the Moon Festival celebration. Another visitor, Ruth, exclaimed, "I love this! Everyone looks so happy. The performers are very passionate about what they do!"