East Meets West in San Diego Fourth of July Celebration
July 09, 2018 | By Falun Gong practitioners in San Diego
(Minghui.org) Falun Gong practitioners in San Diego participated in the largest Fourth of July celebration in the area: the nationally-renowned Coronado Independence Day Parade. As the only group representing Oriental culture, Falun Gong (also called Falun Dafa) practitioners shared the peace and beauty of this cultivation practice from China with the local community.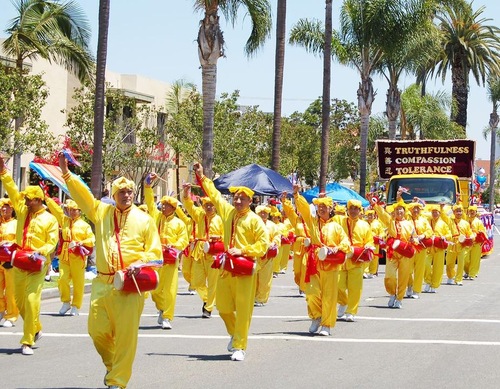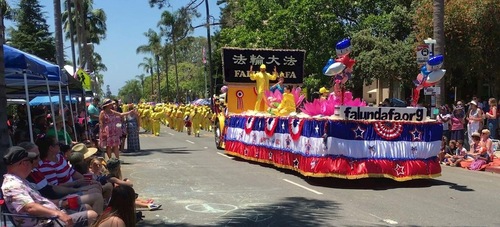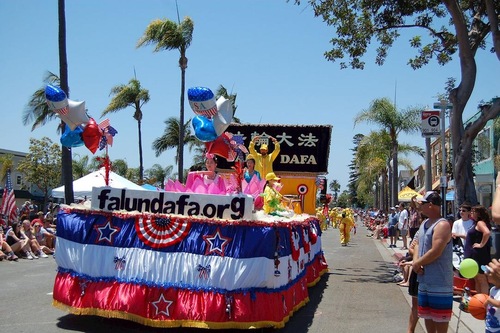 Falun Gong practitioners at the Coronado Independence Day parade in San Diego.
This year marked the 70th anniversary for the Coronado parade. Practitioners have made participation in this event an annual tradition for over a decade. Their procession included banners, waist drum performers, and a float. The bright yellow of the waist drummers' outfits added a hue of diversity to the joyful celebration of the red, white, and blue.
Dave Szymanski, long-time chairman of the Coronado Fourth of July Parade and President of the Fourth of July Committee, commended the Falun Gong procession as a very beautiful group. He thanked the practitioners for taking part in the parade and for their dedication to the local community.
Cesar and Ana Toscano really enjoyed the Falun Gong group – so much so that they followed the group on bicycles from the start to the end of the parade. They also had their picture taken with the float and practitioners. Mr. and Mrs. Toscano pressed their palms together as they did so, in a traditional gesture of respect.
Mr. Toscano shared that the couple followed the Falun Gong procession because they so appreciated the practitioners' music, energy, and passion. "They brought peace and harmony to the community – we are thankful," he said.
Mrs. Toscano said that the message about Truthfulness-Compassion-Forbearance on the banner was a very beautiful message that she deeply appreciated.
Paula Miller from San Diego shared that she was attracted by the exercise demonstrations on the float as well as the waist drum music and bright costumes. She added that she was going read more about Falun Gong on the Internet.
Two tourists from mainland China also took in the parade. Scheduled to leave for China the next day, they were happy about the opportunity to experience an Independence Day parade. They commented on the freedom in America and gave a thumbs up to the Falun Gong procession.
Several practitioners noted that spectators pressed their palms together as they passed by and called out "Falun Dafa!" to show their respect and support.