The People of Michigan Resonate to "The World Needs Truthfulness, Compassion, Tolerance"
July 09, 2018 | By a Falun Dafa practitioner in Michigan
(Minghui.org) "We will always remember this unique and beautiful Falun Dafa procession."
"This world absolutely needs Truthfulness, Compassion, and Tolerance. I have heard of Falun Dafa and now I want to learn the practice."
These heartfelt words were spoken to Jeanmarie Lunsford, a Falun Dafa practitioner, by spectators at the Fourth of July Independence Day Parade in Ann Arbor, Michigan.
The annual independence day parade is organized by the Ann Arbor Jaycees and this year, there were more than 100 participating groups. An estimated 10,000 spectators viewed the parade.
Ann Arbor, established 195 years ago, is a well-known university town – home of the University of Michigan, with a friendly culture and an excellent public school system.
In recent years, more Chinese students have enrolled at the university and more Chinese Americans have moved to the city for its public schools.
The Falun Dafa Association of Michigan was once again invited to be a part of the 2018 celebration, as they have for a number of years. The 2018 Falun Dafa contingent included a large float decorated with lotus flowers, Falun Dafa exercise demonstrations, and a Tang drums performance.
As the parade moved along Main Street, spectators clapped to the rhythm of the melody "Falun Dafa Is Good." Many Chinese spectators took photos and video footage and many were pleased to accept Falun Dafa fliers.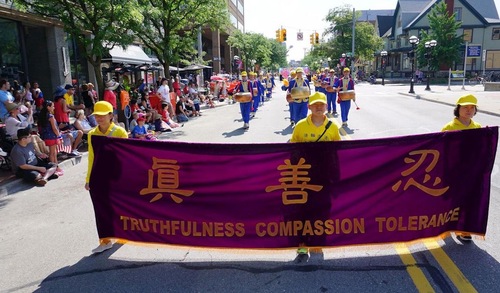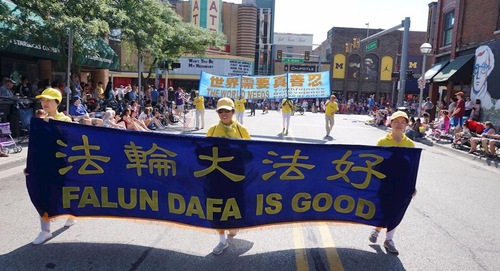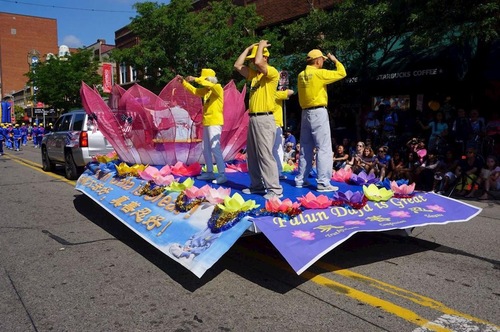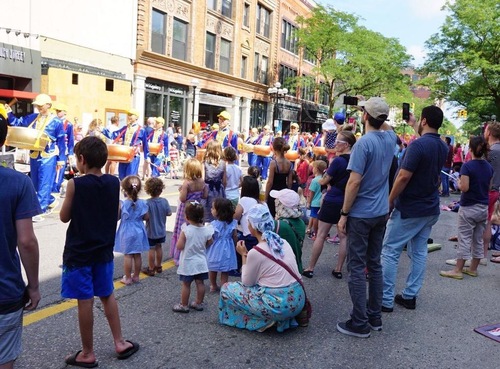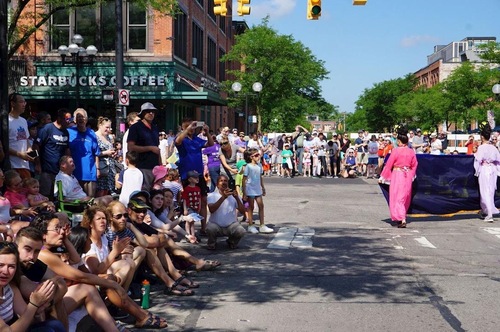 Falun Dafa practitioners take part in the annual Ann Arbor Independence Day Parade.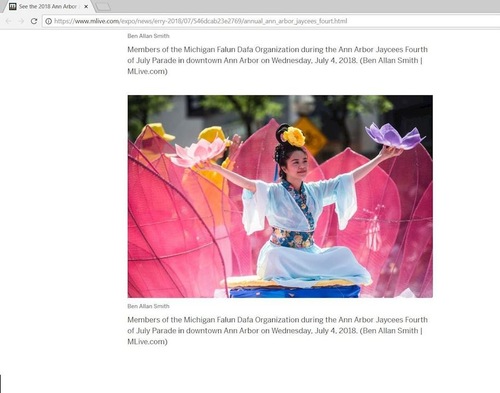 Local media Mlive posted a photo of the Falun Dafa group in the parade.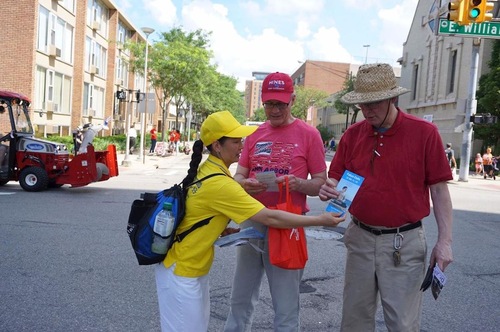 Republican candidate for Michigan Governor, Dr. Jim Hines (middle) commented, "Our constitution protects the freedom of religion. People need to know what is good and what is bad. This is a war between truth and the others. Understanding and tolerance are very important, especially, the discussion and promotion of Truthfulness Compassion and Tolerance is very important."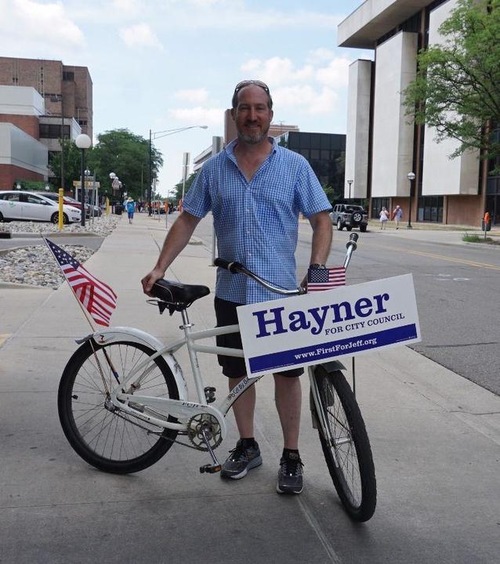 Ann Arbor City Council Member candidate Mr. Jeff Hayner remarked that Falun Dafa practitioners had the right to pursue their beliefs, practice cultivation and improve their lives. "I support Congress' resolution condemning [the Chinese regime's] forced organ harvesting [of prisoners of conscience]."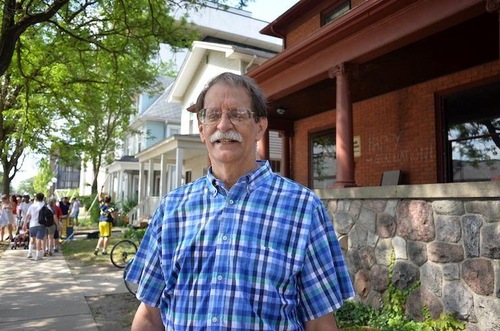 Ann Arbor mayoral candidate Mr. Jack Eaton commented, "The Chinese Communist Party has a horrible record in human rights violations, especially toward religious groups. I believe our government can do more about human rights in China."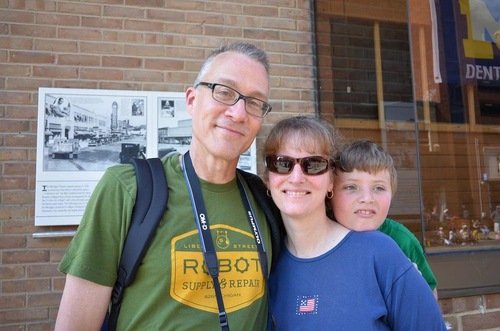 Todd Sherwood said, "I am very happy to see Falun Dafa in this parade." Kathy Sherwood remarked, "'The world needs Truthfulness Compassion, Tolerance' is a very good message."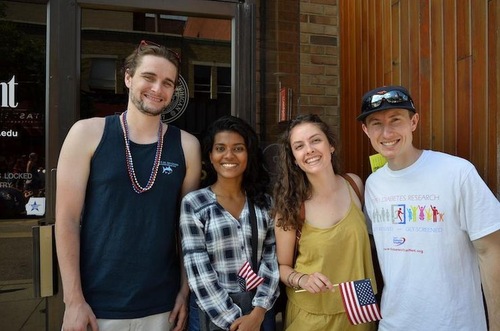 Malavika Venn, a visiting computer biologist at the University of Michigan Medical School, said that the Falun Dafa procession was very beautiful. "I enjoyed them very much. Also, the banner 'The world needs Truthfulness, Compassion, Tolerance' is very good. I am still thinking about this message."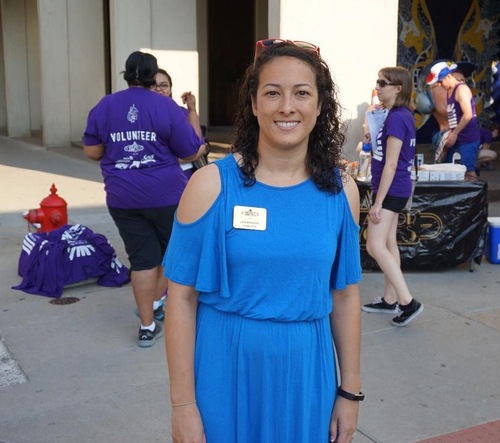 Lisa Bradley, one of the parade organizers, said that the Falun Dafa group is most welcome to participate again next year. "We like a diverse culture, different types of groups. They bring new factors to our community. We hope that Falun Dafa will join us again to promote their messages of compassion and tolerance. This is important to Americans and to other groups of immigrants."