Regensburg, Germany: Children and Parents Experience Falun Gong at Kinderbürgerfest
July 09, 2018 | By a Falun Dafa practitioner in Germany
(Minghui.org) The Children Citizens Festival (Kinderbürgerfest) celebrated its 90th anniversary on July 1, 2018. This year, the event was held in Stadtpark in Regensburg.
Falun Gong (also called Falun Dafa) was invited to the event for the 3rd consecutive year. The practitioners taught children and parents the Falun Gong exercises, how to make paper lotus flowers and Chinese calligraphy – the characters for "Zhen Shan Ren" (Chinese for Truthfulness, Compassion, Forbearance).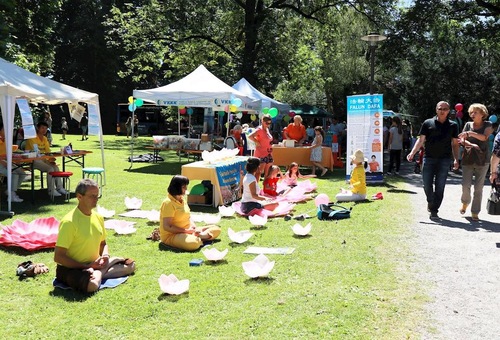 Falun Gong exercise demonstration at Kinderbürgerfest in Regensburg.
The one-day event attracted more than 40,000 visitors to the Stadtpark. The Falun Gong tent was decorated in bright yellow and blue, with four big lotus flowers and a small lotus flower near the tent where children could learn the meditation while sitting inside the lotus flowers.
Many children liked the big lotus flowers. Even though the surroundings were noisy, they could quickly calm down while sitting or standing in the big lotus flowers to learn the Falun Gong exercises.
Parents also learned the exercises along with their children. Some of the younger kids were restless at first, but the practitioners encouraged them to close their eyes and focus on the exercise music. They did, and soon calmed down. Their expressions became peaceful and many experienced the inner peace of the practice.
One mother who learned the exercises with her child said that she felt as if a force pushed her into tranquility. After this experience, she immediately wanted to learn more about Falun Gong.
When she heard that Falun Gong was being persecuted in China, she asked who in the world would oppose Falun Gong's principles of Truthfulness, Compassion, and Forbearance.
A practitioner said that only one party in the world was this way – the Chinese Communist Party. She thought about it and then agreed that communism is indeed conflicted with Truthfulness, Compassion, and Forbearance.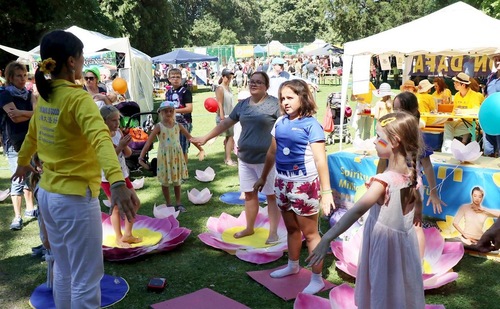 Parents and children learn the Falun Gong exercises at the 2018 Kinderbürgerfest in Regensburg.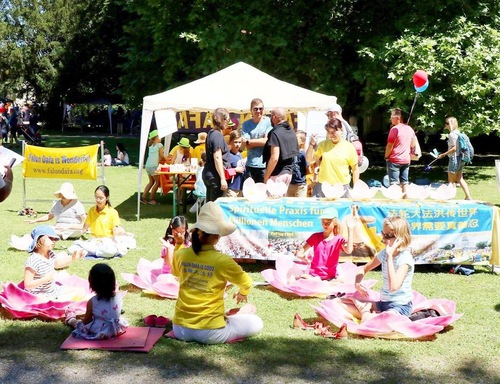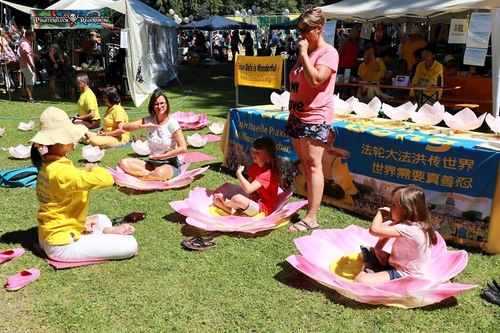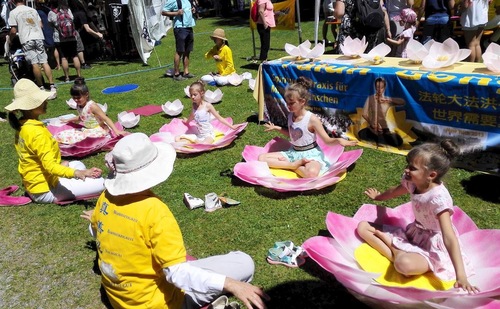 Parents were amazed to see that their young children could focus and keep quiet while learning the Falun Gong exercises at a crowded and noisy festival.
Practitioners also taught the children how to make beautiful origami lotus flowers. In the process of making the folded paper flowers, practitioners gently explained that the lotus flower represents beauty and purity in the face of adversity. After they made their own lotus flower, the kids could attached a little bookmark printed with "Falun Dafa" and "The world needs Truthfulness, Compassion, and Forbearance" to complete the craft.