Persecution of Falun Gong Raised at International Religious Freedom Summit
July 27, 2018 | By Li Jingfei
(Minghui.org) At the U.S. Department of State's first-ever Ministerial to Advance Religious Freedom held on July 24-26, 2018, three Falun Gong practitioners were invited to attend the first two days of events that were open to religious groups and NGOs.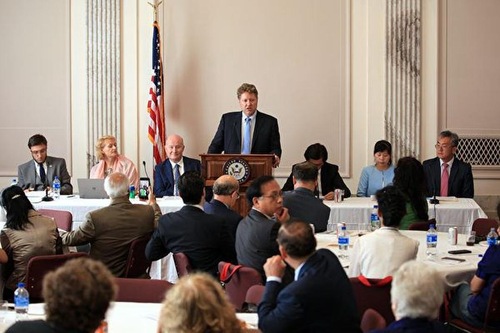 The International Religious Freedom Roundtable held a meeting on July 23 to highlight religious persecution in China.
Foreign ministers from more than 40 countries and representatives of civil society representatives from over 80 countries attended the conference in Washington, D.C.
U.S. Ambassador-at-Large: We Believe in Freedom of Belief in Our Very Soul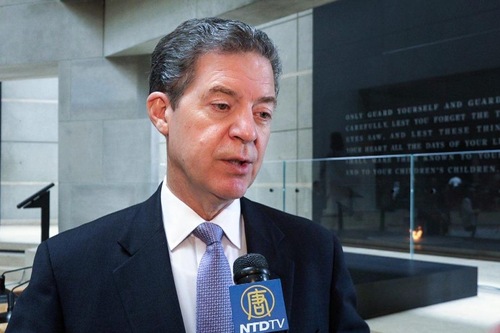 Sam Brownback, U.S. Ambassador-at-Large for International Religious Freedom
Sam Brownback, U.S. Ambassador-at-Large for International Religious Freedom, said during the opening ceremony on July 24 that freedom of belief is a privilege from God and that any place without freedom of belief could pose a threat to global peace, prosperity, and stability. He called for collaboration between government agencies and various organizations to curb such violations.
Brownback expressed the same idea at the U.S. Holocaust Memorial Museum on July 23: "This is something in the DNA of the United States. We believe this in our very soul. We believe this is a God-given right," Brownback remarked, "I am delighted that this administration has made this a top foreign policy priority. And we are going to push it, and push it aggressively."
After seeing Falun Gong practitioners' rally at the Washington Monument on July 19, he encouraged practitioners to continue their efforts. He also hopes that practitioners in China will be able to freely practice their belief.
Stopping the 19-Year-Long Persecution
Former congressman Frank Wolf highlighted the suppression of Falun Gong in China, including the harvesting of organs from living practitioners. He called for people to listen to the voice of victims of religious persecution.
Erping Zhang, the spokesperson for Falun Gong and one of the three practitioners who attended the conference, talked about the current situation practitioners are facing in China. "The suppression has lasted 19 years. We hope the international society and organizations related to freedom of belief could pay attention to this. By working together, we can bring this atrocity to an end," said Zhang.
Since Falun Gong was banned in China in 1999, the Department of State's reports on religious freedom have always listed it as a human rights violation. In its 2017 annual report, China was again in the Tier 1 list of "Countries of Particular Concern." The report highlights the persecution of Falun Gong, Christians and other religious groups in China.
During a recent interview, Secretary of State Mike Pompeo highlighted the importance of the conference. "This is a big deal, and it is the first time the State Department has ever hosted such a gathering," said Pompeo, "We want this administration to make religious freedom a true priority for the United States State Department in every interaction we have with our foreign partners."
Testimony from Victims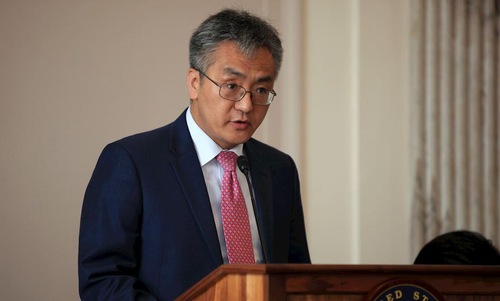 Dr. Liu Ningping from the Falun Dafa Information Center gave an overview of its persecution in China over the past 19 years.
Dr. Liu Ningping, who represents the Falun Dafa Information Center, said that at least 70 million people were practicing Falun Gong by early 1999, according to Chinese government estimates. However, former Communist Party leader Jiang Zemin banned the group in July 1999 and launched a massive suppression against practitioners for their belief in the principles of Truthfulness-Compassion-Forbearance.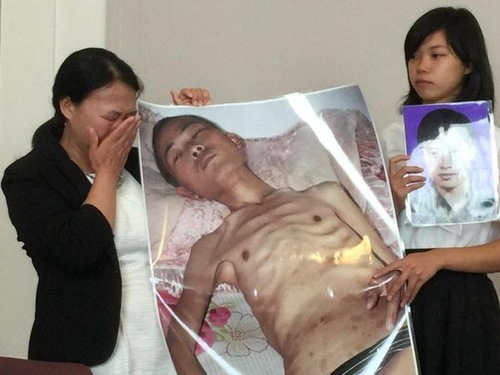 Chi Lihua and her daughter Xu Xinyang described how her husband, Xu Dawei, died as a result of torture.
Chi Lihua from Liaoning Province came with her daughter, Xu Xinyang. Xu's husband, Xu Dawei, was imprisoned for 8 years, during which time he was tortured and forcibly injected with unknown drugs. He died 13 days after he returned home.
Brutality in Labor Camps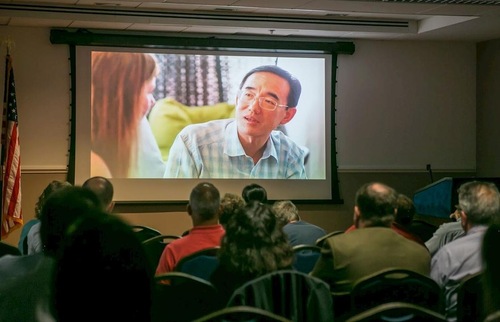 Film screening of Letter from Masanjia
Letter from Masanjia, a documentary on the persecution, was screened on the evening of July 24 adjacent to the Department of State. Many staff members working on foreign relations and human rights watched the film and attended a Q&A session with its director, Leon Lee.
The film illustrated the personal experience of Sun Yi, who was detained at Masanjia Labor Camp in 2008 for practicing Falun Gong. He was tortured and forced to do 20 hours of slave labor every day to produce Halloween products. To expose the atrocity, he risked his life and secretly inserted 20 or so letters in the merchandise to call for help. One of the letters reached Julie Keith, an Oregon resident who contacted news media and drew attention to the issue from international society.
Leon Lee, a recipient of the Peabody Award, contacted Sun and produced the documentary. "Sun was making this film with his life. Through this rescue letter, we can get a glimpse of the severity of the persecution in Chinese labor camps," said Lee.
Ernest Latham, a former U.S. diplomat to Romania, said he saw in the film how the Communist Party controls people and that it was similar to Romania's past–a tragedy caused by communism.
Anna Misleh, a website editor, said she was struck by Sun's ordeal, including his detention, torture, escape, and the miraculous letter calling for help. "I think this deserves the public's attention. When more people in China and the international society know this, it will help stop the persecution."