After Remaining Comatose for Two Years, Liaoning Man Dies While Imprisoned for His Faith
May 21, 2018 | By a Minghui correspondent in Liaoning Province
(Minghui.org) A Fushun City resident imprisoned for his faith died on May 15, 2018, after having remained in a coma for nearly two years.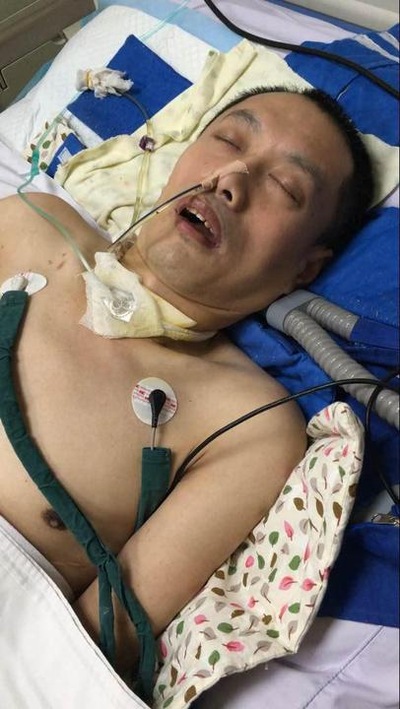 Mr. Hu Guojian in a coma
Mr. Hu Guojian, born in 1970, was last arrested on July 7, 2015, for refusing to renounce Falun Gong, a spiritual discipline being persecuted by the Chinese communist regime. He was sentenced to 4 years in prison five months later, on December 9. This was not the first time that he had been targeted for his faith. His son was only two when he was sentenced to 10 years in prison in 2000.
The judge who convicted Mr. Hu following his latest arrest said that only an appeal signed by Mr. Hu and submitted by a lawyer would count. Mr. Hu's wife couldn't find a lawyer to represent him, though, as all the local law firms had been instructed by the local authorities to not get involved in the case.
Mr. Hu's wife was never informed of her husband's prison transfer. She learned on May 18, 2016, that he had been moved to Benxi Prison from Shenyang Prison. She visited him five days later and noted he had lost a third of his body weight.
Mr. Hu told his wife that he was admitted to Benxi Prison on May 4, 2016, and that he had been forced to do hard labor without pay from 6:30 a.m. to 7 p.m. every day. On days when he failed to finish his quota, he had to work late into the night. He also revealed that he wasn't allowed to sleep and had to fold his blanket over and over again until he met the requirements of blanket folding. He was also given insufficient time to eat his meals, and he was always hungry.
Three days after his wife's visit, on May 26, 2016, several inmates stripped Mr. Hu naked and doused him with cold water. That night he wasn't allowed to sleep and was forced to sit on a small bench. Around 10 p.m., he lost consciousnesses and fell off the bench.
An inmate kicked him in the head and berated him, "Don't you pretend to be fainting!" Mr. Hu didn't move, and the inmates called in the guards on duty, who rushed him to Benxi Zhongxin Hospital.
His wife wasn't informed until the following morning. Guard Liu Zheng claimed that Mr. Hu had a stroke and that a CT scan revealed a severe hemorrhage inside his brain. After consulting with doctors, Mr. Hu's wife agreed to a craniotomy, or removal of a portion of the skull for surgeons to access the brain.
Mr. Hu never regained consciousness since the night he fell off the bench.
He was kept in the ICU for 20 days before his wife was forced to sign a consent form and agreed to have him moved to a regular ward, where he remained for 8 months.
One of Mr. Hu's feet remained shackled during his entire hospital stay.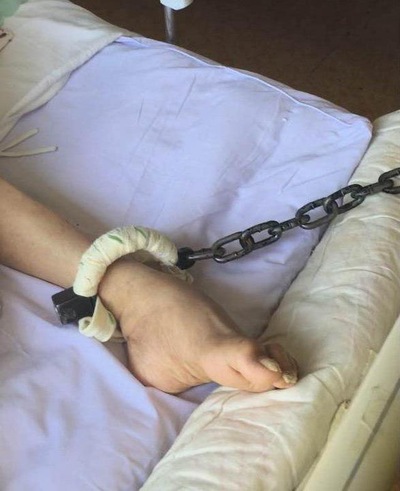 Mr. Hu's foot shackled to the bed
The hospital informed his wife on January 17, 2017, that he was ready to be discharged. Though he remained comatose, his condition had stabilized.
The prison proposed to Mr. Hu's wife that he be released on medical parole, but she declined because the prison would then refuse to cover his medical expenses. The prison took Mr. Hu back and hired two nurses to care for him.
Mr. Hu's wife visited him on February 15, 2017, and noted that he remained in a coma and had to be tube-fed and given an IV by the nurses. A prison director again proposed to have Mr. Hu released on medical parole, and she again declined.
She received a phone call at 7:30 a.m. on May 14, 2018, and was told that her husband had been sent to the hospital. She rushed there to see him in ICU.
Mr. Hu passed away 17 hours later, around midnight the following day.
Related Reports:
Comatose Man Is Taken Back to Prison to Finish His Term After Undergoing Brain Surgery
Liaoning Man in Coma After Second Prison Sentence for His Faith