Taiwan: Celebrating World Falun Dafa Day in Tainan and Chiayi
May 21, 2018 | By Minghui correspondents Sun Bai, Su Rong
(Minghui.org) Practitioners in Tainan and Chiayi joined the worldwide celebration of Falun Dafa Day (May 13) and the birthday of Master Li Hongzhi, the founder of the practice, with a rally, parade and raising awareness at famous tourist sites.
Government officials in Tainan attended and made speeches in honor of the occasion.
Tainan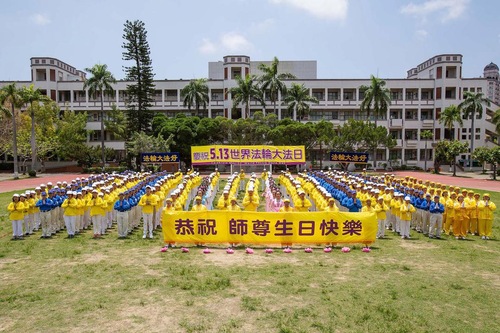 Practitioners in Tainan extend birthday wishes to Master Li and celebrate World Falun Dafa Day on May 13, 2018.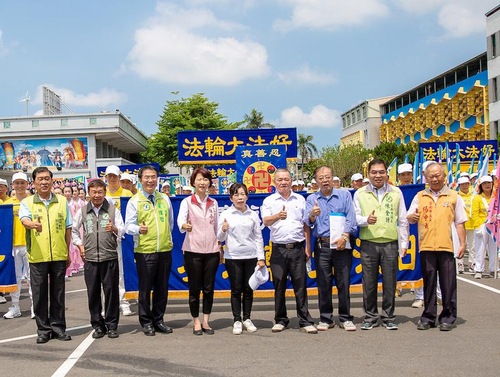 Government officials congratulate practitioners on the grand occasion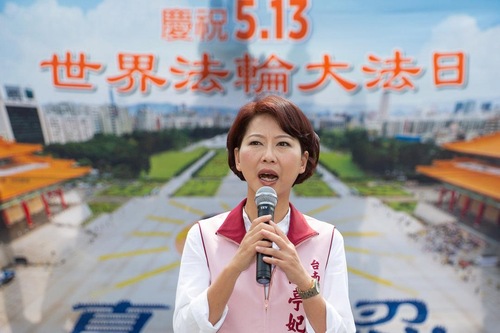 Tainan City Legislator Chen Ting-fei said at the rally that she stands together with everyone against the persecution. She believes that the Chinese Communist regime's persecution will crumble, and that Falun Gong's good name will be restored.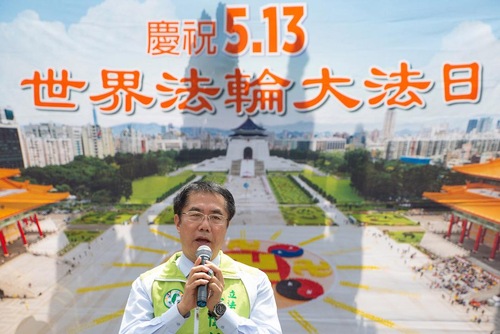 Tainan City Legislator Huang Wei-che expects that Falun Dafa practitioners can continue spreading Dafa so that more people can benefit from the practice.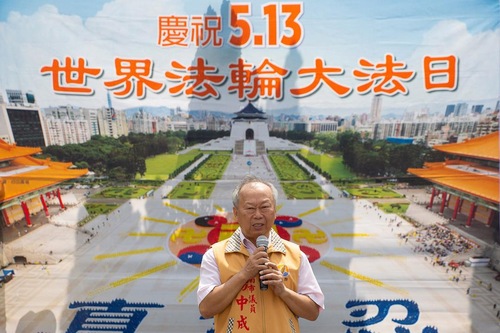 City Councilman Yang Zhong-cheng said that he has been supporting the petition calling for an end to forced organ harvesting from living Falun Dafa practitioners in mainland China, and looking forward to seeing an end to the brutal persecution.
Tainan City Councilman Chen Jin-zhong recognized Falun Dafa's great contribution to society. He remarked that Falun Dafa improves people's health and enables family and society to be harmonious.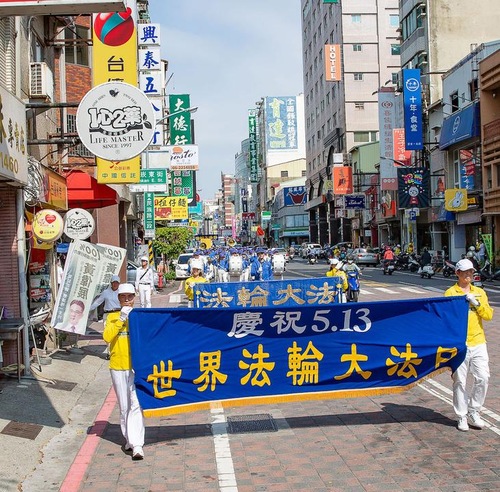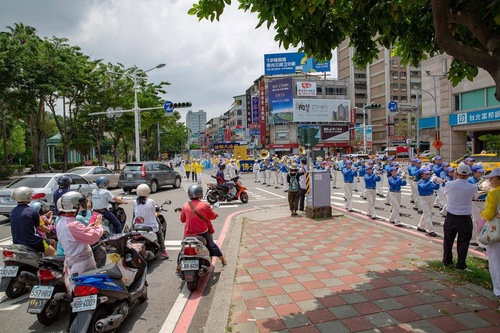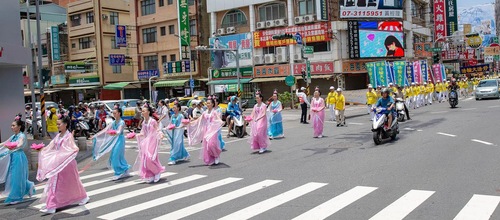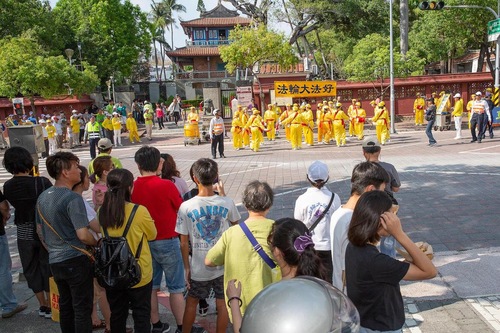 The parade, led by Tian Guo Marching Band, followed by "celestial maidens" holding lotus flowers and joyful waist drummers, brings the beauty of Falun Dafa to Tainan residents.
Police officer Zhang who was on duty in civilian clothes has served in the police force for more than two decades. He said that Falun Dafa is a group that is highly self-disciplined, kind, trustworthy and admirable.
Ms. Cai who was on a one-day tour in Tainan said her neighbors practice Falun Dafa and they are very kind. She was impressed to see so many young people in the parade, as she had thought only the elderly were practicing Falun Dafa.
Alishan, Chiayi
Practitioners in Chiayi celebrated World Falun Dafa Day at Alishan tourist site. They demonstrated Falun Dafa exercises, drawing the attention of many tourists.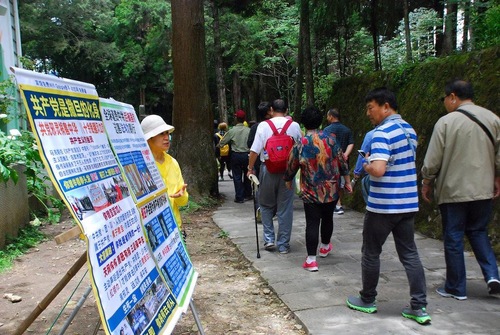 Introducing Falun Dafa to tourists at Alishan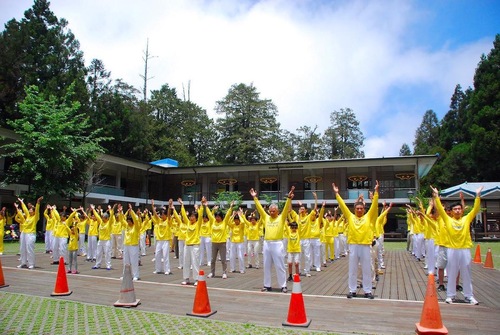 Demonstrating Falun Dafa exercises at the famous tourist site
Mr. Huang Sheng-gong, a dentist from Yichu Township followed the practitioners to Alishan. He had attended Shen Yun Performing Arts shows and wanted to learn more about Falun Dafa. He said he found that Falun Dafa is a special practice that focuses on cultivation of both body and mind.
Mr. Kang Shu-cheng, who works in a fish market, witnessed his wife's positive changes and decided to join her in the practice six month ago. He said that his temper improved after he took up practice, and he no longer swears at his family members. He said, "Following Dafa's principles of Truthfulness-Compassion-Forbearance has made me a much better and happier person."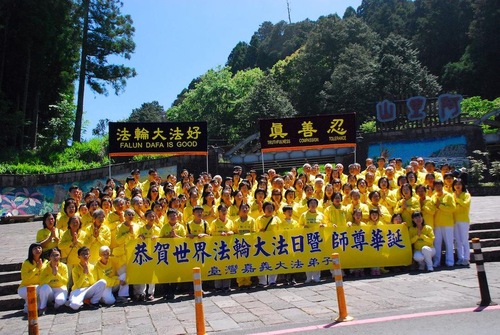 Practitioners in Chiayi celebrate World Falun Dafa Day
Related article in Chinese: http://www.minghui.org/mh/articles/2018/5/15/世界法轮大法日-阿里山学员谢师恩(图)-366562.html