South Korea: Grand Celebration of World Falun Dafa Day in Seoul
(Minghui.org) About 1,000 Falun Dafa practitioners from all over South Korea gathered at City Hall Square in Seoul, on May 13, 2018, for the annual World Falun Dafa Day celebration.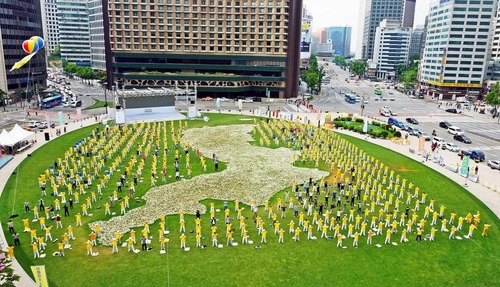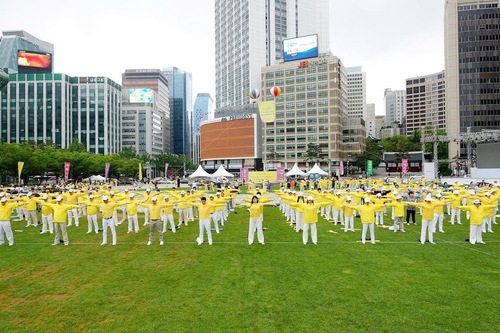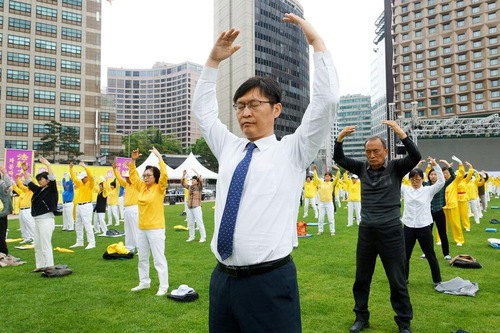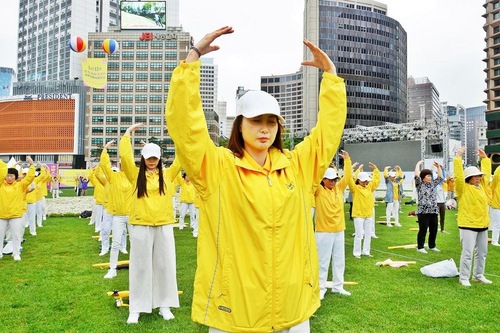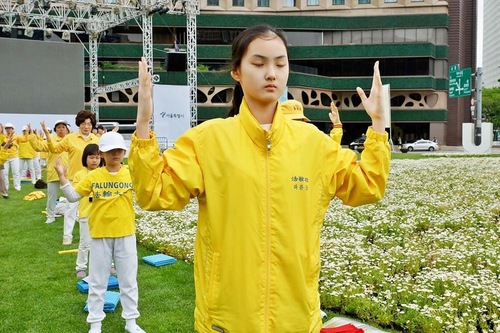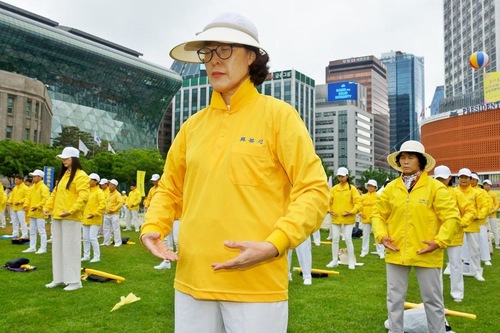 Peaceful demonstration of the Falun Dafa exercises at City Hall Square in Seoul, in celebration of World Falun Dafa Day.
May 13th was the 19th annual World Falun Dafa Day and the 26th anniversary of Falun Dafa's introduction to the public. It is also the 67th birthday of the founder of Falun Dafa, Mr. Li Hongzhi.
Every year at this time, Korean Falun Dafa practitioners hold various activities to share the principles of Truthfulness-Compassion-Forbearance with more people while continuing their peaceful efforts to end the persecution of Falun Dafa in China, which has been ongoing for nearly 19 years. Practitioners also take the opportunity to express their gratitude to Master Li Hongzhi for introducing Falun Dafa to the world.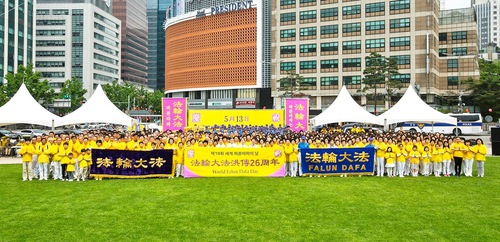 Practitioners in Korea have a group photo taken to extend birthday wishes to Master Li Hongzhi, the founder of the practice.
The celebration began at 9:30 a.m. with a Falun Dafa exercise demonstration to the gentle music, attracting many passersby to stop by to inquire. Many people were interested in learning the exercises.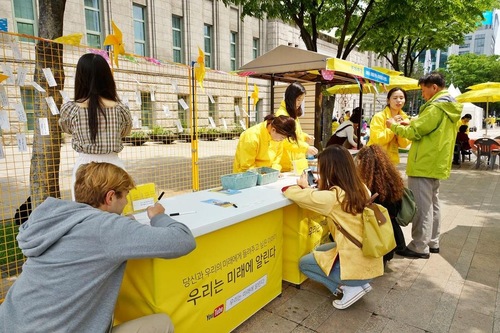 Tourists learn about Falun Dafa and sign a petition to express their support for ending the persecution in China.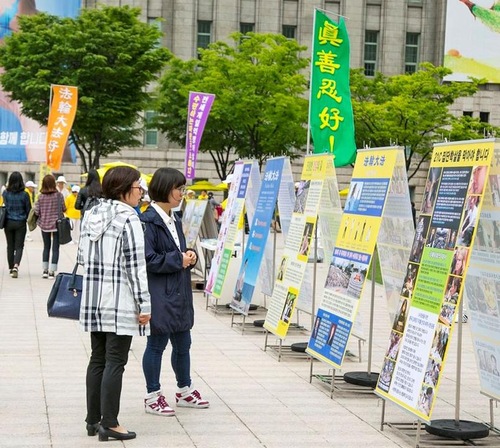 Passersby stop to read about Falun Dafa on the display boards.
There was a free teaching booth for those who wanted to learn the exercises, and a special booth for Falun Dafa's bookstore, Tianti Bookstore, was also at the event for people to purchase Falun Dafa books.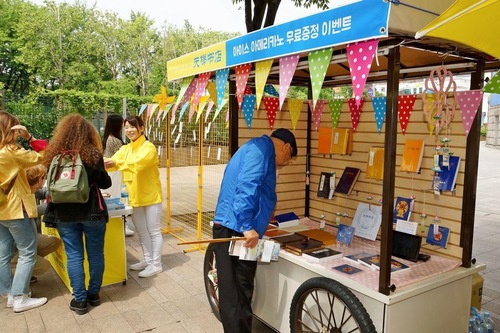 People stop by the Tianti Bookstore booth.
Music was a major part of the Falun Dafa Day celebration. A saxophone solo provided a beautiful rendition of "Ode to Master's Grace" and the Tian Guo Marching Band and waist drum troupe also gave stirring musical performances. Throughout the celebration, the entire square was immersed in a peaceful and harmonious atmosphere.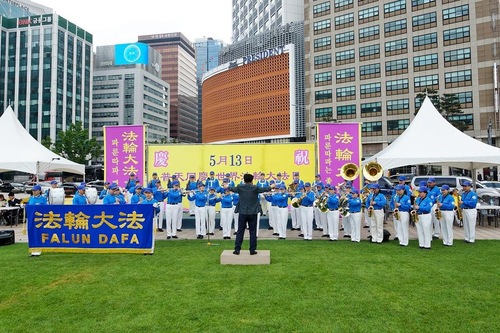 The Tian Guo Marching Band performs at the World Falun Dafa Day celebration in Seoul.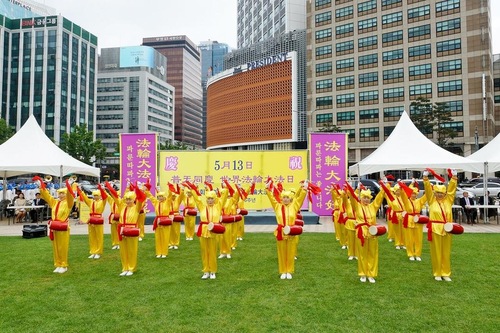 Joyful waist drummers perform.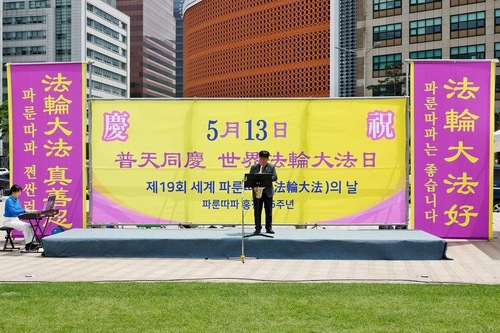 Sax solo, "Ode to Master's Grace."
"Falun Dafa is an important practice that restores national morality"
Mr. Li Jijun, president of Korea's International Christianity Mission Committee, was a guest speaker at the celebration. He stated in his address, "Falun Dafa practitioners, who practice Truthfulness, Compassion, and Forbearance, have gained true health and a high moral standard through cultivation. Therefore, I believe that the assimilation to Falun Dafa's Truthfulness, Compassion, and Forbearance is important for the restoration of national morality."
Regarding the Chinese regime's persecution of Falun Dafa, Mr. Li said, "All of you, please be patient, because time is on the side of the truth."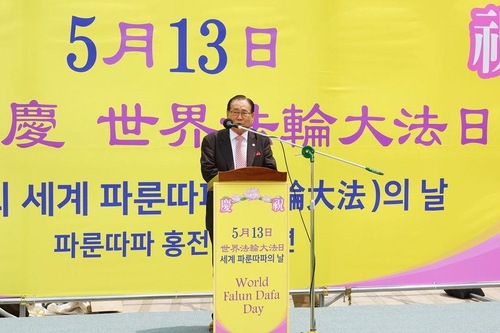 Mr. Li Jijun, president of Korea's International Christianity Mission Committee, speaks at the World Dafa Day celebration.
"The future is the era of Falun Dafa"
Lee Chung-ho, a Korean religious special reporter, also spoke at the celebration. "I first saw the performance of Falun Dafa's Tian Guo Marching Band at the Cherry Blossom Festival in Yeouido several years ago. I was amazed at the time. Not only were their special costumes drawing attention, but also the music played was so clear and clean. At that time, I had the feeling that the future, the era of Falun Dafa, would certainly come. I was deeply moved. I contacted the Falun Dafa group and that is how I have the opportunity to stand here today."
Falun Dafa Is the Hope of All Humanity
Representative Han Chongquan said that the celebration of World Falun Dafa Day in more than 100 countries around the world is not only the hope of the Falun Dafa practitioners who endure hardship in China, but also the hope of all humanity who loves freedom and human rights. He is hopeful that Falun Dafa will spread more widely throughout the world, allowing the people of the world to obtain peace of mind and body.
A Grand Parade
At 2 o'clock in the afternoon, the practitioners collectively wished Mr. Li Hongzhi a happy birthday and took a group photo. Afterwards, a grand parade was held, stepping off from Seoul City Hall, traveling through the major tourist attraction Gwanghwamun Square, through the traditional cultural community, the Insa-dong neighborhood, the bustling Myeongdong Street and ending at the Lotte Department Store. The total length was 4.5 kilometers.
The parade was officially started by the South Korean police, and the Tian Guo Marching Band led the solemn march with music that was both majestic and mighty, some softly stretched, and each note full of beauty. The grand parade drew many people to stop and watch.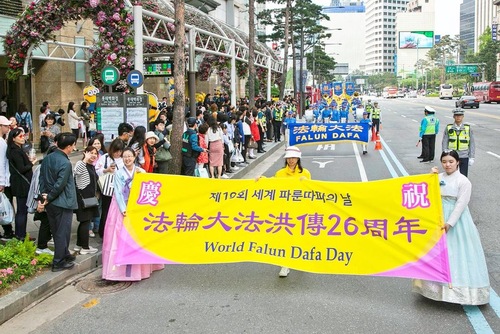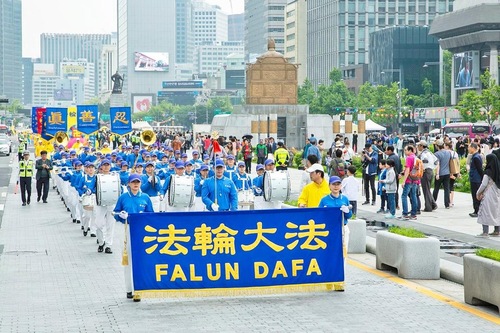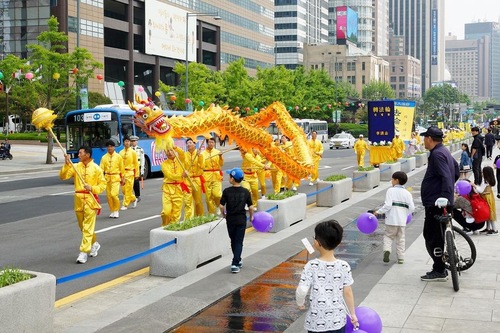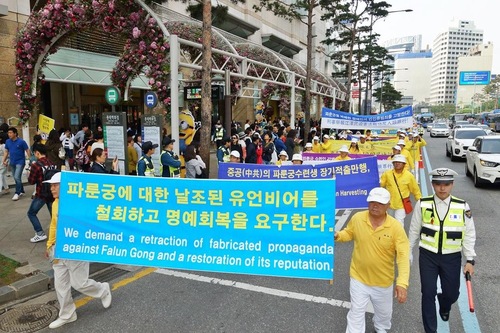 Practitioners march through downtown Seoul to celebrate the 26th anniversary of Falun Dafa's public introduction.
Experience Sharing
During the 26 years of Falun Dafa's spread throughout the world, many Koreans have also stepped into the ranks of Falun Dafa practitioners. They come from all walks of life and include scientists, doctoral students, entrepreneurs, teachers, doctors, lawyers, etc. On this festive day, many shared their personal experiences of how they began practicing Falun Dafa and the benefits of cultivation. Their gratitude to Master Li Hongzhi was overwhelming.
Falun Dafa practitioner Ms. Zhao Runde said that neither of her two children play video games that other children like, but instead they like reading and sports. Jin Jianfan, her 12-year-old eldest son, has been praised by his school as a model child every year. The school teacher said that he is different from other children, as he concentrates well in class and is very well behaved.
Ms. Zhao's youngest son Jin Hongfan, who is only eight years old, has also been highly praised by his teacher. He is considerate of other children and does what he is supposed to do. The other children have followed his lead as a good example. Ms. Zhao attributed her children's good behavior to their practice of Falun Dafa.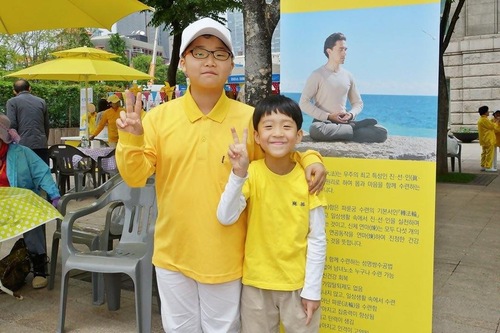 These two brothers are model students in their school because of cultivating Falun Dafa.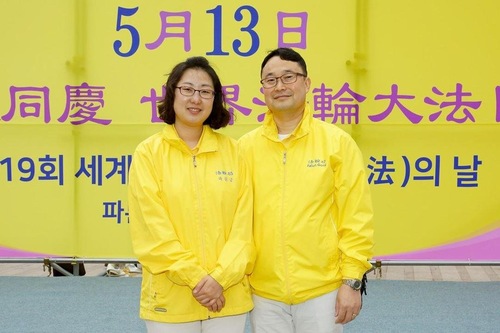 Married couple Mr. Xuan Yunjing and his wife Li Xizhen, are both doctors of mathematics, and fellow practitioners of Falun Dafa. Mr. Xuan said that Dafa opened a brand new path in life for him. Ms. Li said that she learned to think of others first and she feels that her life is full of energy. They both express gratitude to Master Li.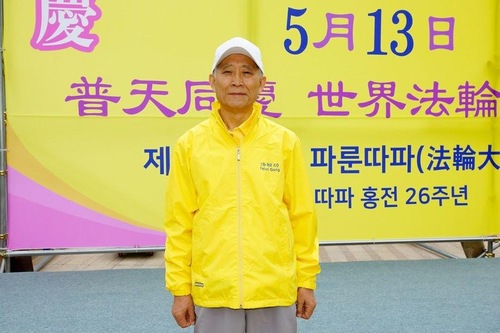 Mr. Chang Shishu began practicing Falun Dafa in May 2017. He took medicine for ten years for his diabetes and high blood pressure before practicing Falun Dafa, but after he took up the practice, his health improved and he naturally stopped taking medicine. He said gratefully, "Dafa is a guide to my life."
In 2000, Falun Dafa practitioners designated May 13 as "World Falun Dafa Day" in honor of Master Li Hongzhi's public introduction of Falun Dafa. Every year at this time, Dafa disciples around the world hold various celebrations to congratulate Master on his birthday and thank him for the virtues of Dafa. Even on China's mainland, where Falun Dafa is brutally persecuted by the government, practitioners there are able to break through the Internet blockade and have sent tens of thousands of greeting cards and congratulatory messages to express their gratitude to Master Li, as well as their determination to remain steadfast in their belief.