Peru: Falun Gong Groups Invited to Participate in Community Health Expo
April 19, 2018 | By a Falun Gong practitioner in Peru
(Minghui.org) Falun Gong practitioners in Peru were invited to take part in a health expo for the middle-aged and elderly on April 8, 2018. The event was hosted by the government of the seaside Magdalena Del Mar District and held in a park named Parque Gonzales Prada, in Lima, the capital of Peru.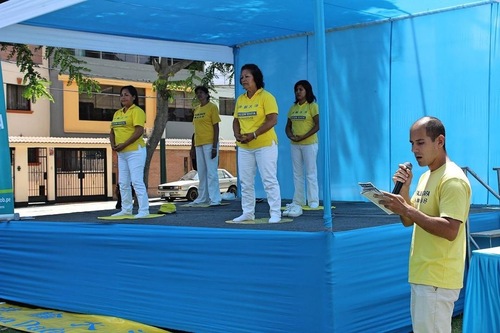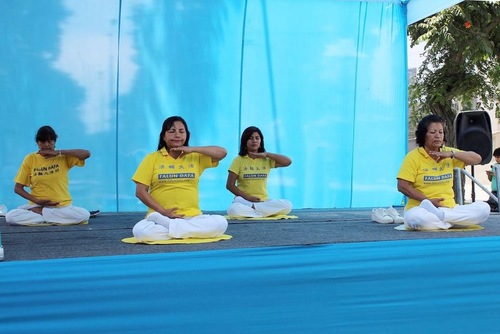 Practitioners in Peru demonstrate the Falun Gong exercises during a health expo in Magdalena Del Mar, Lima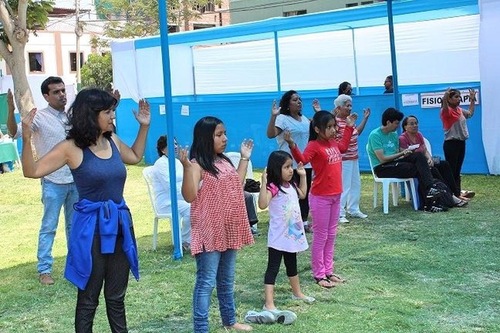 The audience follow along while practitioners demonstrate the exercises on stage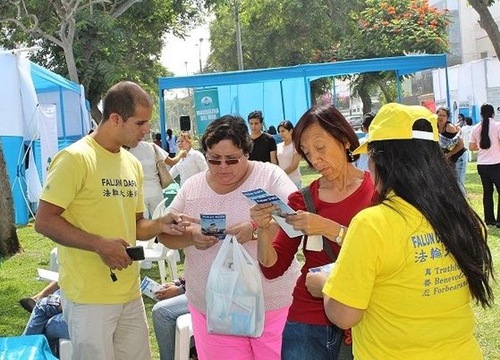 People stop to learn more at the Falun Gong booth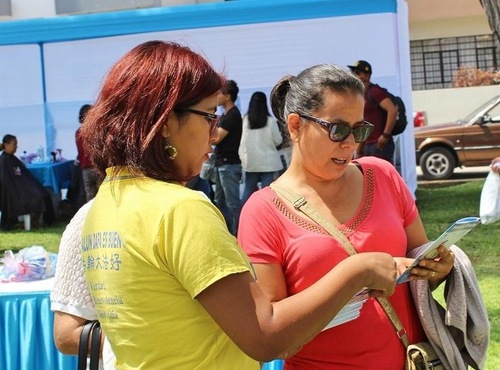 A practitioner explains to a woman (right) what Falun Gong is about
Some exhibition booths offered free medical examinations, some promoted health foods, and some provided various kinds of disease prevention counseling and treatment. Falun Gong practitioners had a booth to introduce the practice and were also invited by the organizers to demonstrate the exercises on the center stage of the exhibition.
When Falun Gong practitioners performed the five sets of Falun Gong exercises on the exhibition center stage, some in the audience followed along to learn the movements.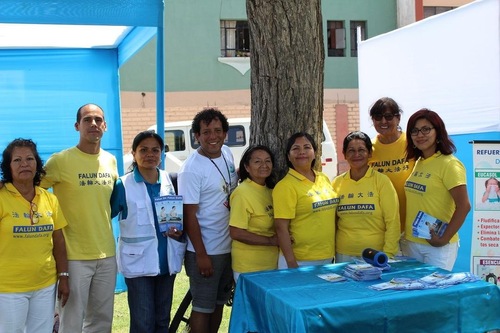 Sra. Patricia Wong (third from the left), the second head of the Magdalena District government's Health Department, having a photo taken with the practitioners.
Sra. Patricia Wong, the second person in charge of the Health Department of the Magdalena District Government, made a special trip to the Falun Gong booth to talk with the practitioners and thank them for participating the exhibition.
She said she hoped that the practitioners would continue to participate in their community activities and let more people know about such a good practice.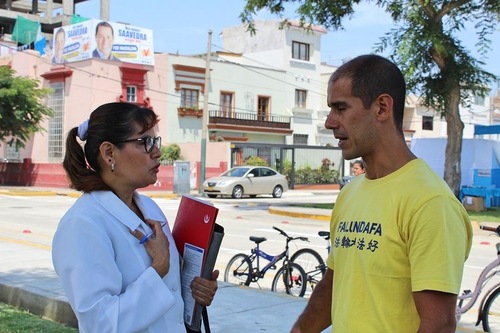 Dr. Julia Alvarado, the clinical health psychiatrist, talks with a practitioner about Falun Gong
At the end of the expo, clinical health psychiatrist Dr. Julia Alvarado told a practitioner that she was very interested in Falun Gong because she believed that its principles of Truthfulness, Compassion, and Forbearance could bring about real health and peace of mind. She said she wanted to learn more about the practice.