Retiree Tried for Putting Up a "Falun Dafa Is Good" Sticker
December 27, 2018 | By a Minghui correspondent in Heilongjiang Province, China
(Minghui.org) Mr. Zhao Lin was recently tried for putting up a self-adhesive sticker that read "Falun Dafa is good" in a public space.
Falun Dafa, also known as Falun Gong, is a spiritual practice based on the principles of Truthfulness-Compassion-Forbearance. Ever since the Chinese Communist Party began to persecute the practice in July 1999, practitioners have had to be creative to let people know about the persecution of Falun Gong means. Two things they have done is to distribute informational materials and put up stickers, posters, and banners in public places.
Mr. Zhao, 69, is retired from a machine factory in Harbin City. Zhang Xumin, a Nangang Police Department officer, arrested Mr. Zhang on May 24, 2018. He and other officers ransacked Mr. Zhao's residence without a search warrant. They confiscated Falun Gong books and a portrait of Mr. Li Hongzhi, the founder of Falun Gong.
Trial and Defense
After nearly seven months of detention and mistreatment, Mr. Zhao appeared pale and unresponsive when he was ushered into the Diaoli courtroom on December 14. Judge Ding Yi prohibited him from using words such as "Falun Gong" and told him he would only be able to answer "Yes" or "No."
Mr. Zhao's attorney argued that freedom of belief is protected by Article 36 of the Chinese Constitution. In addition, Announcement 50 of the General Administration of Press and Publication issued on March 1, 2011, repealed its earlier ban on the publication of Falun Gong books, meaning that one can now lawfully practice Falun Gong and share information about the practice.
The attorney also pointed out that the police had violated the law on many occasions in dealing with Mr. Zhao's case. He further argued that the charge against his client, namely, "undermining law enforcement using a cult organization," lacked legal basis as there is no law in China that deems the practice of Falun Gong a crime or labels it a cult.
The lawyer demanded his client's acquittal. Mr. Zhao also contended that he was innocent.
Although this was a public hearing, only two of Mr. Zhao's family members were allowed to enter the courtroom.
An Upright Person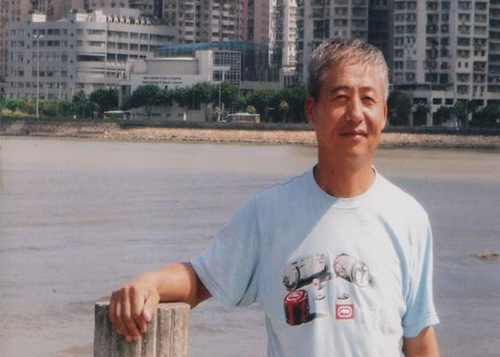 Mr. Zhao Lin, who found health and happiness by practicing Falun Gong, was recently tried for putting up a "Falun Dafa is good" sticker.
Not unlike many others in China, Mr. Zhao had been the victim of many communist party political campaigns over the years. For example, he was forced to leave the city and work in the remote countryside for years and was not allowed to return until he was old. The frustration, depression, and poverty left him in a state of constant agony that did not end until 1996 when he began to practice Falun Gong. Not only did his health improve, he also became happier and a man of high principles.
Mr. Zhao's job entailed looking after a warehouse, usually considered an enviable position for making extra money on the side. As a Falun Gong practitioner, however, he followed the principles of Truthfulness-Compassion-Forbearance and never took advantage of his position for his own benefit, something his peers did. This earned him the respect of his co-workers and managers.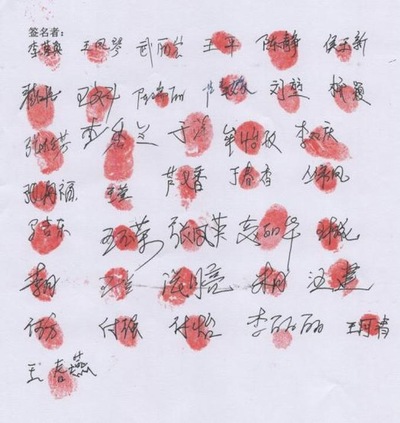 Having witnessed Mr. Zhao's integrity and readiness to help, his neighbors in the Xiangfang District signed a petition with their fingerprints requesting his release.
Other Family Members Also Targeted
Mr. Zhao is not the only one in his family that has been targeted for their faith in Falun Gong.
His sister, 71-year-old Ms. Zhao Xiuzhi, had been repeatedly harassed and arrested in the past. Her latest arrest, on September 24, 2017, came eight months before her younger brother, Mr. Zhao, was arrested. The police confiscated more than 40 Falun Gong books and a dozen calendars with information about Falun Gong from her rental place.
Zhang Xumin, the same officer who arrested her brother, complained there wasn't enough evidence to charge her. During her trial on July 6, 2018, Zhang presented the calendars page by page as single pieces of evidence for the prosecution. Ms. Zhao was sentenced to one year in prison.
Her nephew, Mr. Zhao Pengzhen (the son of Mr. Zhao Lin), was arrested at home on the morning of November 9, 2018. Officers confiscated his Falun Gong books and a computer and held him in Tongtian Police Station before releasing that evening. Because he worked to rescue his father and aunt, the police followed him.
Key Parties Responsible:
Li Shaobo: director, Daoli Court, +86-451-84869216Jiang Dayong: director, Nangang Police Department, +86-451-87664229, +86-18348600001Zhang Xumin: +86-13304641100
Related Reports:
Elderly Siblings Arrested 8 Months Apart for Refusing to Renounce Falun Gong
69-Year-Old Man Detained for Putting Up A Sticker Reading "Falun Dafa is Good"
Additional Persecution News from China – November 17, 2018 (12 Reports)
Additional Persecution News from China – November 10, 2018 (10 Reports)
Related Article in Chinese: