Australia: Vietnamese Australians Rally to Support Falun Gong on Human Rights Day
December 15, 2018 | By a Minghui correspondent in Sydney
(Minghui.org) To commemorate Human Rights Day on December 10, Vietnamese Australians from New South Wales gathered at Cabramatta City Centre in suburban Sydney on Sunday, December 9. Government officials, community leaders, and human rights advocates discussed the situation in China, in particular the brutality against Falun Gong practitioners.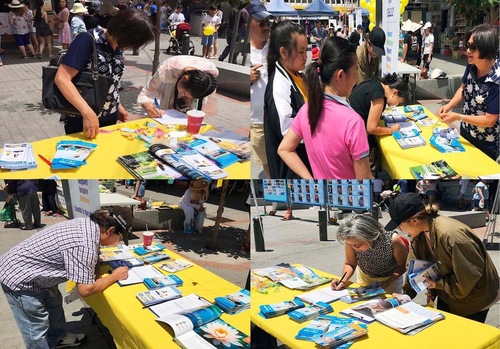 Passersby sign a petition to end the atrocities against Falun Gong practitioners.
Shared Traditional Values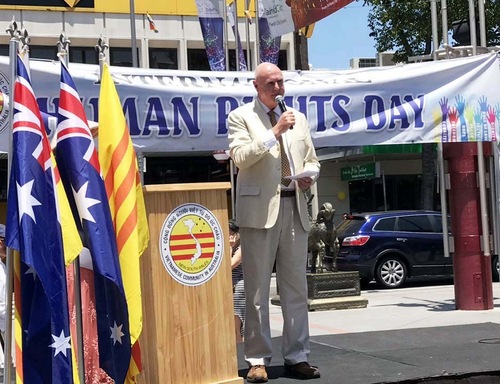 John Deller, spokesperson for the Falun Dafa Association in Australia, talks about the abuses practitioners are suffering in China.
John Deller, spokesperson for the Falun Dafa Association in Australia, said Vietnamese and Chinese have some things in common. Despite the fact that both groups have been victims of communism for decades, they've attempted to uphold their traditional values which are consistent with Falun Gong's principles, Truthfulness-Compassion-Forbearance.
Mr. Deller added that because of its physical and spiritual benefits, Falun Gong is well accepted around the world. He pointed out that even when practitioners are detained and tortured in China for their belief, they treat their persecutors with compassion.
Community Leader: Human Rights Violations Should End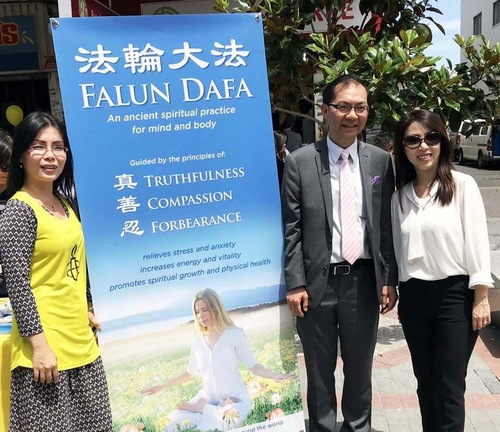 Community leader Paul Huy Nguyen (middle) said the human rights violations against Falun Gong should come to an end.
Paul Huy Nguyen, chairman of the New South Wales Vietnamese Community, said he and the community support freedom of belief for Falun Gong practitioners. He said he always tells other Vietnamese about the persecution, whether they are inside Vietnam or overseas, so that they can help Falun Gong practitioners.
Nguyen said that the Vietnamese community is against the persecution and these human rights violations. They want to help stop forced organ harvesting from Falun Gong practitioners and other prisoners of conscience. He said they would continue to inform people until the Chinese Communist Party stops the persecution.
Informing People about the Persecution
Duong Dac Tai said he had learned about the persecution of Falun Gong in China on the Internet, and followed this topic for quite a while.
"I've also been leaving notes on Facebook to support Falun Gong and I'm still doing this today," he explained. "Whether you are a Vietnamese or Chinese, as long as you are against the vicious regime, I will stand with you."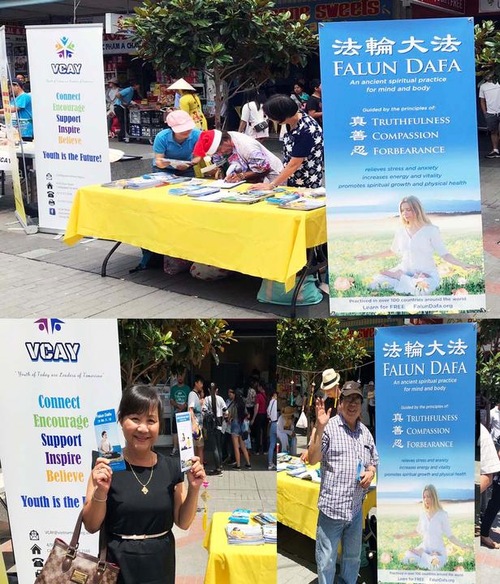 Passersby learn about the persecution of Falun Gong during the event.
Learning the Exercises
Emmy Thi Thanh Truc Tran said her three sisters practice Falun Gong and have gained better health. Emmy watched Human Harvest last year, an award-winning documentary on forced organ harvesting in China. She recently watched the film again, and said, "I think no other country in the world is removing organs from live people like China is doing. We cannot let this continue. I think people from all around the world should join together to stop it."