Israel: Introducing Falun Gong in Bat Yam
December 15, 2018 | By practitioners in Israel
(Minghui.org) Israeli Falun Gong practitioners gathered in the city of Bat Yam, Israel to share the benefits of Falun Gong (also called Falun Dafa) and raise awareness of the persecution of the practice in China on Saturday, November 24, 2018.
The activities took place along the Bat Yam Promenade, where passersby could see the practitioners doing the exercises with the sun setting behind them on the beach. The beautiful sunset combined with the slow and gentle exercises created a peaceful atmosphere, and a large number of people stopped to watch. A number of people sat on benches nearby, and it was noticeable that the pleasant energy that prevailed also had a positive effect on them.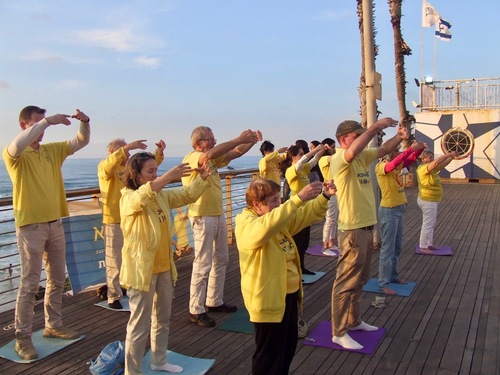 Practitioners performing the Falun Gong exercises along the Bat Yam Promenade.
The practitioners' activity included teaching passersby how to make handmade paper lotus flowers. Children and adults gathered around, fascinated by the process. Passersby were given leaflets and lotus flowers that the practitioners had made. They also signed a petition demanding that Jiang Zemin (the former Chinese Communist Party leader who initiated the persecution of Falun Gong) be brought to justice.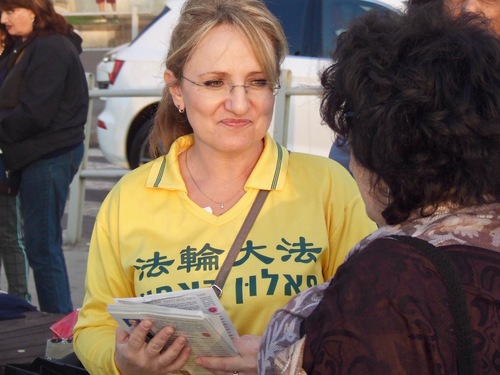 A practitioner talks to a passerby about Falun Dafa and the ongoing persecution of the practice in China.
Yaffa Rubinstein was fascinated by the exercises and said that it was very relaxing and soothing to watch. She learned some of the exercise movements and made an origami lotus flower.
Elena Krylova from the Czech Republic was visiting Israel. She expressed great interest and tried some of the exercises. She said that the practitioners she had met were very nice and she could feel the positive energy.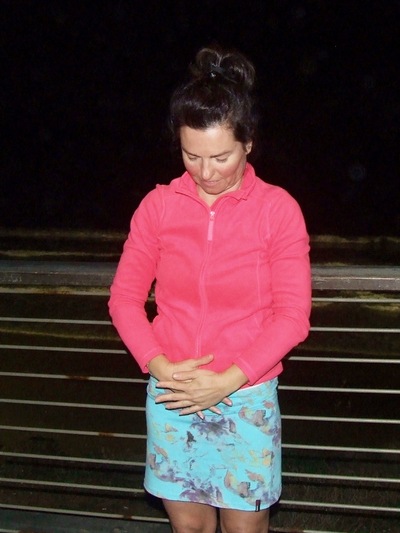 Elena Krylova learning the fourth exercise.
Background
Falun Dafa is a spiritual practice based on the principles of Truthfulness-Compassion-Forbearance and includes five simple exercises. The practice gained tremendous popularity among the Chinese people (surveys show that, before the persecution began, about 100 million people in China were practicing it) and led to great improvement in the lives of those who adopted its principles.
Unfortunately, the then leader of China, Jiang Zemin, saw this as a threat and started the persecution of the practice in July 1999. To this day, practitioners in China are being arrested, incarcerated, tortured, brainwashed, and having their organs harvested.