Joyful Music and Peaceful Falun Dafa Welcomed in North American Christmas Parades
November 30, 2018 | By practitioners from Canada and U.S.A.
(Minghui.org) Falun Dafa practitioners from Canada and America participated in multiple Christmas parades last week, contributing to their communities with the beauty of traditional Chinese culture and by introducing their uplifting meditation practice to the public.
The Greater Toronto Area
Three groups of practitioners in Canada performed in five parades on Saturday and Sunday. The Tian Guo Marching Band performed in Markham and Mississauga, the waist drum team in Pickering and Ajax, and the exercise demonstration team in Toronto.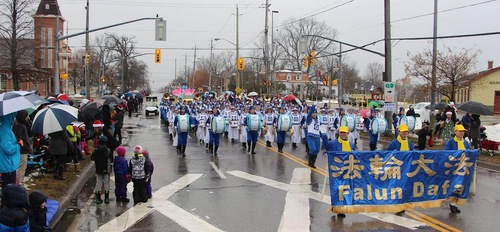 The Tian Guo Marching Band and the Falun Dafa float in Markham.
The Falun Dafa float in Mississauga.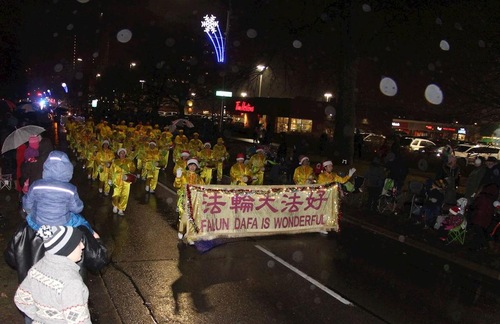 The waist drum team in Ajax.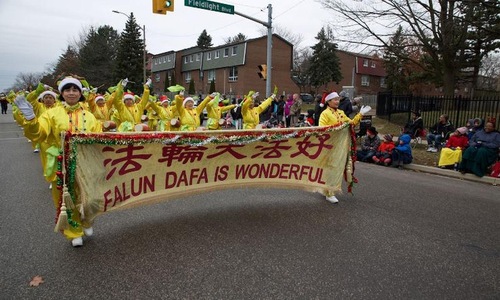 The waist drum team in Pickering.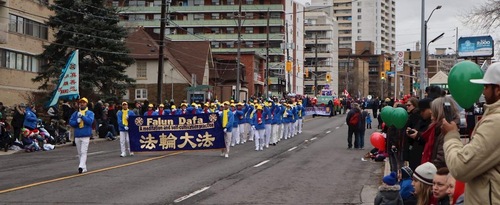 The exercise demonstration team in Toronto City.
Many Chinese spectators said they were proud to see the Falun Dafa group in the parades again. Ms. Liu from Guangdong in China took many photos of the practitioners. "I love your float," she said. "It is so special, so beautiful."
Pointing at the banner on the float that read "Truthfulness-Compassion-Forbearance," Ms. Liu said, "Everybody should follow these principles."
"I often see you guys doing the exercises in the local parks," she added. "I took some of your flyers. I want to know more about this practice."
Jim from Toronto was watching the parade with his wife and daughter. His wife told a practitioner that she bought a set of DVDs that teaches the Falun Dafa exercises, but unfortunately the DVDs are in Chinese. She was happy to see the practitioners in the parade. "I know you have a group exercise site, but I live too far away," she said. A practitioner told her that there are exercise sites all over Toronto. "Oh, that's great, thank you! You know, you must be sent from heaven!" she exclaimed.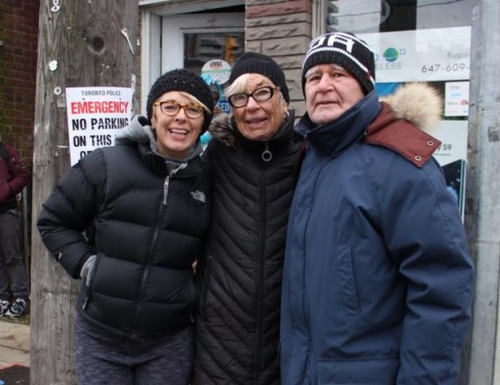 Jim and his family.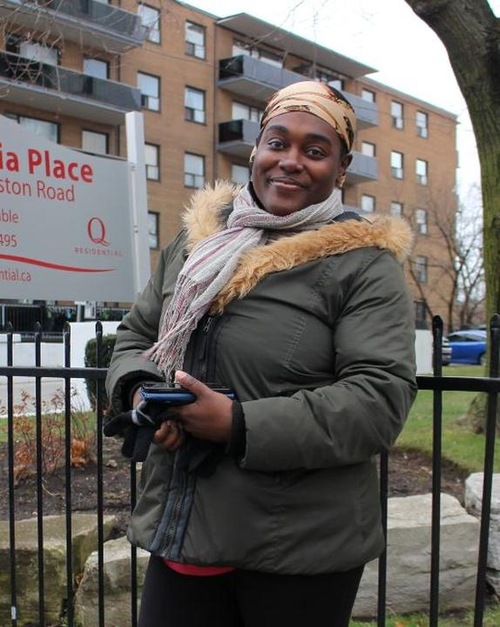 Ms. Tremaine had never seen Falun Dafa live in the parades before. "I only saw it on TV," she said, "It is great to see it live. Very special. I am looking forward to seeing them next year." When told that all Falun Dafa teachings and activities are free, she said, "Excellent! I will definitely tell my mother. She will love it."
Montreal
The Christmas parade in Montreal was held on November 17. As one of the largest entries, the Tian Guo Marching Band with its 150 Falun Gong practitioners once again impressed the spectators. Along the parade route many people shouted "Bravo" to the band and "Merci Beaucoup (thank you very much)!"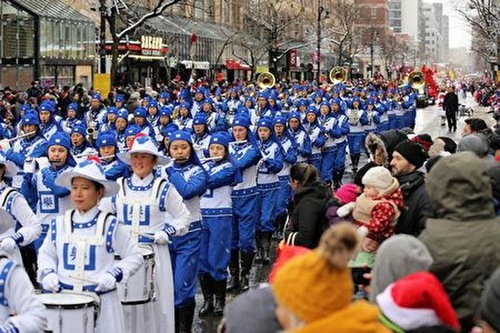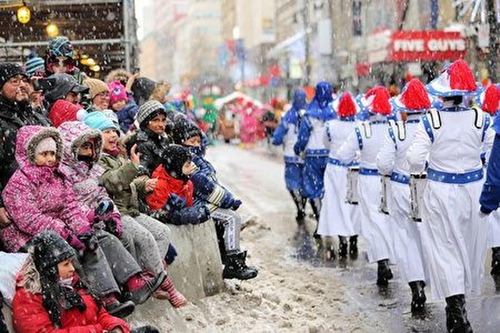 The Tian Guo Marching Band in the Montreal Christmas parade
Ms. Li, who immigrated from China a year ago, was amazed by the Falun Dafa entry. "This is my first time seeing Falun Dafa," she said, "It is impossible to see it in China. Falun Dafa is praised in Canada, such a free country."
Many local citizens have seen the Falun Dafa group in this parade many times. Michael said, "They come every year. We all know them. Their performances are great! We all like it."
Another local resident, Joyceline echoed, "When I first saw this band, I liked it. I liked everything about it. Their music is joyful. It brings me to my childhood--no worry, no concern."
Chantal is also a big fan of the band. "Superb! Incredibly beautiful," she shouted.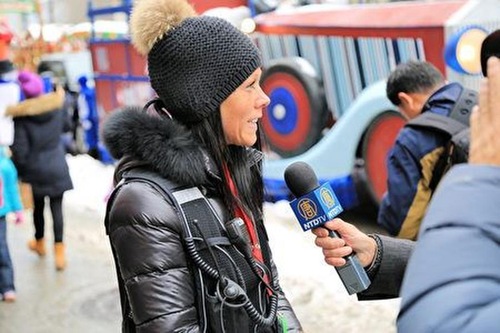 The organizer of the parade, Catherine Rivard, had high praise for the band. "We are glad to have them in this year's parade," she said. "The spectators are happy to see them, too."
Middletown, New York
Practitioners from Upstate New York participated last Friday in Middletown's Christmas Tree Lighting parade, a traditional local Christmas event with a long history.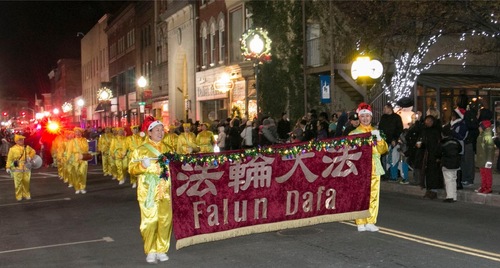 Falun Dafa practitioners in the parade.
The Falun Dafa parade entry consisted of a lion dance team, a banner team, an exercise demonstration team, and a waist drum team, which all brought genuine traditional Chinese culture to the event.
Along the parade route, practitioners also passed out hand-made paper lotus flowers, a symbol of purity in the Chinese culture.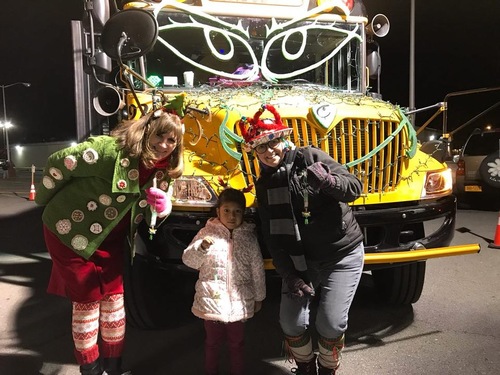 Two school teachers holding the lotus flowers.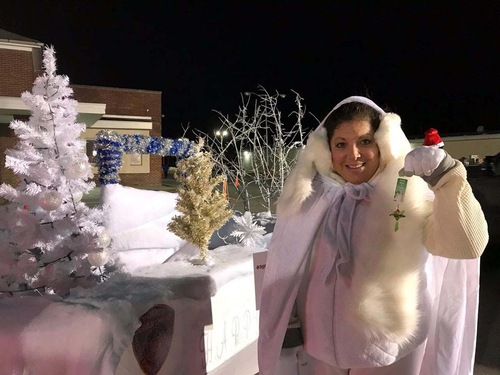 Local resident Visa holding her lotus flower said, "I feel that this is something that can bring blessings to me."
Falun Dafa is not foreign to local citizens. Many local residents in Middletown and the surrounding areas practice Falun Dafa. As early as in 2001, the mayor of Middletown Joseph M. DeStefano proclaimed "Falun Dafa Week" to recognize Falun Gong's contribution to uplifting mind and body.
In 2016, Mayor DeStefano issued a proclamation for Falun Dafa again, and announced the week of May 13, 2016, to be "World Falun Dafa Day" in Middletown.
Related articles in Chinese:
http://www.minghui.org/mh/articles/2018/11/27/圣诞游行-华人观众感谢法轮功-377728.html
http://www.minghui.org/mh/articles/2018/11/23/加拿大蒙特利尔圣诞游行-法轮功团体受瞩目(图)-377554.html