Washington DC: Braving the Cold to Raise Awareness on New Year's Weekend
January 06, 2018 | By Minghui correspondent Li Jingfei in Washington DC
(Minghui.org) The New Year was ushered in by icy winds in Washington DC, but the local Falun Gong group maintained its regular presence near the attractions on the National Mall and at the Chinese Embassy. They demonstrated the Falun Gong exercises and distributed information about the persecution in China, as well as offer New Year greetings to tourists and revelers.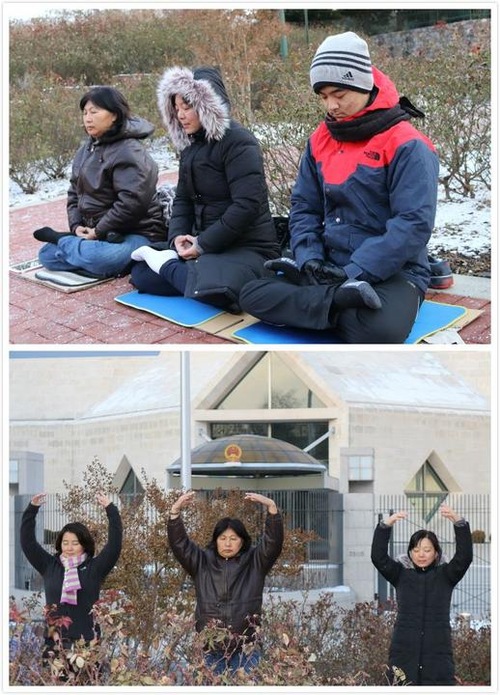 On Dec. 30, 2017, Falun Gong practitioners do the exercises in front of the Chinese Embassy in peaceful protest of the brutal persecution in China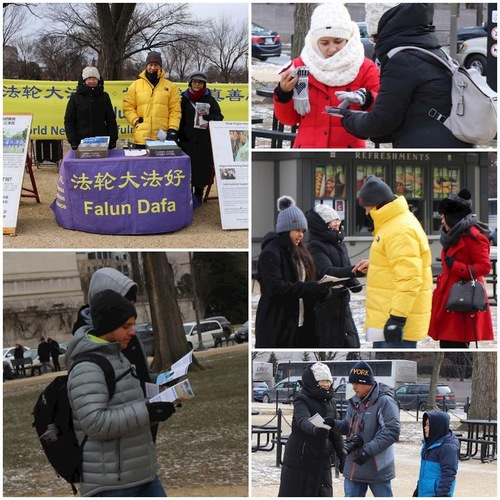 Practitioners talk to tourists about the persecution in China on New Year's Eve
Motivated by Compassion
Ms. Wang Chunrong has been a regular presence at the truth-clarification site in front of the Museum of Aeronautics and Astronautics since she came to the U.S. from China five years ago. The 60-year-old woman was arrested and sentenced to prison in China for mailing copies of the Nine Commentaries on the Communist Party to judicial system officials. She said that since leaving China, she has cherished the environment where she can freely talk about Falun Gong. She goes out nearly every day, regardless of the weather.
Besides talking to tourists, Ms. Wang also helps tourists take their photos and helps tour guides find lost tourists. Her sincerity touched tour guides and many tourists from China.
Ms. Wang said, "Master teaches us Truthfulness-Compassion-Forbearance, and we must put this into practice."
Persevering for the Past 12 Years
Mr. Yu Songping, a civil engineer with an American company, and his wife Mrs. Yu Sushan moved to Washington, DC, from another state in 2005. They have been helping at the tourist site every weekend ever since. Mr. Yu used his professional skills to design and construct sturdy wooden-frame display boards, making it easier for tourists to read the information on them.
Mr. Yu said, "Washington, DC, is the capital of the United States, so there are relatively more tourists from around the world here. I want to tell them about the persecution of Falun Gong to help stop the persecution."
Awakening Is the Hope of China
Mr. Yu Songping said that years of truth clarification efforts by practitioners inside China and around the world has brought about positive changes in the Chinese people.
Mr. Yu said that more and more Chinese tourists have come to their booth and agreed to withdraw from the Chinese Communist Party and its affiliated organizations. Mr. Yu said that this movement to sever ties with the Party is a sign of awakening and is the hope of China.
An American man encouraged Mr. Yu to continue his efforts, saying, "In such a chaotic world, you're saving human morality. You're doing a very meaningful thing."