Bavaria, Germany: 18 Practitioners Speak at Experience-Sharing Conference
January 17, 2018 | By Minghui correspondent De Xiang
(Minghui.org) A Falun Dafa experience-sharing conference was held in Bad Kissingen in Bavaria on January 14. Practitioners from Germany and Switzerland listened as 18 practitioners told their stories.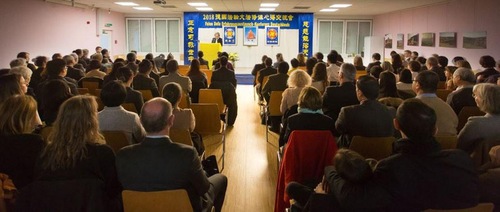 Practitioners from Germany and Switzerland attended the experience-sharing conference in Bad Kissingen on January 14.
After the meeting, some attendees said that they had learned a great deal. "I was moved to tears by these experiences," one of them said, "I also found gaps in my own cultivation."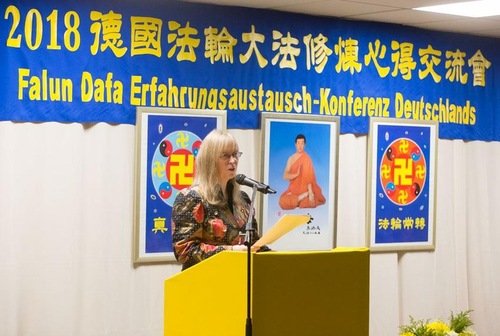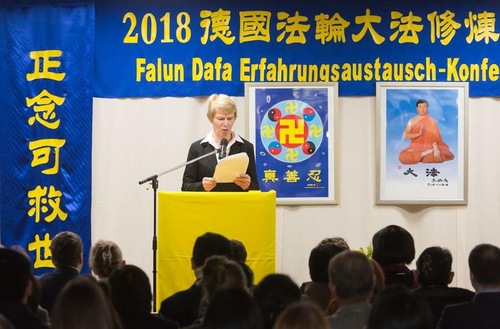 Eighteen practitioners spoke at the conference.
Letting Go of Fame and Material Interest
Suchin said he spent five years in college learning business management. He then joined a news media company run by practitioners, but he was afraid the job might not suit him. "I am not so good at writing, and it was different from my training," he recalled. Plus, many of his friends were doctors or lawyers or had stable jobs in companies. How would they react to his choice?
Nonetheless, Suchin decided to help. He was told to learn video editing. His initial assignment was with the video team, but he was later assigned to do translation work. Thinking that his talent and skills were being underutilized, he felt inferior in front of his friends and relatives. "I realized I was attached to success and wanted to validate myself. But it was difficult to get rid of those thoughts," he said. As he was wondering about the meaningfulness of what he was doing, another company offered him a position with generous benefits. He began to consider the offer.
He talked about his situation to a practitioner who worked with NTD Television in Vietnamese. She told him about the difficulties she'd encountered and said she, too, sometimes thought about quitting. "Then she was enlightened that working at NTD could be part of the vow she had made to Master. Had she stopped working there, she would have broken her vow. In fact, she would have really regretted it," Suchin added. After listening to her, he was clear on what to do and declined the offer.
After that, Suchin noticed his attachment to pursuing fame becoming weaker and weaker. At the same time, the media company's collaboration with its headquarters in New York also improved its performance. "I used to complain that I did not get to use my business management skills to do this work. Now, I have taken on more and more coordination roles, and my past experience is helping me."
"If a practitioner does not let go of attachments, almost everything seems difficult and is unachievable. Once attachments are eliminated, however, it will be a new situation," he explained.
Raising Awareness at a Tourist Site
For the past several years, Ms. Strecker has been going to a tourist site in Frankfurt to tell Chinese tourists about Falun Dafa and how it is persecuted in China. At first, she thought that was something Chinese practitioners should do.
When she attended a Falun Dafa conference in Los Angeles in 2013, she heard Master Li Hongzhi lecture and was impressed. "I felt as if Master was talking to me because those words spoke directly to my heart—I had to do well at the tourist site," she recalled.
After returning to Germany, Ms. Strecker started to go to the tourist site every Saturday to hand out information about Falun Dafa. "It did not go well in the beginning. The Chinese tourists were noisy and poorly dressed. Then, I realized it could be because of my negative ideas about them," she added. As she changed her mindset, the situation improved, and some of them smiled at her even if they did not accept her hand-outs.
Another thing Ms. Strecker learned was to respect fellow practitioners. "I used to complain that other practitioners did not show up at the site, too. Then, one practitioner reminded me to stop thinking that way, since those practitioners who did not come might have cultivated even more diligently than me. From this, I learned not to judge others but to look within and improve myself instead."
Interacting with a Government Official
Ms. Blombach, who owns a beauty shop, related how she told her customers and friends about Falun Dafa.
One time, she had a chance to meet a politician campaigning for a federal parliament seat. She was nervous at first, thinking she might not be ready. Then, she reminded herself it would be fine. "Although I would be there by myself, I knew I was not alone because Dafa is with me, and Dafa disciples should play a leading role," she said. With that thought, her fear vanished.
At the college auditorium full of spectators and several politicians, she kept sending forth righteous thoughts. After the forum was over, she went up to the candidate and introduced herself. In addition to giving him general information on Falun Dafa, she also described the persecution in China, including the killing of practitioners for their organs.
The candidate was very interested and talked with her for a long time. He accepted several copies of Minghui materials and said he would share them with his friends. He was also interested in the health benefits of the practice and expressed an interest in learning it someday. He later won the election and became a parliament member.
Ms. Blombach said she is thankful that Master and Falun Dafa gave her the courage to speak to the government official and to everyone else. "All these people need to know what is going on. I am grateful that Master gave me so many opportunities," she said.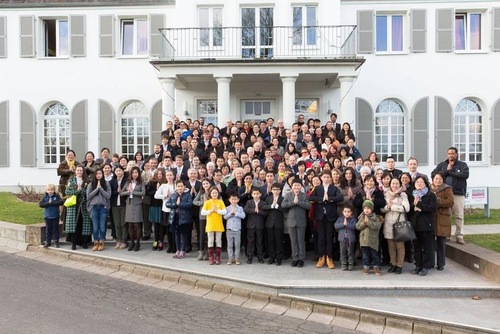 Practitioners gather after the conference to wish Mr. Li Hongzhi, the founder of Falun Dafa, a happy new year.