Ukraine: Practitioners Share Experiences and Raise Awareness in Odessa Prior to the New Year
January 17, 2018 | By a Falun Dafa practitioner in Odessa, Ukraine
(Minghui.org) Ukraine Falun Gong practitioners gathered in Odessa December 23-25, 2017, to study the teachings and raise awareness of the practice and the persecution in China. Odessa is a port city on the southern coast of Ukraine on the Black Sea.
The practitioners exchanged their experiences and understandings in personal cultivation and truth clarification after studying the teachings together. A local practitioner commented on the warm and positive atmosphere of the gathering. The sharing helped practitioners learn from each other. Some of their experiences were so touching that many were moved to tears.
A practitioner from Kiev talked about the importance of analyzing one's single thought. He said that, while on the surface it seems that ordinary things happening around us are not worth discussing or exchanging understandings about, they are actually opportunities for us to improve our mind nature and cultivate. If we are diligent in cultivation and always look within, we will notice that we react differently to what is going on around us. We need to eliminate any thoughts that do not conform to Truthfulness-Compassion-Forbearance so that we can cultivate better.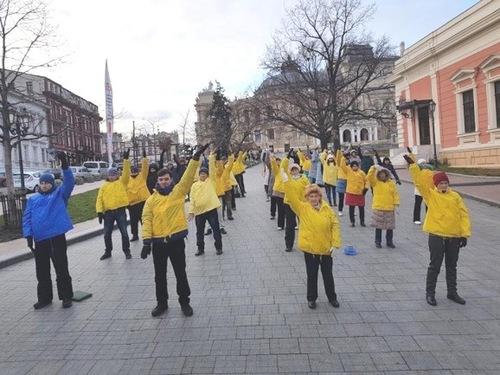 Group practice in downtown Odessa, Ukraine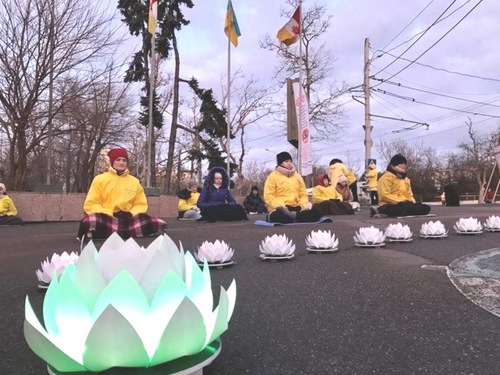 Group practice in Victory Park in Odessa
Practitioners held a truth-clarification activity near the Odessa Opera and Ballet Theater in the city center on December 23. They handed out informational materials, demonstrated the exercises, and collected signatures condemning the Chinese Communist regime's persecution of Falun Dafa practitioners in China.
They continued their efforts the next day, December 24, in Victory Park in Odessa. It just so happened that the mayor of the city hosted a new year celebration event in the park that day, and many people who had an opportunity to learn about Falun Dafa and the persecution signed the petition calling for it to end.