Introducing Falun Gong at Newark Community Day
September 27, 2017 | By a Falun Gong Practitioner in Newark, Delaware
(Minghui.org) Falun Gong practitioners in Newark, Delaware introduced Falun Gong at Newark Community Day, hosted by University of Delaware (UD) on September 17, 2017. As one of the most attractive fall events in Delaware, the Community Day was attended by 10,000 people from surrounding areas, including University of Delaware students as well as residents of Delaware, Pennsylvania and Maryland. Many of them got a chance to learn about Falun Gong, a traditional Chinese cultivation system of mind, body and spirit.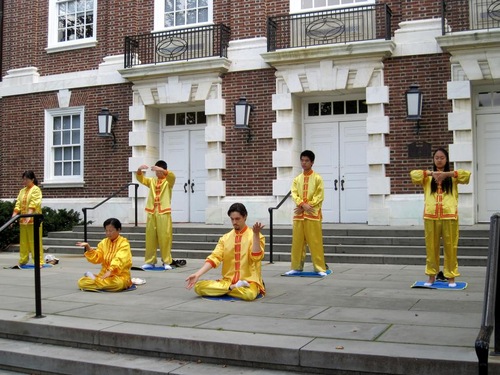 Falun Gong practitioners demonstrate the exercises at 2017 Newark Community Day
Falun Gong practitioners were invited to give an exercise demonstration in front of Wolf Hall on the UD campus. Their beautiful movements to soothing music fascinated many people and won their warm applause. The audience thanked practitioners for bringing this traditional cultivation practice to the community.
Mary from Pennsylvania said that she suffered from insomnia, and she felt very comfortable after watching the Falun Gong exercise demonstration. Pointing at a flyer given to her by the practitioners, in which a Falun Gong practitioner testified to how her insomnia was gone after practicing Falun Gong, Mary said, "I was intrigued by this paragraph. I would like to try it too." She asked for the website where she could find exercise instruction videos.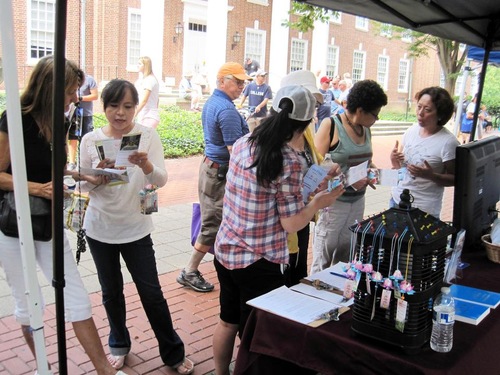 Many interested visitors inquire about Falun Gong
A stream of people visited the Falun Gong booth to find out more information. They asked where they could learn the exercises, and were happy to know that a free teaching session would be held on campus every Wednesday. Many people, including UD students, planned to learn Falun Gong.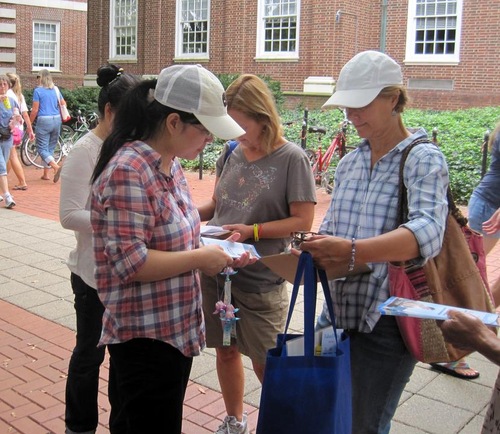 Signature collection calls for an end to the Chinese Communist Party's organ harvesting atrocities.
The practitioners also exposed the Chinese Communist Party's (CCP) persecution of Falun Gong and collected signatures calling for an end to the CCP's state-sanctioned organ harvesting from living practitioners in China. Many who heard about it expressed their sincere wish to stop the appalling crime.