Introducing Falun Gong to New Students at the University of Arizona
September 10, 2017 | By a Falun Gong practitioner
(Minghui.org) Student organizations at the University of Arizona held an event to welcome new students on September 6. Dozens of booths were set up on the lawn behind the Student Union, including one for the Falun Dafa Club.
Many students paused at the sight of the large yellow "Falun Dafa is good" banner and beautiful origami lotus flowers. Practitioners told them about Falun Gong and how to practice it.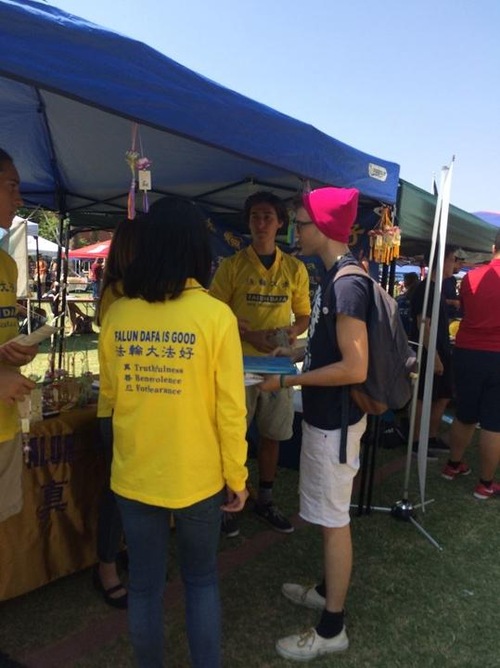 Practitioners tell new students about Falun Gong at the University of Arizona.
Two Chinese students from mainland China took photos of the Falun Gong booth, something they would never see in China. One stepped forward and asked a practitioner, "Falun Gong is banned in China. I'd like to know, what is your personal experience with it?"
The practitioner handed him an informational brochure and said, "Please read it. You will not find truthful information about Falun Gong in China. Falun Gong is being persecuted in China. More and more people are paying attention to it." The two students were surprised and expressed their appreciation to the practitioner for the information.
A young American man asked, "My wife is Chinese. She said Falun Gong is banned in China. I'd like to know what the truth is." A practitioner explained what Falun Gong is and why the Chinese Communist Party is persecuting it.
Falun Gong practitioners follow Truthfulness-Compassion-Forbearance and strive to become better people. The CCP persecutes good people and even sanctions the harvesting of organs from living Falun Gong practitioners.
Appalled, the student said, "That's horrible! Thank you. I support your courage and kindness."
A Japanese student came by on his bike. "Finally I've found you," he said. "I got your flyer last year. I have many questions about life and now I can ask you. I will join you and practice this."