Netherlands: Sharing the Benefits of Falun Gong at the Flower Festival in Eelde
September 10, 2017 | By Minghui correspondent Rong Fa
(Minghui.org) Falun Gong participated in the 61st Flower Parade and Festival in Eelde, Netherlands on September 2. The moderator excitedly introduced the peaceful spiritual practice as the colorful Falun Gong parade entry passed the stage.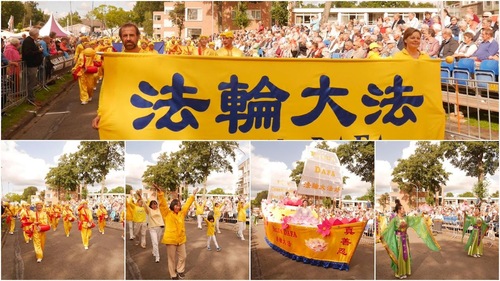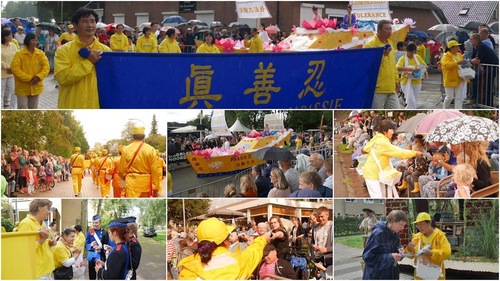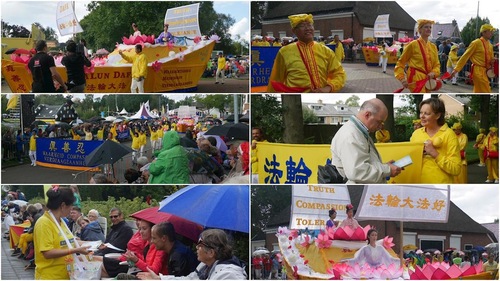 Falun Gong in the Eelde Flower Parade
Four media outlets— RTV Drenthe, RTV Oost, Omroep Brabant, and Omroep Gelderland—in three of Netherlands' provinces covered the event. They all broadcast the moderator presenting the Falun Gong parade entry.
The winners of the Eelde Flower Parade over the past 60 years were invited to design this year's floats. The Eelde Flower Festival has become one of the largest cultural events in the region, attracting more tourists every year.
Invited to participate in this event, Falun Gong practitioners from the Netherlands and Belgium arranged themselves into four sections: the waist drums, an exercise demonstration, a float of a golden boat with lotus flowers, and celestial maidens in traditional dress.
Most of the floats in the parade were decorated with green plants and flowers and appeared dark. The Falun Gong procession stood out with colorful costumes, melodious music, and a large golden float. Many spectators took flyers.
Seeing the large golden float with lotus flowers, the TV host said, "The lotus has a special connotation. These Chinese are very skillful to have made such a remarkable boat. They wear such beautiful costumes."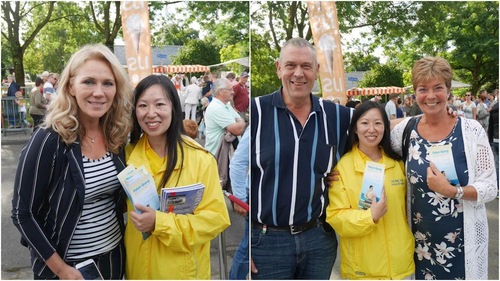 Parade organizer Hanny Laning with a practitioner in photo on the left. Flower company sponsors Harry and Tinneke Slachter with a practitioner in photo on the right.
Hanny Laning, the parade organizer, commented on the Falun Gong entry, "Totally different but beautiful!" Flower company sponsors Tinneke and Harry Slachter asked for Falun Gong flyers.
Tinneke said, "The float is so beautiful. It seems that the ladies on the float were so serene. This is why I ask for your flyer. I want to see what Falun Gong is."
Reading that Falun Gong improves health through meditation, she said, "I believe in meditation. This is important in our busy world. I will definitely search for more information online. It appears the practice is not hard to learn."