Introducing Falun Gong in New York's Upper East Side
August 26, 2017 | By a Falun Gong practitioner in New York
(Minghui.org) Practitioners in New York introduced Falun Gong during the Upper East Side Community Benefit Festival on August 20, 2017. It was a fine day and crowds of tourists and local residents came out for the large festival which covered 20 blocks, and got a chance to learn about Falun Gong.
Practitioners told people about the benefits of practicing Falun Gong, sharing their personal experiences as examples. Many illnesses and negative habits disappeared after they started following the principles of this traditional cultivation practice – Truthfulness, Compassion and Forbearance. Living by these principles gave practitioners a moral compass and a positive outlook on life. Practitioners also exposed the Chinese Communist Party's (CCP) persecution of Falun Gong, and called for collective effort to stop the atrocities.
Passersby were fascinated by the Falun Gong exercises performed to soothing music. Some people learned the exercises during the event.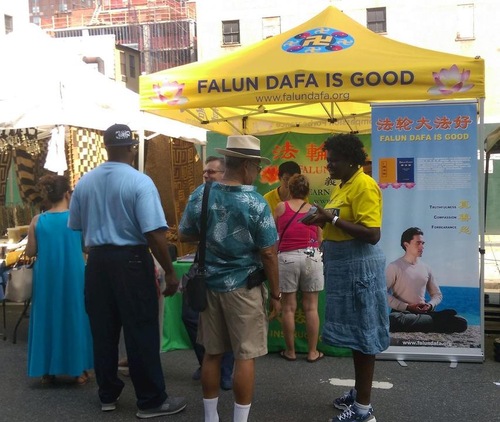 A continuous steam of people visit the Falun Gong booth during the August 20 Upper East Side street fair.
One woman suggested introducing Falun Gong to more people through hospitals and other facilities. She thought that such a great practice would make people calmer and could even prevent a lot of violence.
A coach at a martial arts center invited practitioners to introduce Falun Gong to his students. He left his contact information and hoped to talk with the practitioners again later on.
On hearing about the CCP's persecution, many people strongly condemned the brutality. One man said, "Communism is evil!"
A Chinese-Canadian said that she didn't completely understand what Falun Gong was. A practitioner told her about the characteristics of Falun Gong cultivation practice and shared her personal experience of persecution in China. The woman was shocked by the cruelty of the persecution. She thanked the practitioner, and took many copies of the flyers to share with her family and friends.
Two often-heard comments from the many visitors to the Falun Gong booth were that the world needs Truthfulness, Compassion and Forbearance, and that Falun Gong brings peace to people's hearts.