Sweden: Introducing Falun Gong during the Stockholm Cultural Festival
August 26, 2017 | By a Falun Gong practitioner in Sweden
(Minghui.org) During the recent week-long Stockholm Cultural Festival, Falun Gong practitioners set up a booth at the public square of Norrmalmstorget on August 18 and 19 to introduce this traditional spiritual practice from China. They shared the benefits of the practice by demonstrating the exercises and also exposed the severe and ongoing persecution of the practice in China.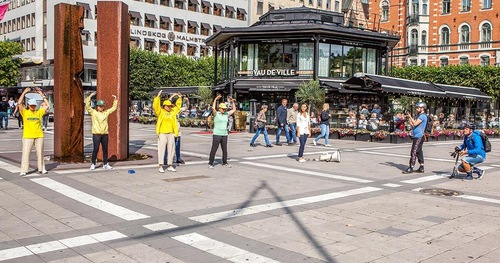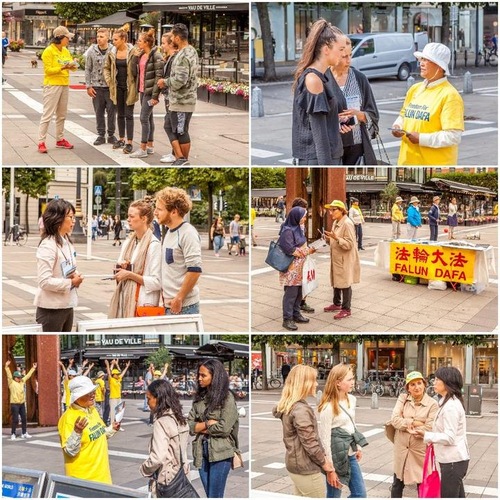 Falun Gong practitioners demonstrated the exercises and introduced the practice during the Stockholm Cultural Festival from August 18 to 19, 2017.
Emma, a young woman, was impressed by the exercise music and the gentle exercises. She stopped to ask questions and was surprised to hear about the 18-year persecution in China. "How could this ever happen?" she asked, referring to the Chinese regime's state-sanctioned forced organ harvesting of prisoners of conscience, the majority of whom are Falun Gong practitioners. She remarked that the communist party is vicious and is against Falun Gong's principles of Truthfulness-Compassion-Tolerance. She then signed a petition calling for an end to the persecution.
A visitor from the United States said he appreciated the energy field he felt when the practitioners were doing the exercises. He was disturbed to hear about the mistreatment that practitioners suffer in China for their belief. Before leaving, he took pictures of the informational posters and said he would share them with his friends.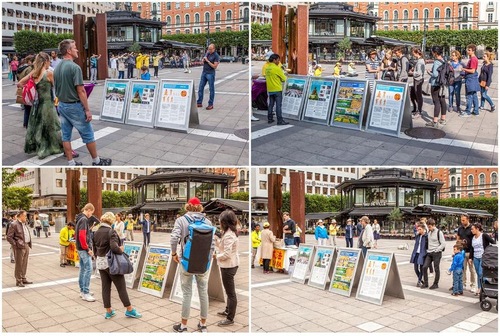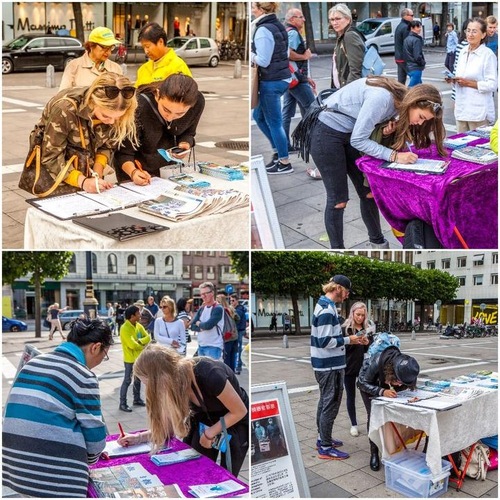 Passersby read posters and signed a petition urging a stop to the atrocities in China.
A German woman told the practitioners that she'd spent a year in China learning Chinese. She talked with practitioners in Chinese and signed a petition to show her support. "What you are doing is great. It is very important," she said.
A couple who work as IT professionals talked with practitioners for a long time. They had been looking for a spiritual improvement system for a long time and were glad to find Falun Gong. They took down the local contact information and said that they would follow up on the internet to learn the exercises.