Japan: Falun Gong Participates in Ai-Port Festival for the Sixth Consecutive Year
(Minghui.org) Falun Dafa practitioners in the Kumamoto area were invited to the annual "Ai-Port" Cultural Festival on June 25, 2017. Ai means love in Japanese, and the event, which roughly translates as "Love-Harbor," brings together local not-for-profit organizations to showcase their services to the community.
Falun Dafa practitioners took part in the festival and used display boards, exercise demonstrations, and free exercise classes to introduce Falun Dafa (also called Falun Gong) and its benefits.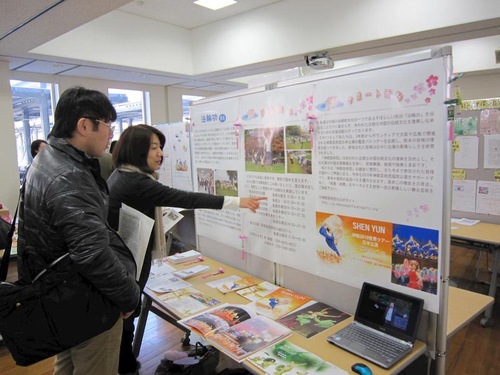 Photo from 2010, when Falun Gong practitioners participated in the Ai-Port Cultural Festival for the first time.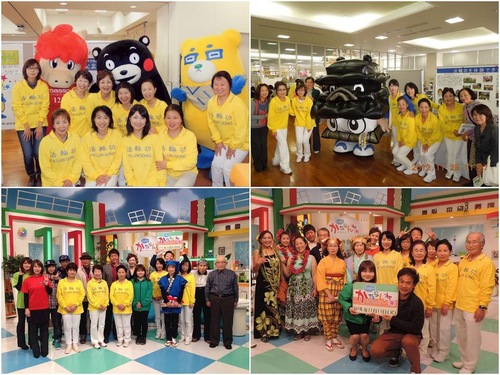 Photos from the 2011, 2012, 2013, and 2014 Ai-Port Cultural Festival.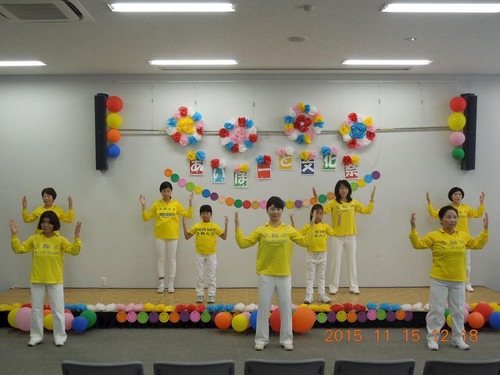 Falun Dafa exercise demonstration at the 2015 Ai-Port Cultural Festival.
This year, practitioners set up display boards organized by subject, including an introduction to Falun Gong and the persecution in China. Other photos showcased Falun Gong practitioners' service to the community, including a community cleaning event, and the rescue, cleanup and rebuilding activities after the massive 2016 earthquake. Falun Dafa practitioners were actively involved in rescue and cleanup events for 7 months after the quake in Mashiro Township, Nishihara Township, Mifune Township and Minami Aso.
One woman who had attended several exercise teaching sessions in a local park looked at the photos of practitioners participating in the earthquake rescue and cleanup activities. Afterwards, she commented that she used to think that Falun Gong was only for personal health but she was very impressed that practitioners had done so much for other people.
"You yourselves were also the victims of the earthquake. But you have done outstanding things for others. Putting other people's interest before your own is an honorable merit and a role model for society," she said.
She remarked that it was awful that such a good practice was persecuted in China and she wished that the persecution would end soon.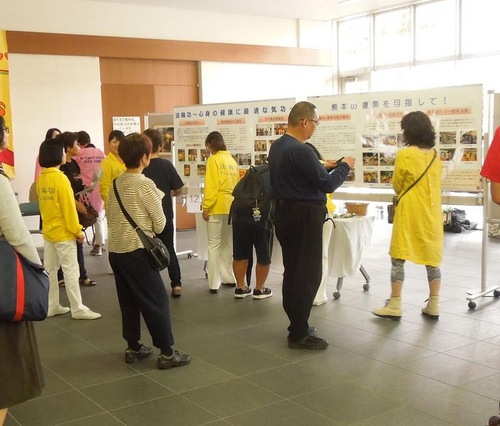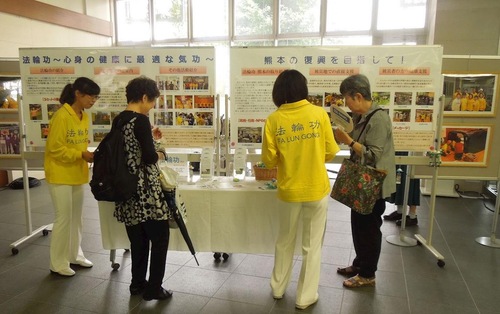 Visitors at the Falun Gong booth.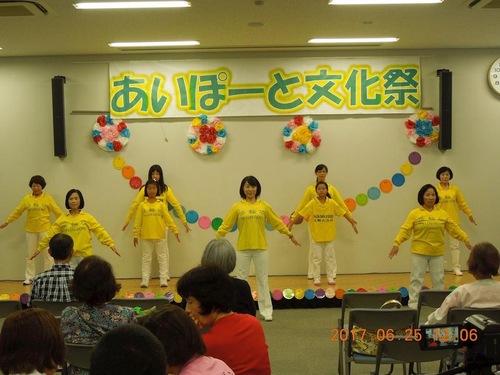 Falun Dafa exercise demonstration on the festival stage.
Practitioners demonstrated the Falun Gong exercise on the festival stage. Many in the audience stood up and followed along with the exercise movements. After the demonstration, many people also came to the Falun Dafa booth and took flyers.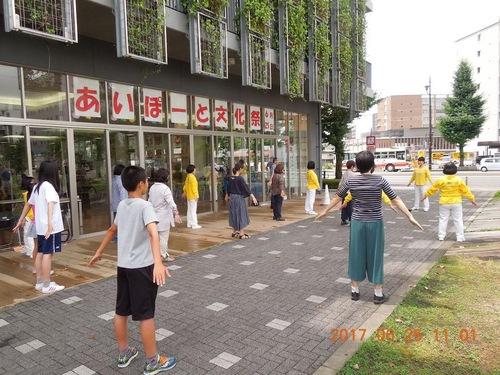 Learning the Falun Gong exercises at the Ai-Port Cultural Festival.
An older gentleman who comes to the festival every year said that Falun Gong sends a positive message to society. "I can feel the peace and kindness every time I stop by your place at the festival," he said, "I wish that more people were aware of the persecution and could join the effort to stop these human rights violations!"