Germany: Commemorating 18 Years of Falun Gong's Peaceful Resistance
July 31, 2017 | By a practitioner from Germany
(Minghui.org) German practitioners held a series of activities in multiple cities over the last two weeks, marking 18+ years of peaceful resistance against the persecution in China.
Hamburg: 18-hour Protest at Chinese Embassy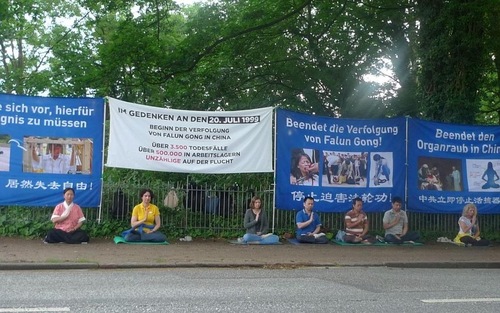 Practitioners staged a peaceful 18-hour protest in front of the Chinese consulate in Hamburg, calling for an end to the 18-year-long persecution.
Berlin: We Will Not Stop Until the Persecution Ends
Berliners see Falun Gong protests almost every day in front of the Chinese embassy. Practitioners have expressed that they will not stop the effort until the persecution stops.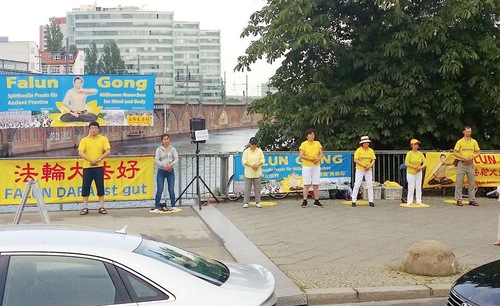 Protest in front of the Chinese embassy on July 20.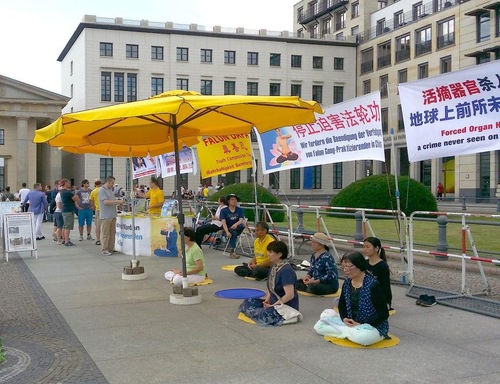 Many tourists at the Brandenburg Gates viewed the Falun Gong rally, and many signed the petition calling for an end to the atrocities in China.
Nuremberg: Witness to Persecution
Practitioners in Nuremberg held a Falun Dafa Information Day in front of Lorenzkirche Church.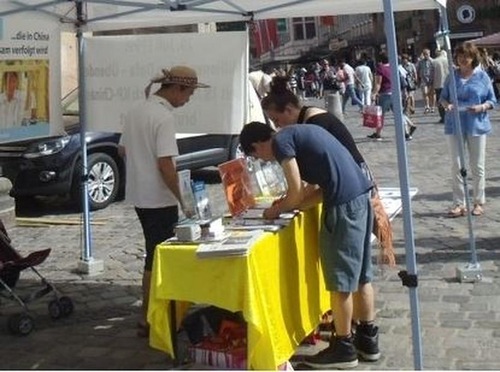 People signing the petition against the persecution in China.
At the event, a practitioner told people about his own experiences of being arrested, imprisoned, and beaten in China when he was a college student. The school threatened to kick him out if he refused to renounce his belief in Falun Gong.
One woman was deeply disturbed by his story. She believes that good meets with good, and evil meets with karmic retribution. She felt sad for the perpetrators. "They will have to suffer for what they have done," she said.
Then she thanked the practitioners for bringing the information to the public, and wished them much success.
Practitioners also demonstrated the Falun Gong exercises. Several people were eager to learn the exercises at the booth.