Falun Gong Events in U.K. and Germany Receive Public Support
July 28, 2017 | By Tang Xiuming and De Xiang, Minghui correspondents in the U.K. and Germany
(Minghui.org) July 20, 2017 marked the 18th year of the persecution of Falun Gong (also known as Falun Dafa) by the Chinese Communist Party, as well as Falun Gong practitioners' peaceful efforts to end such human rights abuses.
Practitioners in the U.K. and Germany held activities on July 22, calling for help from the public to help stop the persecution in China. Their activities received warm feedback and great support.
United Kingdom
The European Tian Guo Marching Band, comprising Falun Gong practitioners, held a parade starting at Parker's Piece in the center of Cambridge.
"We hope on this day, people all over the world will stand with us in peaceful and compassionate spirit. We hope they will choose justice when facing the CCP's brutality," said Caroline on behalf the UK Falun Dafa Association in a speech before the parade.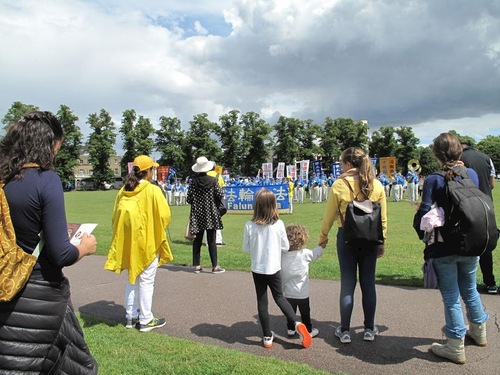 Spectators watch the Tian Guo Marching Band rehearse before the parade.
Many tourists and students from China were happy to see Falun Gong practitioners, stopping to take pictures and find out more.
A passerby told practitioners before the parade, "What you are doing is great! I have been to China. The people I met there dare not talk about Falun Gong. It's very, very important to let people know. I wish your parade a great success!"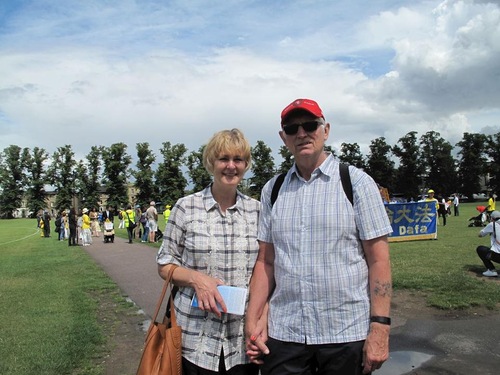 Shirley and Ian from Dorset
Shirley and Ian from Dorset were eager to learn about Falun Gong on Market Hill in the morning. They later watched the Tian Guo Marching Band in the afternoon. They told practitioners, "The persecution is terrible! We have heard about human rights violations in China, but we didn't know about organ harvesting. It's evil. It must stop!" They said that they wanted to help spread the word.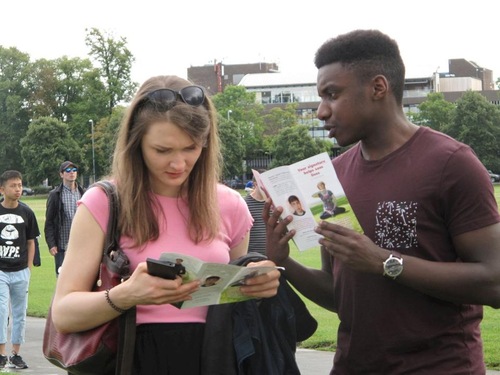 Elga and Josh from Cambridge read Falun Gong flyers.
Elga and Josh live in Cambridge and received flyers about China's state-sanctioned harvesting of organs from living Falun Gong practitioners when they visited Parker's Piece. An hour later, they watched the Falun Gong rally in front of The Guildhall, the Cambridge City Council office building, and signed a petition against forced organ harvesting in China. Shocked by the atrocities committed by the Chinese Communist Party, they told practitioners, "More people should know about this. It's so important!"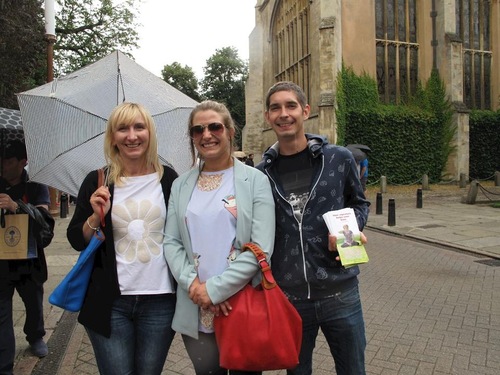 Paula from Poland with her boyfriend and mother
Paula from Poland, her boyfriend, and her mother were visiting Cambridge on the day of the parade. Paula's mother told a practitioner, "Polish people know the Communist Party doesn't want people to have their own ideas. They hope that you are ignorant so that they can control you. Many people around the world don't know this." All three of them gave encouragement to the practitioners. One said, "We are proud of you. You have great courage in exposing these facts. You have to stay firm. You have our support. I will tell more people about this on my blog."
Germany
Falun Gong practitioners in Germany held an activity on the Tal in Munich on July 22. They demonstrated the Falun Gong exercises and hosted a booth where people could find more information about Falun Gong and the persecution. They attracted the attention of local shoppers and tourists.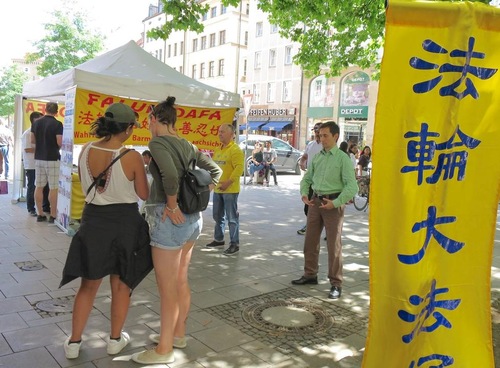 Practitioners demonstrate the five exercises.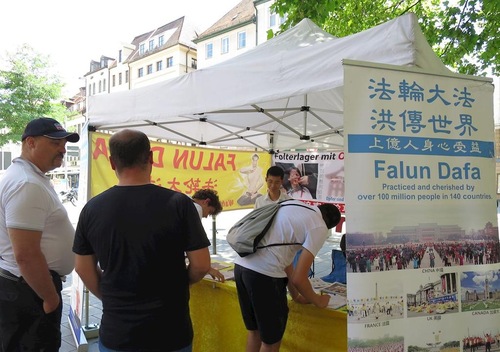 People sign a petition calling for an end to the CCP's killing of practitioners for their organs.
Many were fascinated by the Falun Gong exercises and wanted to go the local group exercise location to learn them.
One woman said, "It looks like Truthfulness-Compassion-Tolerance is the key to solving all social problems."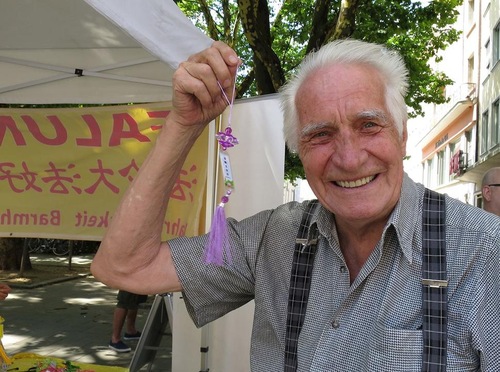 Physicist Hans Peter Jernss
Physicist Hans Peter Jernss of Munich's Ludwig-Maximilian University approached the Falun Gong booth and asked what he could do to help stop the persecution. A practitioner told him that he could sign the petition and help spread the word. Mr. Jernss signed right away and commented how unfair the persecution was. He said that standing by as an onlooker wasn't right, and he wanted to do more.
Many tourists from China saw the banner "Falun Dafa is Great," and some of them came to get more information. A Chinese teenage girl was in tears upon seeing the banner. She said that she had practiced Falun Gong in China and was excited to see these types of activities overseas.
Tourists from many places around the world signed the petition. A family from Canada was happy to see a picture of practitioners doing the exercises on Parliament Hill.