Practitioners in Three Australian Cities Highlight Persecution in China
July 28, 2017 | By Falun Gong practitioners in Australia
(Minghui.org) Joining similar events across the world, Falun Gong practitioners in Australia held a series of activities last week to commemorate the 18th year of peaceful efforts to end the persecution of the spiritual discipline by the communist regime in China.
Sydney
Practitioners held a day-long event at Martin Place, a pedestrian mall in the central business district of Sydney, to inform the public about the human rights abuses faced by Falun Gong practitioners in China.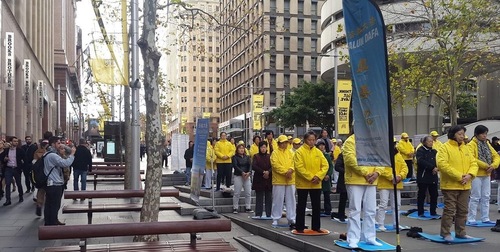 Demonstrating the Falun Gong exercises in the morning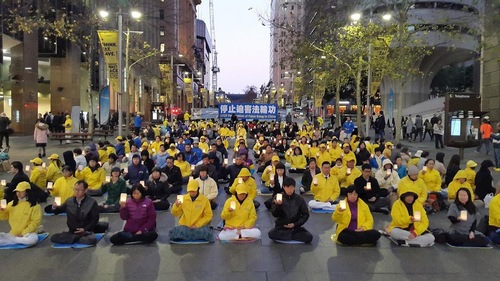 Candlelight vigil in the evening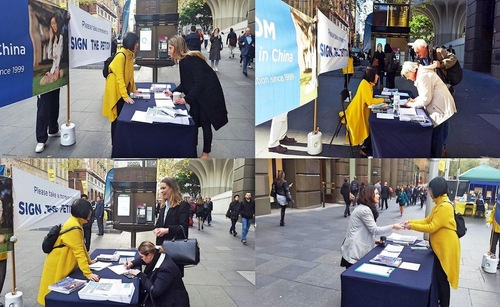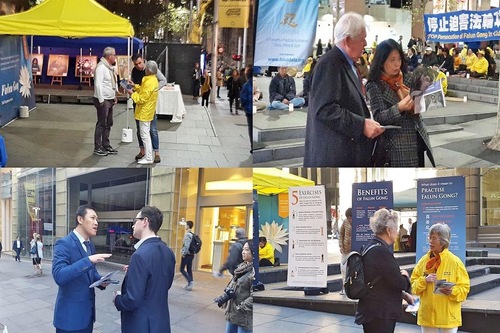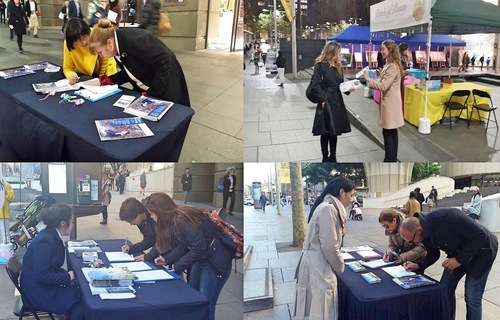 People sign a petition calling to end the persecution of Falun Gong in China.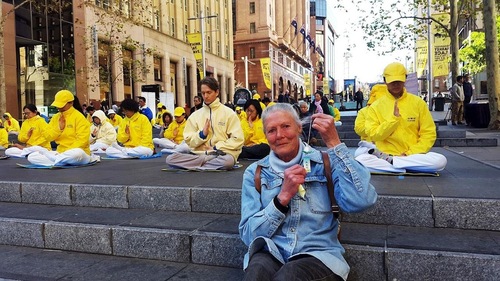 Kristina Olesen
Kristina Olesen received a paper lotus flower as a gift from practitioners. "I wish you big success," she said.
Local resident Malcolm Reid was glad to see so many people demonstrating in support of Falun Gong. He hoped that the Australian government will take action to stop the state-sanctioned killing of practitioners in China for their organs.
Gwendolen Mee told practitioners, "My heart is with you, because I know Falun Gong is good. I've seen your activities all over the world. Every time I see Falun Gong, I go over and sign the petition. The persecution is really evil. It must stop now."
Peter Butler, a local banker, felt a peaceful energy field around the practitioners. He hoped that more people would join them.
"I like them very much, because they are very peaceful and upright," Peter said. "I like their guiding principles, Truthfulness-Compassion-Forbearance. The persecution is wrong. They have freedom of belief. If more people stand up and support them, the righteous field will get stronger, and righteousness will eventually beat evil."
Besides collecting signatures, the practitioners also taught the five sets of Falun Gong exercises.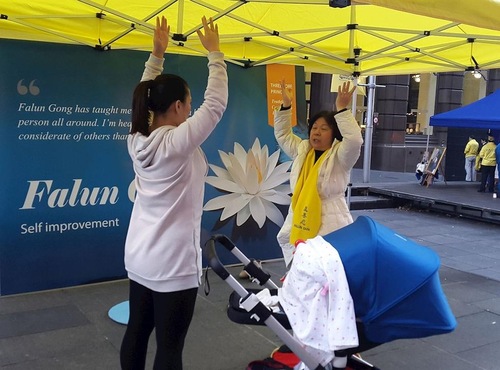 Serena (left) learns the Falun Gong exercises.
Serena came to learn the exercises with her baby in a stroller. She said that she had wanted to learn Falun Gong for a long time and was glad to finally have the chance.
Brisbane
Practitioners demonstrated the exercises at a downtown plaza on July 15 and collected petition signatures condemning forced organ harvesting in China.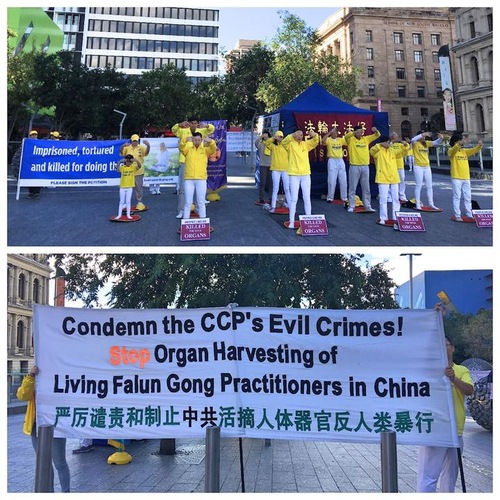 Demonstrating the exercises in Brisbane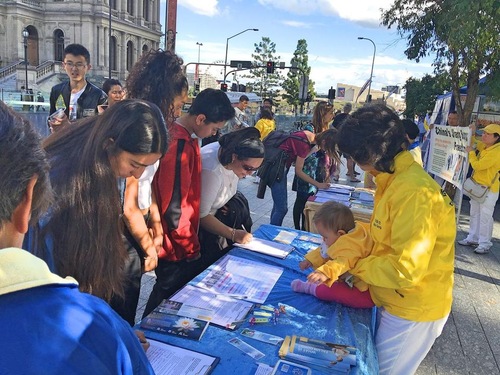 Passersby sign a petition against the persecution in China.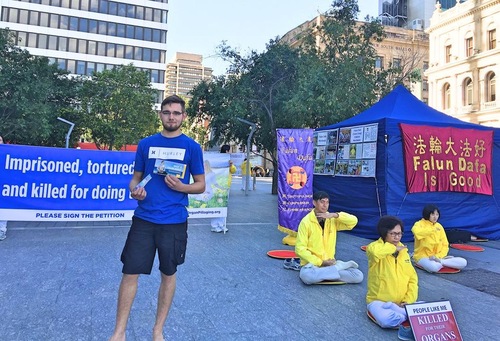 Jess Alexander was horrified after learning of forced organ harvesting in China and said more governments should act to stop the atrocity.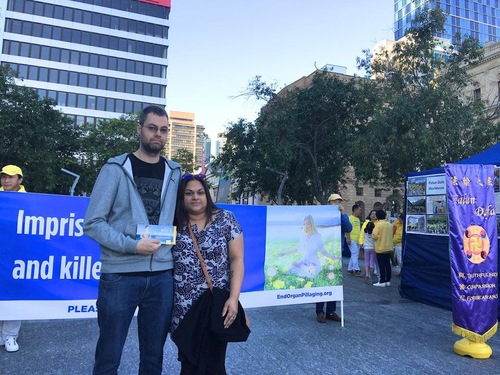 Nich Sowa and his wife Michelle Dias said today's event was very important and that everyone should learn what is going on in China.
Chinese tourists and students also stopped to talk with practitioners.
Mr. Wang and his family had traveled from Beijing. He knew a lot about Falun Gong because some of his friends practice, and he often reads Falun Gong materials. He condemned the crimes committed by the Chinese Communist Party (CCP). He and his family agreed to quit their memberships in the CCP and its youth organizations.
Meihui, a college student from China, was shocked when she learned about forced organ harvesting and the propaganda used by the CCP to defame Falun Gong. Meihui thanked practitioners, quit the Party, and said that she would tell her parents what she learned.
Melbourne
Practitioners held a candlelight vigil in front of the Chinese consulate on July 20 in memory of those who were tortured to death in the persecution.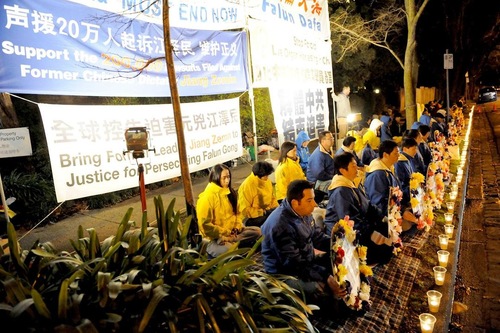 Candlelight vigil in front of the Chinese consulate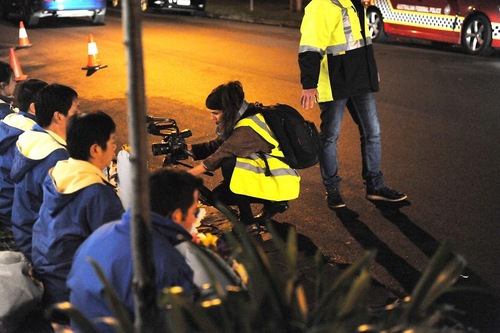 French filmmaker Sarah Jacquier recorded the vigil. She said: "We need to expose the persecution so more people will help to stop it." She plans to make a documentary about human rights abuses against Falun Gong practitioners.
Related reports in Chinese:澳洲墨尔本法轮功学员中领馆前举行烛光夜悼(图)反迫害十八周年-澳洲昆士兰学员传播真相(图)