Belgium: Introducing the Benefits of Falun Gong to the Public on Belgian National Day
July 27, 2017 | By Minghui correspondent Rong Fa
(Minghui.org) Various celebration events were held in Brussels' Royal Park on July 21, 2017, Belgian National Day. Falun Gong practitioners held events on a large lawn inside one entrance of the park. They demonstrated the Falun Gong exercises and introduced the practice to the public.
Introducing Falun Gong to the public in Belgian National Day.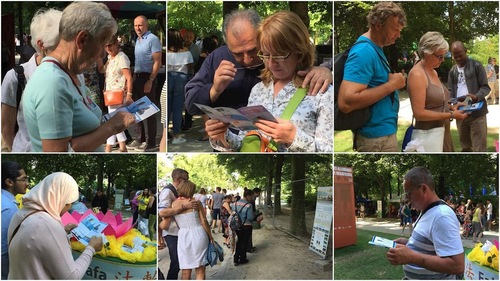 Many passersby read Falun Gong flyers and posters.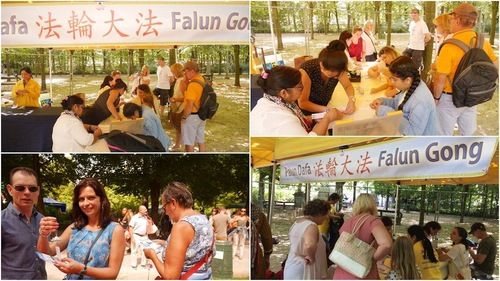 Teaching people to fold paper lotus flowers.
Jenifer, a visitor who said she had taught an art history course at a university in Belgium, talked with practitioner Nico for over an hour. She said she was interested in Chinese culture.
Jenifer said, "The five-thousand-year Chinese culture is profound, especially the Chinese characters, which possess deep connotations... I am retired. I like living in Brussels. I was born in London, lived in New York with my parents, and came to Belgium with my husband. I finally came across Falun Gong, and plan go to the Brussels practice site to learn Falun Gong."
She admired the practitioners' persistence in following the principles of Truthfulness-Compassion-Forbearance. She said, "It was destined for me to encounter Falun Gong. I am delighted."
Bruma is a medical professional, who brought her young daughter to the event. She said, "I read the Falun Gong introduction in the flyer. I am very interested in it because Falun Gong changes people's heart nature. I wish to learn Falun Gong."
A practitioner told her about the local practice site. She said she would bring her daughter to learn Falun Gong.
Daniel is a teacher. He specifically asked where to learn Falun Gong. He said he would download Falun Gong books from the Internet.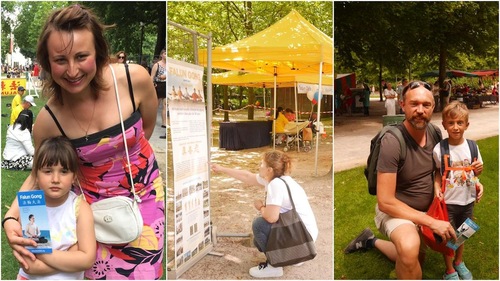 Bruma (left), Jennifer (middle), and Daniel (right).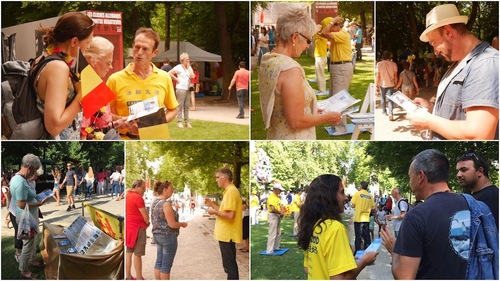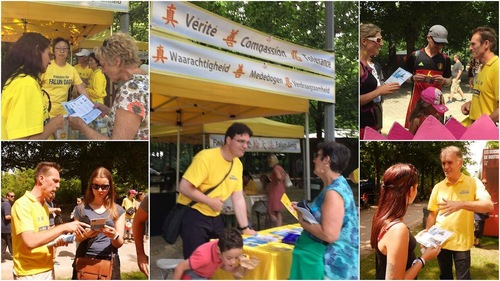 Practitioners explain Falun Gong to passersby.
Some Chinese also came to the events. One man who had lived in Belgium for over 20 years talked with a practitioner for a long while about the Chinese Communist Party's (CCP) persecution. He said at the end, "The CCP's persecution is inhumane." He quit his membership in the Communist Young Pioneers.
A Chinese student who accepted Falun Gong information materials quit his CCP membership.