Toronto: Character Formation Praised by Spectators
July 27, 2017 | By Minghui correspondent Zhang Yun
(Minghui.org) Following the 2017 Falun Dafa Experience-Sharing in Canada, many practitioners participated in a character formation event on the morning of July 23, 2017.
The weather at Toronto's Riverdale Park was drizzle at first. As practitioners continued working on the character formation, the rain became lighter, and later stopped. The group exercise was harmonious and serene, and attracted the attention of many passersby.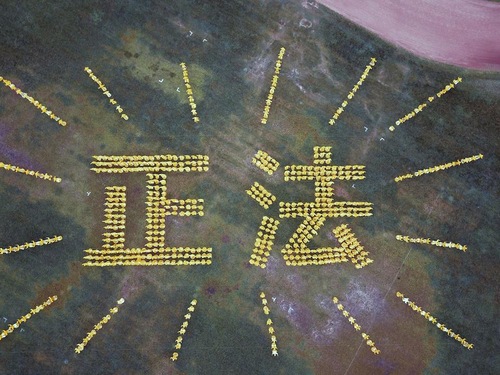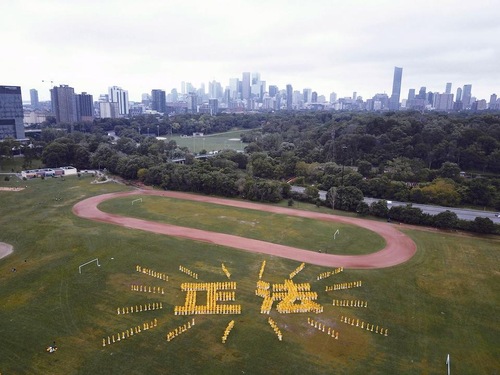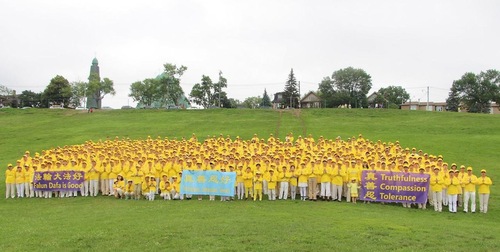 Character formation by Falun Gong practitioners at Riverdale Park in Toronto on July 23, 2017
Pedestrians: I Want to Practice Too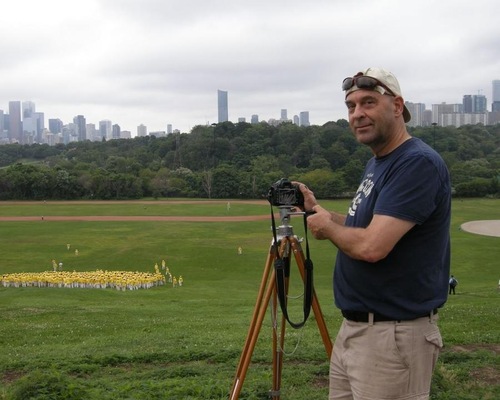 Campbell Foster, owner of a sonological firm, is interested in learning Falun Gong.
Campbell Foster, a performer and composer, is also an owner of a sonological firm. He has a strong interest in self-improvement, and said that Falun Gong seemed very good, and that he wants to practice too. Speaking of the persecution in China, he said that he supports the practitioners 1000% (one thousand percent) in hoping to stop the suppression in China. Because of his career, Foster knows a lot of people. He said, "I will post my pictures on Facebook so that all of them will learn about Falun Gong."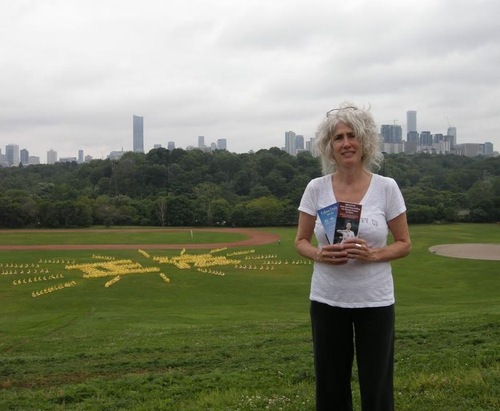 Singer Fides Krucker likes the principles of Truthfulness-Compassion-Tolerance because "They apply to everyone."
Fides Krucker, a renowned Toronto singer, said that she likes the principles of Truthfulness-Compassion-Tolerance. She explained, "They make it possible for people from different backgrounds to come together and get along well with each other." She said that the character formation was very creative and "incredibly beautiful." Having read books about the Cultural Revolution in China, she said she was familiar with how the Chinese communists mistreat people, especially those with different opinions.
Peter Coney, a resident who lives near the park, agreed, saying, "I saw this event from the window, so I came to see what was going on out of curiosity." He was glad to see the peace and happiness of the practitioners. "I also like the Falun Gong principles," he said, pointing to a flyer in his hand, "because they will bring us a better society." He said he hopes that people in China will enjoy the same freedom of belief and justice as in North America.
Chinese Tourists: "Dark Days Won't Last Long"
Mr. Li, an immigrant from Northeast China, was doing morning exercises in the park. A practitioner talked with him and explained to him how the Communist Party defamed Falun Gong with hate propaganda. Mr. Li thanked him and agreed to renounce his membership in the Communist Party.
Ms. Zhang from Dalian, Liaoning Province was visiting her family. Impressed by the practitioners' event, she took many photos with an iPad. "This looks really awesome," she said.
When a practitioner talked with her about the suppression in China, Ms. Zhang said, "Falun Gong is good. It is Jiang Zemin (former Chinese communist leader who banned Falun Gong in 1999) who is making a mess."
Ms. Zhang said she was glad to see that many high-ranking officials involved in the persecution had been taken down for corruption. "Trust me, the dark days won't last long," she said.