London: Rally to Protest Persecution of Falun Gong Supported by Members of Parliament
July 27, 2017 | By Minghui correspondent Li Xinci in England
(Minghui.org) To protest their ongoing suffering and commemorate the 18 years of efforts in resisting the persecution of their faith in China, Falun Gong practitioners rallied in front of the Chinese Embassy in London on the morning of July 23, 2017.
The practitioners were joined by letters of support from Members of Parliament in their condemnation of the persecution and the state-sanctioned organ harvesting from incarcerated Falun Gong practitioners. Falun Gong is a spiritual discipline that has been persecuted in China since 1999.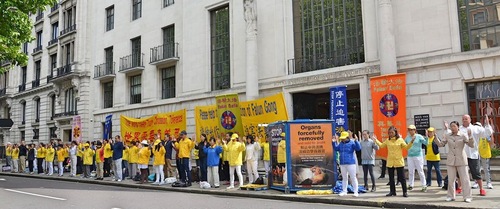 Falun Gong practitioners protest peacefully outside of the Chinese Embassy to raise awareness of the brutal persecution in China.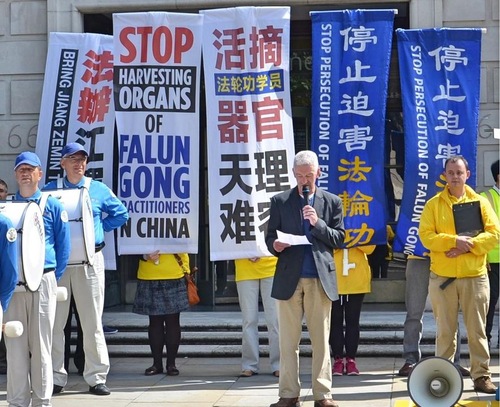 John Dee, chairman of Friends of Falun Gong Europe, speaks at the rally in support of the practitioners.
Members of Parliament Support the Practitioners' Efforts and Call Upon the International Community to End the Persecution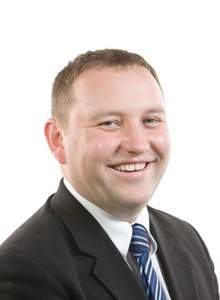 Ian Murray, Member of Parliament
MP Ian Murray stated in his letter that the persecution shouldn't have happened, and that it is unacceptable that it is still ongoing. He asked the Chinese government to take responsibility for the lives lost in the atrocity of organ harvesting and called upon the international community to work together to end the persecution.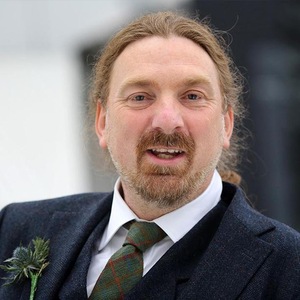 Chris Law, Member of Parliament
MP Chris Law said he believes that it is a violation of human rights that the incarcerated practitioners are being starved, beaten, and shocked by electric batons, as he said in his letter. He asked western society to continue paying attention to the practitioners' situations.
According to Law, more and more strong evidence shows that the practitioners are being targeted as involuntary donors of organs, including kidneys, livers, and hearts. He called on the international community to pressure Xi Jinping, head of the Chinese Communist Party (CCP), to bring the culprits who started the persecution to justice.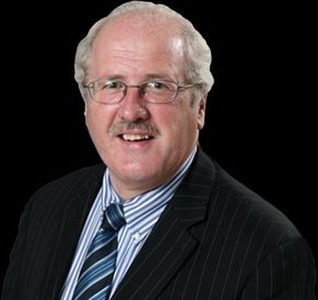 Jim Shannon, Member of Parliament
In his letter, MP Jim Shannon expressed his condolences to the families ruined and lives lost in the persecution. The practitioners are persecuted because they believe in Truthfulness, Compassion, and Forbearance, he said. He also accused the CCP of not being able to provide any information to show that organ harvesting from prisoners of conscience does not exist.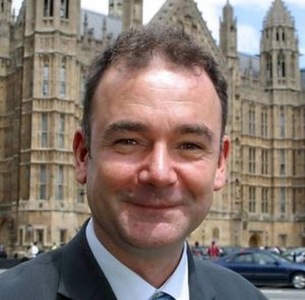 Jon Cruddas, Member of Parliament
MP Jon Cruddas was shocked to learn that the CCP treats Falun Gong practitioners as organ donors, and that this is the reason why practitioners were killed in prisons. He was also shocked to learn about the enormous profits involved in the organ harvesting business. He described that a liver costs 100 thousand British pounds, and a kidney 48 thousand. He didn't want the British people to become victims of such crimes.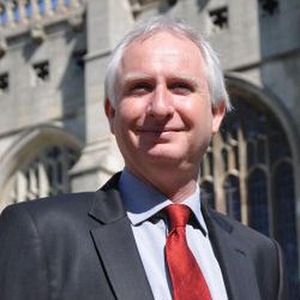 Daniel Zeichner, Member of Parliament
MP Daniel Zeichner said that the British government should ask Beijing deeper questions on the issue of organ harvesting and begin to think about what kind of role it should play. He asked the British government to work closely with the United Nations and begin independent investigations of the crime. He believes that before any evidence can show that organ harvesting has stopped, the British government should find a way to prohibit its people from going to China to receive organ transplants.
Falun Gong Practitioners' Personal Experience of the Persecution
At the rally two Falun Gong practitioners from China spoke about how they benefitted from the practice and had suffered torture during the persecution.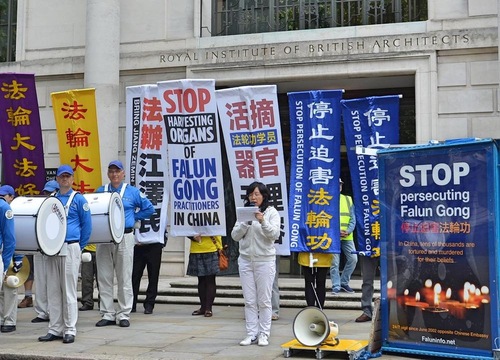 Ms. Song Meiying speaks at the rally.
Ms. Song Meiying used to practice law in Beijing, and currently lives in England. She said, "I used to have insomnia and severe inflammation in my nose and throat. The symptoms all disappeared shortly after I picked up the practice." She said she became more forgiving and kind after following the principles of the practice, and now felt utterly happy and peaceful.
According to her account, five officers broke into her home on the morning of May 7, 2010, and arrested her. They confiscated her Falun Gong books and videos, as evidence of her so-called crime. She was tortured in Beijing Women's Forced Labor Camp for eight months. She was forced to sit still on a small chair with a person watching her around the clock. Very soon her legs swelled and the flesh on her buttocks broke open.
She was constantly deprived of sleep, which put tremendous pressure on her, both physically and mentally. Her cell was freezing no matter how many clothes she put on. She wasn't allowed to contact her family.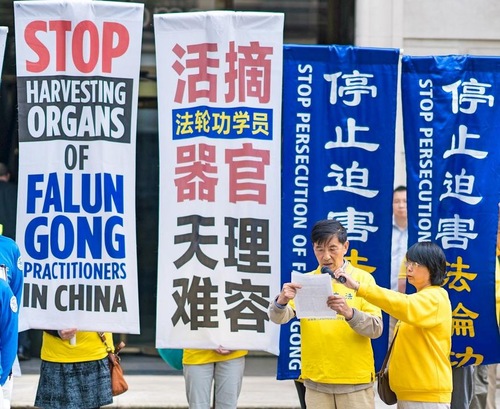 Mr. Qiao exposes the persecution he suffered at the rally.
Mr. Qiao and his wife are both practitioners. He said his chronic digestive problems disappeared after he became a practitioner. Through the practice, the couple became more considerate and optimistic.
The Domestic Security Division officers took him and his wife from their home in June 2009. They were interrogated for over 70 hours in an extremely painful position. He was later sentenced to three years in prison. He was in his sixties at the time and was forced to do labor-intensive work, including excavation, all day. He had to stand against a wall during lunch break while others rested.
Mr. Qiao said, "My family wasn't allowed to visit me or call me. As a result of the tortures, I began to suffer from severe diabetes. Because of the complication my eyesight deteriorated to the point where I almost couldn't see. There were skin lesions and sores on my legs. The authorities would not send me to a hospital for treatment."