Falun Gong Activities in Europe Commemorate 18 Years of Striving to End the Persecution in China
July 21, 2017 | By Minghui correspondents in Europe
(Minghui.org) As July 20 approached, Falun Gong practitioners in Europe held activities to commemorate the 18th year of efforts to end the persecution of Falun Gong by the Chinese Communist Party (CCP).
France
On July 16, 2017, Falun Gong practitioners in Paris, France held activities on Human Rights Plaza near the Eiffel Tower, including a demonstration of the Falun Gong exercises, poster boards explaining the persecution taking place in China, and photo displays. Many pedestrians signed a petition calling to end the Chinese regime's harvesting of organs from living Falun Gong practitioners. Some people learned the Falun Gong exercises on the spot.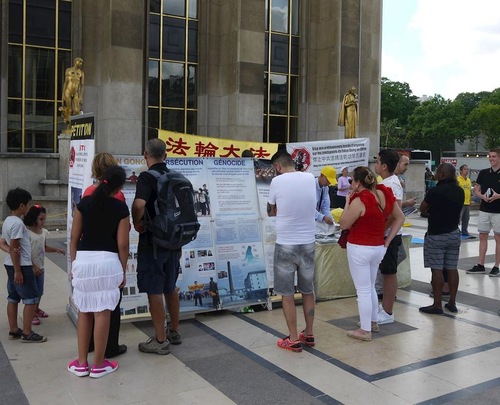 Tourists learn about Falun Gong on Human Rights Plaza in Paris.
Khabat Zahia, a nurse, said, "I'm against inhuman torture. Let's work together to stop this crime! The persecution must stop!" A gentleman named Olivier Perquet signed the petition and said with determination, "The Chinese Communist Party is intolerable! They must stop the persecution of Falun Gong!"
Spain
Falun Gong practitioners in Spain held a series of activities in Madrid on July 15, 2017, including a photo display, a peaceful protest in front of the Chinese Embassy, distributing Chinese and Spanish flyers to passersby, and collecting signatures on Callao Square to support the prosecution of Jiang Zemin, the former head of the CCP who ordered the campaign against Falun Gong.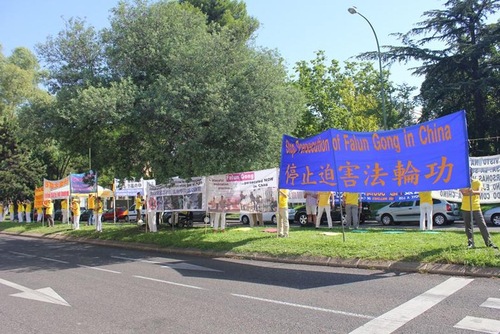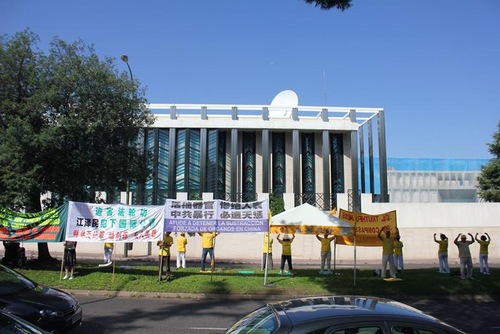 Falun Gong practitioners in front of the Chinese Embassy call for an end to the regime's persecution and organ harvesting crimes in China.
Urbano Fernández, a retired lawyer, told Falun Gong practitioners that this crime cannot be ignored. Another lawyer who was with him said more people should know about the atrocities committed by the CCP.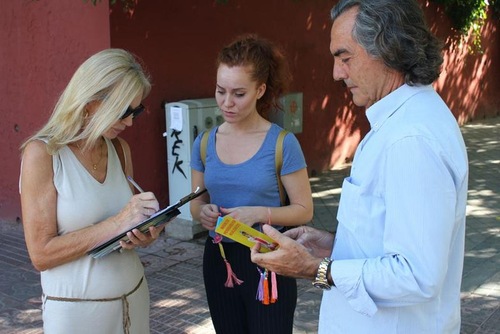 People sign to show their support of Falun Gong practitioners' efforts against the persecution.
Austria
Practitioners in Austria held an Information Day at Heldenplatz in Vienna on July 14. Their exercise demonstration attracted the attention of tourists, including those from China.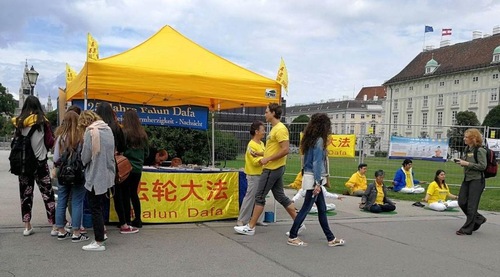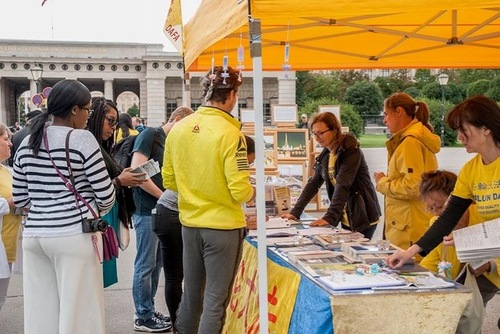 Falun Gong practitioners in Austria hold an Information Day at Heldenplatz.
A husband and wife told practitioners, "This kind of conduct signals the end of the CCP. It has been proven by history. The CCP will collapse."
A Chinese student from the U.S. said, "The Chinese government slanders Falun Gong. I don't believe what they say, and neither do other Chinese people I know in the States."
Austrian officials have written letters to Falun Gong practitioners to express their support for this special commemoration.
Faika El-Nagashi, MP and human rights spokesperson of the Austrian Greens, wrote in her letter that more than 80 million people in China were practicing Falun Gong 18 years ago; since the persecution started, they have faced imprisonment, torture, and murder, especially for the purpose of harvesting their organs. She called on the international community to strongly protest the CCP's persecution of Falun Gong.
Nadine Papai, Director of GFBVö, wrote that the human rights situation in China has been deteriorating in every respect, especially freedom of belief for ethnic minorities and Falun Gong practitioners. She called for the international society to take further action and put on the agenda the issue of brainwashing centers used by the Chinese regime to force practitioners to renounce Falun Gong.
Czech Republic
Falun Gong practitioners in Prague held activities and distributed information on Hradčany Square near Prague Castle on July 17.
A senior Chinese Communist Party official was visiting the Czech Republic at around the same time. Liu Yunshan, a member of the Politburo Standing Committee, was one of the chief perpetrators responsible for the persecution of Falun Gong. Liu never appeared in the public during his visit. However, Falun Gong practitioners took the opportunity to collect signatures on a petition calling to end the persecution.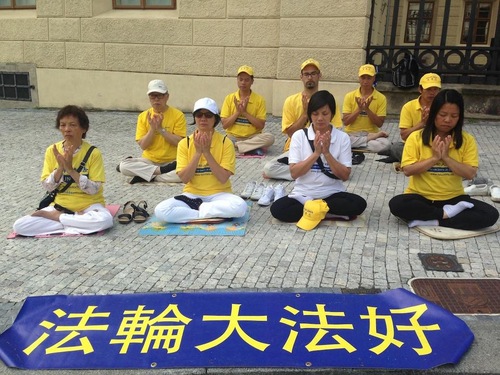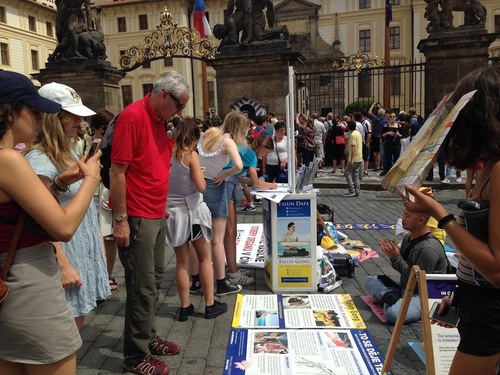 Falun Gong practitioners in Prague held activities at Hradčany Square.
Many Chinese tourists expressed their support and admiration to practitioners. Some had learned about Falun Gong in their countries of residence.
Two young tourists from mainland China initially opposed the practitioners, having been influenced by Communist Party propaganda attacking Falun Gong. After a practitioner explained Falun Gong and the persecution to them, they took informational materials with them to learn more, happy to read the content that is censored in China.
Cyprus
Practitioners in Cyprus held commemorative activities in Limasol on July 16 to introduce Falun Gong and raise awareness of the persecution.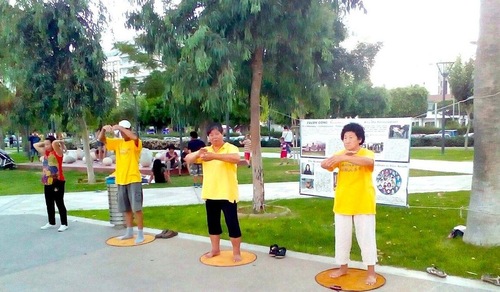 Practitioners in Cyprus introduce Falun Gong in Limasol.
A Vietnamese lady was very excited to see the practitioners. She said, "I have finally found you! I came here a year ago but didn't know how to contact you!" She had wanted to learn Falun Gong for a long time; her wish finally came true.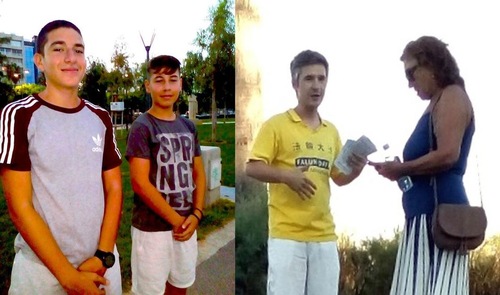 Left photo: Two young men (left photo) learn the Falun Gong exercises.Right photo: A practitioner gives a flyer to a passerby.
Related reports in Chinese:西班牙法轮功学员中使馆前呼吁结束迫害(图)奥地利学员揭露中共迫害-各界支持反迫害(图)捷克法轮功学员总统府前传播真相(图)塞浦路斯学员举办七二零反迫害活动(图)