Taipei, Taiwan: Grand March Marks 18 Years of Peaceful Effort to End the Persecution
July 21, 2017 | By Minghui correspondent Liu Wenxin in Taipei, Taiwan
(Minghui.org) More than 1,500 Falun Gong practitioners from northern Taiwan marched through downtown Taipei on July 16, 2017 to mark the 18th year since the Chinese Communist Party (CCP) launched its violent campaign against Falun Gong, also known as Falun Dafa. The marchers called upon the public to help stop the persecution in mainland China.
The practitioners' Tian Guo Marching Band led the procession, which was split into three sections: "Wide Spread of Falun Dafa," "Unprecedented Brutal Persecution," and "End the Persecution."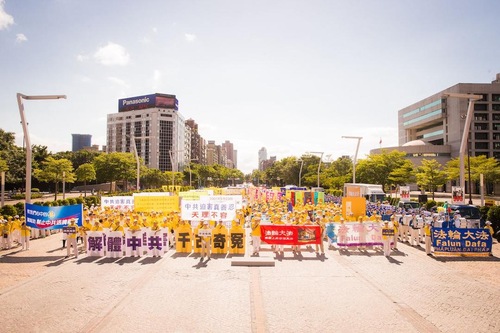 Practitioners prepare for the march at Public Square in front of Taipei City Hall
Section One: Wide Spread of Falun Dafa
People in more than 100 countries practice Falun Dafa, including its principles of Truthfulness-Compassion-Forbearance and five sets of gentle exercises, to improve their physical and mental well-being. The main book of Dafa, Zhuan Falun, has been translated into 40 languages.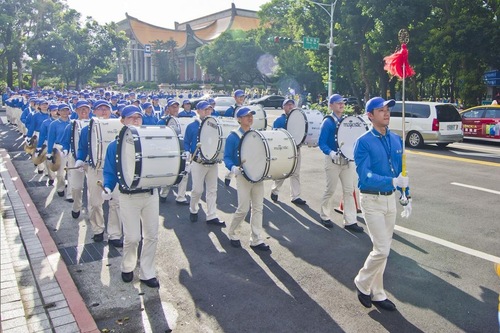 The Tian Guo Marching Band leads the procession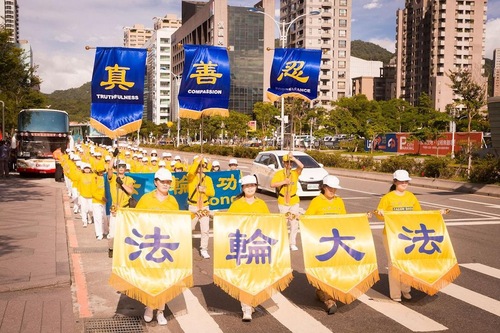 The yellow banners contain the Chinese characters for Falun Dafa.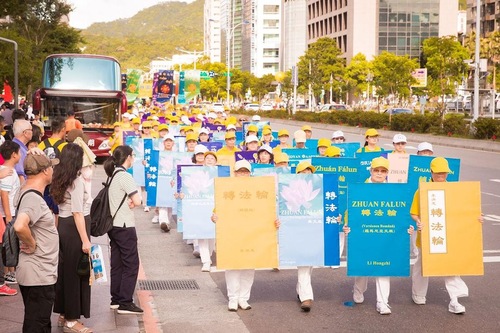 The book Zhuan Falun has been translated in 40 languages.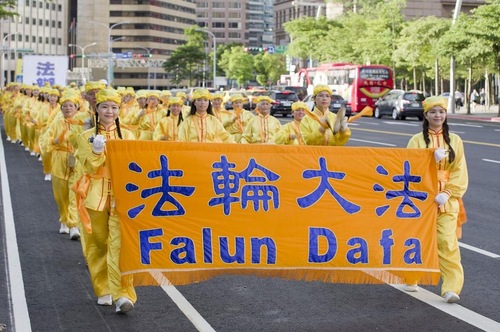 Waist drummers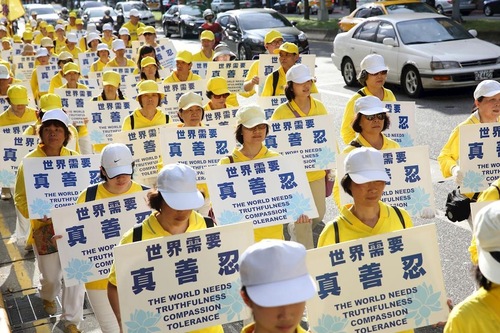 Practitioners holding placards reading "The World Needs Truthfulness-Compassion-Forbearance"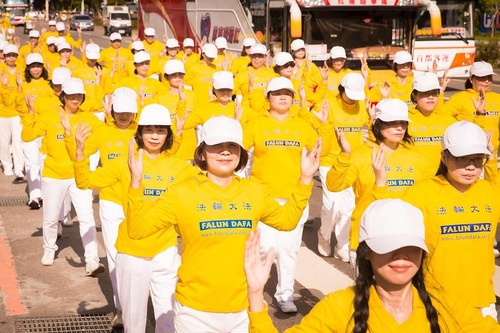 Demonstrating the Falun Dafa exercises
Section Two: Unprecedented Brutal Persecution
During the 18-year persecution, Falun Gong practitioners in China have been detained, tortured, and even killed for their organs–all for refusing to renounce their faith.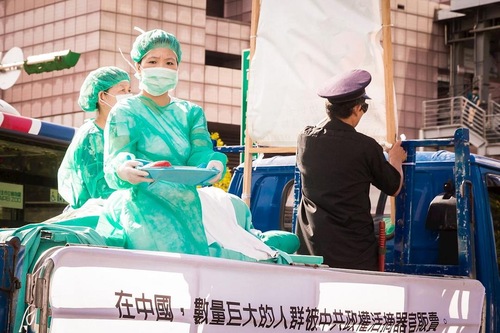 Practitioners perform a re-enactment to raise awareness of the Chinese regime's killing of practitioners and taking their organs for transplants.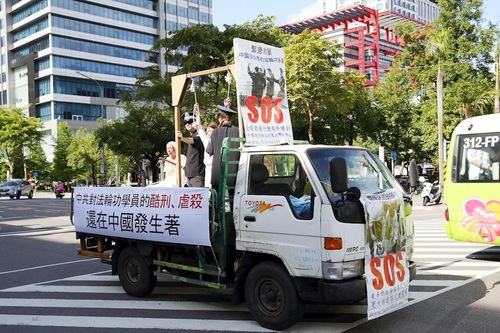 Re-enactment of torture methods practitioners have suffered in mainland China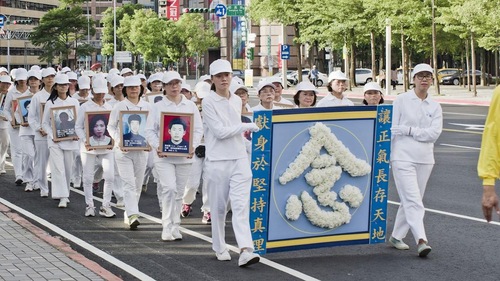 Practitioners hold portraits of those who have been killed in the persecution.
Section Three: End the Persecution
More than 200,000 practitioners have filed criminal complaints against Jiang Zemin, the former head of the Chinese Communist Party who launched and directed its campaign against Falun Gong. More than 2.4 million people from around the world have signed petitions calling to bring Jiang Zemin to justice and to end the persecution.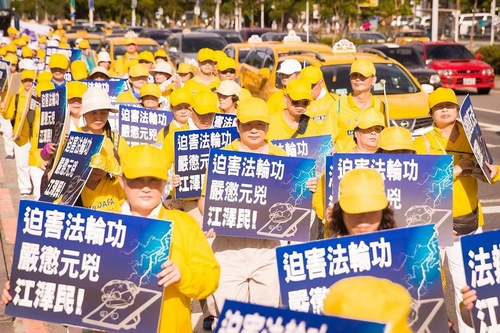 "Bring Jiang Zemin to justice for perpetrating the persecution of Falun Gong!"
Taiwanese People: Persecution Should End Immediately
Many Taiwanese, including some seeing a Falun Gong parade for the first time, expressed their support for the practitioners and hoped that the persecution should be stopped immediately. Some said they felt strong energy from the parade procession and wanted to learn Falun Gong.
Taipei resident Ms. Yan said, "When I felt the energy, it was like a powerful radiator that kept rotating. The power was so huge that it was beyond description. It purified my body and soul. My heart was touched."
Ms. Yan said she had read about the persecution of Falun Gong and that the CCP killed practitioners for their organs, but she found it hard to believe. She has now changed her view and said she plans to learn Falun Gong at a park where practitioners do the exercises outdoors.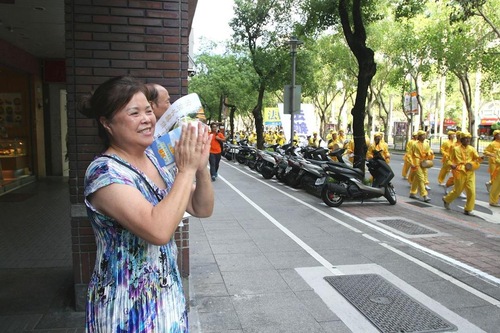 Ms. Jennifer Lee, who lives in the U.S., said she saw a lot of information about Falun Gong in the U.S. She hopes the persecution will end soon.
Bringing Jiang Zemin to Justice and Ending the Persecution
Director Chang Chin-hua of the Falun Dafa Association in Taiwan said that 850,000 people in Taiwan have signed petitions calling for the prosecution of Jiang Zemin. In addition, 14 county and city councils, including Taipei and Kaohsiung, have passed resolutions in support of Chinese citizens' filing criminal complaints against Jiang and demanding the end of forced organ harvesting and the release of Falun Gong practitioners detained for their belief. She hoped that all people will work together to end the persecution.