Southwest Germany: Raising Awareness of the Persecution of Falun Gong
July 17, 2017 | By a Falun Gong practitioner in Germany
(Minghui.org) Falun Gong practitioners from Southwest Germany set up a booth in the town of Bad Kreuznach on June 17, 2017, and in Bruchsal on July 1, 2017, to inform people about the persecution of Falun Gong, in particular about the forced organ harvesting from living Falun Gong practitioners in China. Signatures were collected on a petition for Doctors Against Forced Organ Harvesting (DAFOH), which will be sent to the United Nations.
Public Support in Bad Kreuznach
Bad Kreuznach is a town with many health resorts and spas in Rhineland-Palatinate. It also has many historic landmarks. Because of the focus on wellness, many tourists visit the city.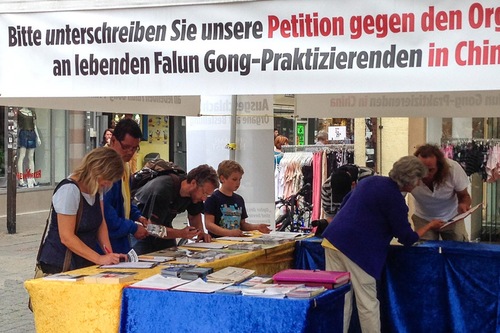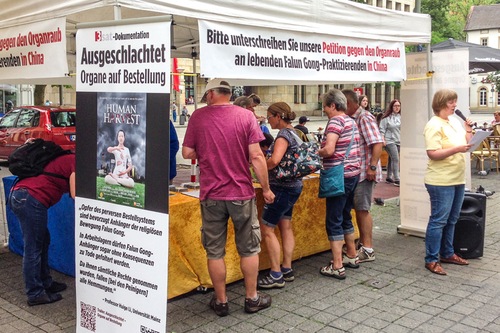 Citizens of Bad Kreuznach sign the petition to protest China's state-sanctioned forced organ harvesting.
One woman who signed the petition wished practitioners great success. Another said that, after she signed, she asked many others to also sign the petition.
A man who already signed the petition brought his wife back to the booth to add her signature. After signing the petition, a man in a wheelchair said, "I hope you get many signatures. People want to know what Falun Gong is and why it is being persecuted." He took a Minghui website brochure and planned to pass it on. Many passersby thanked the practitioners and one man said, "Good job, good effort."
One young woman came with her mother. The mother signed, but the young woman hesitated. However, she took information, saying that she wanted to research the topic further on the Internet. After speaking with a practitioner, she signed the petition right then. Another woman, who had signed before, returned to the booth and took some flyers and Minghui brochures, which she said she wanted to distribute.
One man said that his friend taught English in China and that he himself had lived in Asia for some time. He signed the petition and wished the practitionrs success. Several passersby had heard about the forced organ harvesting in China, and signed the petition. One person said, "It's great that you are doing this," and gave a thumbs up.
Many citizens in Bad Kreuznach expressed their support for the activity and mentioned that it was good that practitioners were raising awareness about the forced organ harvesting issue.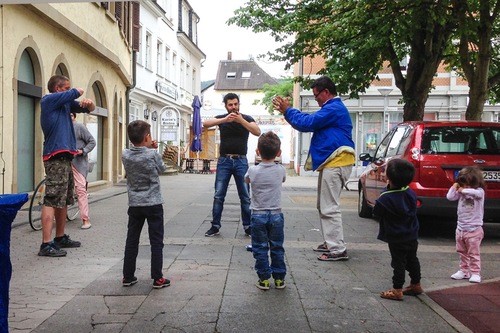 Passersby and children learn the Falun Gong exercises.
Some people wanted to learn more about Falun Gong and the exercises. Toward the end of the activity, two young men remained at the booth to learn the exercises. Some children were playing loudly nearby, but when the exercise music started, they got quiet and took part in learning the Falun Gong exercises.
Bruchsal: Citizens Support DAFOH's Petition
Falun Gong practitioners from Rhineland-Palatinate, Baden-Wurttemberg, and Saarland talked to people in Bruchsal on July 1, 2017, about the persecution and specifically the forced organ harvesting from living Falun Gong practitioners in China.
Bruchsal is home to a music and art school, a Baroque-style castle, and other landmarks.
The practitioners presented the DAFOH petition at their booth. Many people were stunned to learn about the crime of forced organ harvesting. Some asked again and again why people who had done nothing wrong were being persecuted and even killed. After talking to the practitioners, many signed the petition and wished them much success. They were pleased that the practitioners were committed to informing people about these crimes.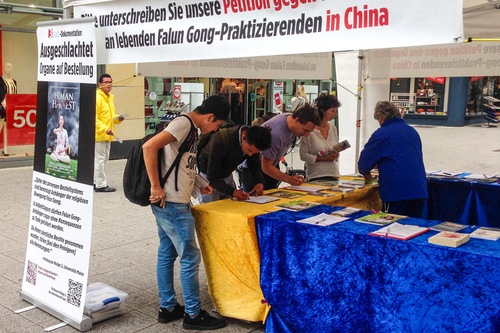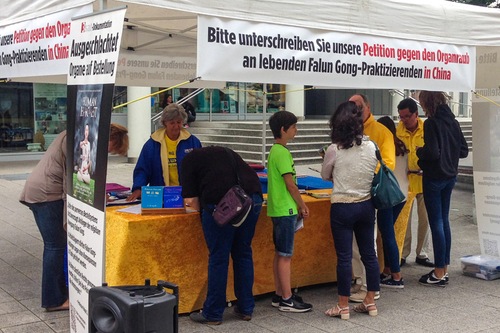 Citizens in Bruchsal sign the petition opposing forced organ harvesting in China.
One woman spoke with a practitioner for quite some time, because she had been married to a Chinese. She said that she had no idea that something like forced organ harvesting was happening in China.
A family of five came to the booth, and everyone signed the petition and thanked the practitioners for their efforts. Many young people also signed and expressed their support.
Several passersby were interested in learning Falun Gong. A practitioner wrote down their contact information and will organize an exercise group in the city of Bruchsal.