Dafa Practitioners in Bay Area Call for Release of Family Members Imprisoned in China
(Minghui.org) "Falun Dafa saved our family," Ms. Jiang Wenjun said at a press conference in front of the Chinese consulate in San Francisco on June 16, "but my mother was arrested because she practices Falun Dafa."
Ms. Jiang Wenjun and three other Falun Dafa practitioners in the San Francisco Bay Area are calling for help to rescue their jailed family members in China.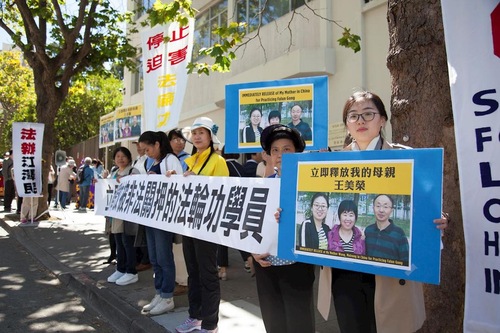 Falun Dafa practitioners in San Francisco hold a press conference calling for an end to the persecution in China.
Jiang Wenjun, 26, is from Qingdao City, Shandong Province. Her mother Wang Meirong and another practitioner, Zhang Yuemei, were arrested in Pingdu Town, Shandong, last Friday, when they were talking to people about Falun Dafa. The following day they were taken to the Second Detention Center in Pudong, where they remain incarcerated.
According to Ms. Jiang, her mother was tortured in the detention center by police and guards in an attempt to force her to renounce her belief.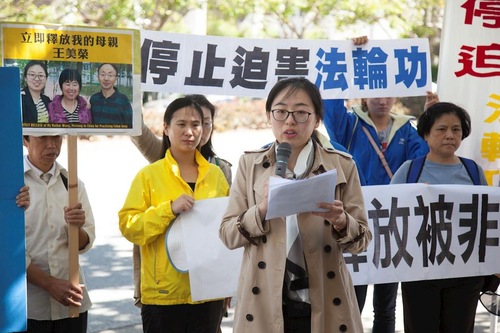 Jiang Wenjun tells her mother's story at a press conference in front of the Chinese Consulate in San Francisco.
Ms. Jiang recounted her family's experience with Falun Dafa. "When I was seven, my mother had a strange skin disease. Her whole body, even her eyelids, were covered with fish-scale-like dry skin. If she moved suddenly, the skin on her torso would crack and bleed. She itched terribly, 24/7. Her fingernails were even worn from the constant scratching.
"She tried all kinds of therapies, Western and Chinese medicine, but nothing worked. She became short-tempered and often got mad for no reason. My family was under a heavy cloud, until she started to practice Falun Dafa in 1998, which completely healed her in one month. The scale-like skin sloughed off, and she developed normal skin. Smiles and laughter came back to my family."
Jiang Wenjun posed the question, "How could my mother ever give up the practice that saved her life? Why is she jailed just for telling people what this practice really is?"
Three other practitioners at the rally also called for the release of their family members imprisoned in China because of their belief in Falun Dafa.
Yao Yunying's parents, Yao Guofu and Liang Xin from Henan Province, have been imprisoned since 2015.
Lao Yunteng's cousin, Yang Xiaohui from Guangdong Province, was also jailed in 2015.
Li Xuesong's mother, Meng Hong from Heilongjiang Province, was arrested in 2012 and sentenced to seven years.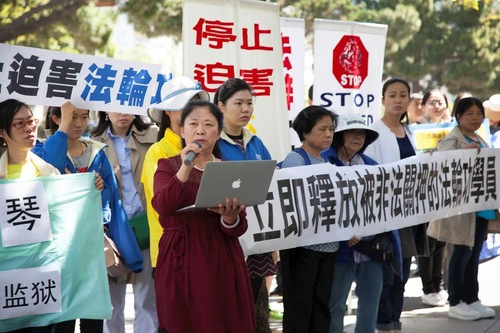 Chen Zhenbo recounts her experience of being tortured in a Chinese prison.
During the press conference, practitioner Chen Zhenbo told her story of being tortured in China.
Ms. Chen, also from Qingdao, was jailed for 18 months, from 2008 to 2009. In the prison, she was hung up for seven days. The guards soaked her in icy water and beat her brutally.
Ms. Chen said her friend Lu Xueqin, a fellow Falun Gong practitioner, had been recently arrested for the second time and is now in the Third Detention Center in Qingdao.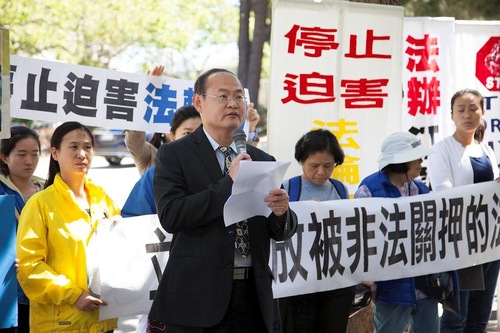 Former judge Wang Chongming said that no law in China states that practicing Falun Dafa is illegal.
Mr. Wang Chongming, a former judge from Beijing, also spoke at the rally. "There is no law in China that says that practicing Falun Dafa is illegal," he said. "In contrast, the Chinese Constitution says that citizens have the freedom of belief and speech."
Mr. Wang continued, "It is a universal value that freedom of belief and speech should be protected by law. But over the last 18 years in China, millions of Falun Dafa practitioners have been arrested, imprisoned, and tortured. Many families were destroyed, and many practitioners lost their lives as a direct result of the persecution. The government even harvests organs from Falun Dafa practitioners for profit.
"This persecution is illegal, and the criminals should be brought to justice."