1,130 Falun Gong Practitioners Arrested and Harassed for Their Faith in March 2017
May 04, 2017 | By a Minghui correspondent
(Minghui.org) According to information compiled by Minghui.org, 1,130 Falun Gong practitioners were either arrested or harassed during March 2017 as part of the Chinese Communist Party's persecution of the spiritual discipline.
Of the 715 practitioners arrested, 232 had their homes ransacked, and 239 have returned home.
Of the 415 who were harassed, 92 had their homes ransacked, and 47 were harassed for filing criminal complaints against Jiang Zemin. The harassment included being forced to have a photo taken, being video recorded, and having one's phone monitored.
Ms. Wang Xiangdian, 66, a former deputy mayor of Gongyi City, Henan Province, was told that the Provincial Commission for Discipline Inspection wanted to speak to her. Because she knew that she had not committed a crime, she refused to go see them. She has lived in fear since the persecution of Falun Gong started.
The arrests and harassments took place in 29 provinces and municipalities. The greatest number of arrests were recorded in the provinces of Shandong (104) and Liaoning (73). The latter recorded the largest number of incidents of harassment—128.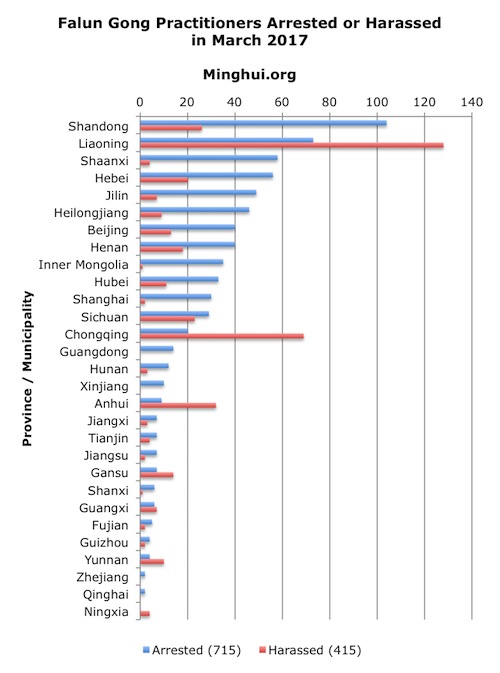 Mass Arrests
In Shanghai, Xi'an, and Qiqihar, there were mass arrests between March 20 and 22.
Two Falun Gong practitioners in Hebei, Mr. Song Xingwei and Mr. Bo Changchen, were tried in the Baoshan District Court in Shanghai on March 21. That morning, 15 practitioners were arrested near the courthouse.
One of the practitioners, Mr. Feng Xingji, was arrested near the bus stop by three plainclothes officers and taken to the Baoshan District Police Station, where he saw other local practitioners who had been arrested. That afternoon, the police took him to his home, ransacked it, and confiscated his Falun Gong books and cell phone. He was detained that night at the Jing'an District Detention Center.
On March 22, more than 50 practitioners were arrested in Xi'an City, Shaanxi Province. Similar to the incidents in Shanghai, the police arrested dozens of practitioners who were en route to Shaanxi Women's Prison to show their support for local practitioners detained there.
Those arrested were: Ms. Song Xianlan, mother and daughter Ms. Li Yuhua and Ms. Liu Chunxia, Ms. Chen Cuizhen, Ms. Li Xuesong, Ms. Ma Cuiping, Ms. Li Zirong, Ms. Liu Shuhua, Ms. Li Xiurong, Ms. Yang Liying, Ms. Zhu Fengzhen, Ms. Li Fengying, Ms. Liu Jing, and Ms. Shi Limin.
Some of them were fined 1,000 yuan in cash and released after they paid the fine. Others had their homes ransacked and were then taken to a brainwashing center. Those who did not pay the fine were held at the detention center.
In late March, a dozen Qiqihar residents were arrested over the course of three days. Of the 14 who remain in detention, four of them—Ms. Wang Yan, Mr. Li Shunjiang, Mr. Wang Yudong and Mr. Tian Yong—have met with their lawyers.
The lawyers were shocked by what they saw. Mr. Li was wearing handcuffs and shackles and could barely move. His lawyer asked the police to remove the cuffs immediately, since such restraint is illegal. He learned from Mr. Li that he had been tortured while detained. The deputy head of the police station smeared wasabi on a mask and put it on his face, and then they beat him overnight with a shoe.
The police covered Mr. Tian Yong's nose and mouth with a wet towel before hitting him in the face. They covered Mr. Wang Yudong's head with a plastic bag and blew cigarette smoke into it.
Former Government Officials and Professionals Targeted
Many of the arrests involved individuals who have held important positions in the past. Below are a few examples:
Board of Education Director Arrested and Beaten
Ms. Li Yushu was a director of the board of education of the Amur Forestry Bureau. She was in the post office on March 18 to mail documents to CCTV when three police officers appeared and grabbed her letters out of her hands. They pushed her down and kicked and slapped her, then took away her keys and ransacked her home.
When she was being interrogated, the police told her that she would be sentenced for filing a criminal complaint against former Chinese leader Jiang Zemin for initiating the persecution of Falun Gong. She was released late that night after they ransacked her home. This is not the first time that her home has been ransacked.
Former Police Officer Arrested
Mr. Hu Deyuan, 63, was a police officer with the Yingtan City Railway in Jiangxi Province. He was fired when he refused to renounce his faith in Falun Gong. On March 9, four policemen and several plainclothes officers appeared at his home to arrest him. They took him to the police station and then to the detention center. The detention center refused to accept him because his blood pressure was too high.
The 610 Office gave orders that he be moved to a hospital and then to a drug rehabilitation center for "treatment" that amounted to torture.
His family went looking for him and was informed that the reason for his arrest was that Mr. Hu had put up posters about Falun Gong.
IT Professional Arrested
Ms. Liu Haiying, 37, is an IT professional in Chengdu, Sichuan Province. She was arrested at work on March 3 after being followed by police for several days. They took her to her home and ransacked it. She is now believed to be in detention. She had been telling people about Falun Gong when someone reported her.
Beijing Union Medical College Hospital Anesthetist Arrested
Ms. Yan Hongyan, 38, is an anesthetist at the Beijing Union Medical College Hospital. While at work on March 1, she told her subordinates about Falun Gong and the movement to quit the CCP. Someone reported her, and she was arrested and taken to a detention center. Her personal computer at home was confiscated and has yet to be returned. Her family was not allowed to visit her.
Chongqing Man Slapped by Guard
Mr. Luo Jiaoyu, 47, from Liangping County was on his way to work on March 7 when he was stopped at a train station. His copy of Zhuan Falun, which he had in his bag, was confiscated, along with other personal items. He was arrested and detained for 15 days. While in detention, a guard slapped him in the face. He was released on March 22.
Shandong Woman Tortured, Bones Broken
Ms. Dai Xiufang, 67, from Weifang City was arrested on March 7 while she was on her way to visit her mother-in-law. She sustained severe injuries during the arrest and is now unable to take care of herself.
Two Guangdong Women Beaten for Telling People about Falun Gong
One March 30, Ms. Hong Meifang and Ms. Chen Lian were in Magangzhen telling people about Falun Gong and the persecution. A villager told them to talk to Chen Runqing, a government official.
Chen refused to listen to the practitioners and threatened to call the police. When they started to leave, Chen grabbed hold of their collars to hold them back. He even snatched the keys to Ms. Hong's motorbike.
When the villagers saw that Chen had arrested outsiders, they crowded around. The village chief lied to the villagers and claimed that the women were there to abduct children. The villagers reacted by beating Ms. Hong.
During the beatings, Chen took a plastic bag filled with Falun Gong informational materials and put it around Ms. Chen's neck, refusing to let her go. A man dressed in black kicked and punched Ms. Hong in the stomach.
The police came and took them away to the police station. They were released late that night after their family went looking for them.
When Ms. Hong returned home, she discovered that she was covered with bruises.
The police have yet to return Ms. Hong's motorbike. When officers went to ransack Ms. Chen's home, her husband stopped them.