Practitioner Severely Injured as a Result of Police Brutality
April 24, 2017 | By a Minghui Correspondent in Shandong Province, China
(Minghui.org) Ms. Dai Xiufang, 67, a Falun Gong practitioner from Shandong Province, was arrested on March 7, 2017. During the arrest and subsequent detention, the police's violent conduct resulted in Ms. Dai suffering a fractured clavicle, four broken ribs, and a compound fracture to her wrist. The injuries left her unable to take care of herself.
Mistreatment During Arrest
Ms. Dai was arrested on her way to visit her mother-in-law. Several plainclothes police suddenly showed up and dragged her into a police car. They handcuffed her hands behind her and forced her arms up behind her to the extreme. This torture instantly disabled her arms. Then they took Ms. Dai to the Weifang City Detention Center.
Tortures in Detention Center
While taking Ms. Dai to the detention center clinic for a routine physical examination, four male police officers held Ms. Dai's arms behind her back and pressed their elbows against her back and chest, causing unbearable pain.
At the clinic, an officer pushed Ms. Dai violently to force her onto a table in order to take a blood sample. With a sound of "click," her ribs broke. They then pressed her neck against the edge of the table choking her nearly to death. As a result of that abuse, she spit blood and was in excruciating pain.
Ms. Dai was unable to move after the torture of the "physical exam." Her left wrist had a compound fracture, with a bone protruding. Her clavicle and four ribs were also broken.
After the physical examination Ms. Dai was admitted to the detention center, even though she needed immediate medical attention. She frequently spit blood and could not take care of her daily needs. Five days later, officials decided to bring her to the No. 2 People's Hospital in Weifang City for another examination.
Despite her condition, the guards still handcuffed her and shackled her feet. They connected the handcuffs and shackles together with a chain, forcing her to have to bend over to walk. Her feet were injured from the heavy shackles and chains. Ms. Dai was never given the exam results.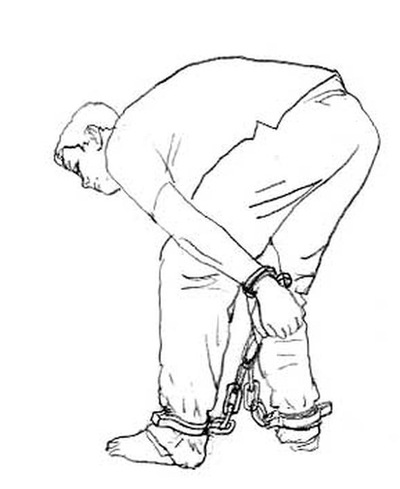 Torture Illustration: Handcuffs and shackles chained together.
Ms. Dai was released on medical bail on March 12 and had a medical examination the next day. The exam showed that her clavicle and four ribs were broken and her wrist was severely fractured.
Previous Persecution
Ms. Dai Xiufang was arrested in September 2015 for posting information about the lawsuit against Jiang Zemin, the former dictator who launched the persecution of Falun Gong in 1999. She was sent directly to the Weifang Detention Center and was held there for one month. She was released after her two daughters gave approximately 10,000 yuan to the officers in charge of her case.
However, one year later, around September 2016, police called Ms. Dai and came to her home. They told her to go to the Procuratorate to sign a document; otherwise, they said, she would face another jail sentence. Her daughters took out 8,000 yuan and once again tried to smooth things out. To avoid being arrested again, Ms. Dai had no other choice but leave home and stay away.
Perpetrators responsible for the persecution of Ms. Dai Xiufang:Gaoxin District Police Branch of Weifang City: +86-536-8055687, +86-536-8055688One of the police officers involved in her case: +86-18815367117