More Events in Europe Commemorate 18th Anniversary of April 25 Peaceful Appeal
April 27, 2017 | By Falun Gong practitioners in Finland, Denmark, Poland, Portugal, and Germany
(Minghui.org) More reports regarding Falun Gong practitioners' activities across Europe in commemoration of the peaceful demonstration on April 25, 1999 continue to pour in. Practitioners are reiterating their calls for an end to the 18-year persecution, in particular the Chinese regime's state-sanctioned killing of practitioners and taking their organs for transplants.
The following events were held in Portugal, Finland, Germany, Denmark, and Poland.
Raising Awareness Via Television Interview in Poland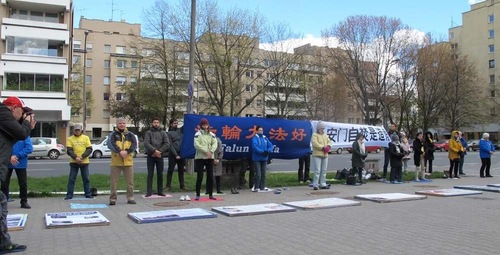 Practitioners in Poland peacefully protest in front of Chinese Embassy in Warsaw on April 23, 2017.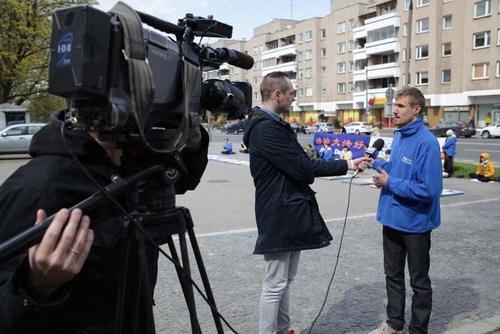 Telewizja Polska TVP3, a Polish TV channel, interviews a practitioner.
In front of the Chinese Embassy in Poland, Falun Gong practitioner Mr. Huang and Mr. Mateuszem Filipkowskim talked to Telewizja Polska TVP3 about the April 25 peaceful appeal 18 years ago and the Chinese regime's ensuing brutal persecution:
On April 25, 1999, approximately 10,000 Falun Gong practitioners gathered to protest peacefully on the streets of Beijing after the unexplained arrests of some 50 fellow practitioners in the nearby city of Tianjin.
The 10,000 left quietly later that day after a contingent met with Premier Zhu Rongji and secured the release of those who were wrongly arrested in Tianjin.
Media reports inside and outside of China praised the event as one of the largest and most peaceful gatherings in recent Chinese history. But Party leader Jiang Zemin had his propaganda ministry publicize the gathering, not as the peaceful protest it was, but as a "siege of Zhongnanhai," the central government compound. This propaganda stunt was used to turn public opinion against Falun Gong, and as an excuse for launching the brutal crackdown that began just a few months later. Nearly 18 years of persecution have since followed.
As a result of practitioners' persistent efforts, people around the world have come to understand the truth about the persecution despite the CCP's slanderous propaganda.
More than 200,000 criminal complaints have been filed to-date against Jiang Zemin for his role in the persecution, and more than 2.23 million people in 30 countries and regions have signed a petition calling for bringing Jiang to justice. The European Parliament and U.S. Congress have passed resolutions condemning the CCP's forced organ harvesting from living prisoners of conscience, primarily Falun Gong practitioners.
Both practitioners called upon the Polish Government and people to show concern and help stop the CCP's persecution of Falun Gong.
The interview was broadcast during that evening's program.
Peaceful Protest and Signature Drive in Finland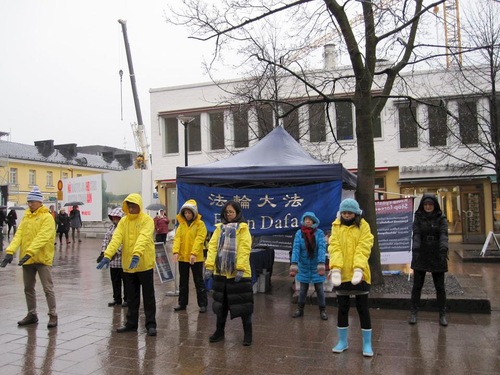 Practitioners in Finland demonstrate the Falun Gong exercises at the Chinese Consulate on April 25, 2017.
Local practitioner Ms. Ma Xuehong called for the immediate release of her sister Ma Xueqing, who is a lawyer in Dalian City, Liaoning Province in China. For remaining steadfast in her belief in Falun Gong, Ms. Ma was sentenced to three years and six months in prison in December 2016, and the Dalian Intermediate Court upheld the original verdict on March 15, 2017.
Another practitioner, Mr. Wu Zhiping, also related how six members of his family were subjected to persecution due to their belief in Falun Gong in China.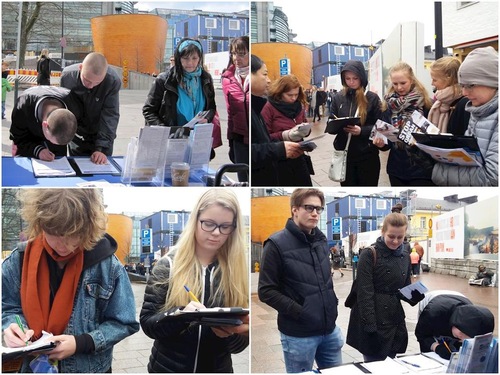 People sign petition condemning the brutal persecution of Falun Gong in China during the event in Finland.
Practitioners in Northern Germany held an 18-hour relay protest in front of the Chinese Consulate in Hamburg, Germany on April 25, 2017.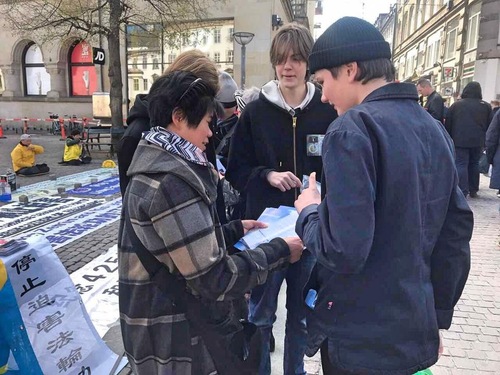 A practitioner talks to three young people in downtown Copenhagen, Denmark on April 22, 2017.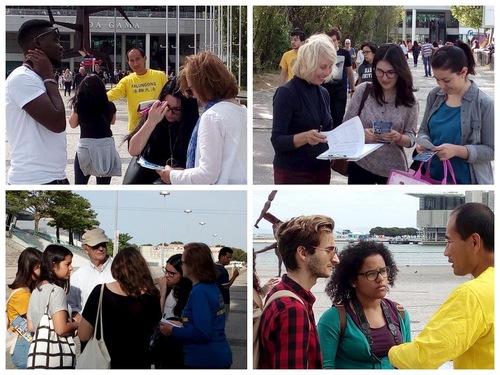 Portuguese people learn about Falun Gong and the persecution during the Lisbon World Expo on April 22-23 and April 25, 2017.
Related articles in Chinese:德国西人法轮功学员纪念四二五和平上访(图)丹麦法轮功学员纪念四二五和平上访(图)芬兰法轮功学员抗议中共迫害-善良民众支持(图)纪念四二五-葡萄牙学员传播法轮功真相(图)
Related article:Falun Gong Practitioners in Europe Hold Activities to Commemorate April 25 Peaceful Demonstration