Events from San Francisco to Washington, D.C. Highlight Significance of April 25 Appeal
April 26, 2017 | By Minghui correspondents in California, Illinois, and Washington, D.C.
(Minghui.org) For Falun Dafa practitioners, April 25 is a special day. Eighteen years ago today, about 10,000 practitioners voluntarily gathered in Beijing and peacefully appealed for the release of dozens of practitioners illegally arrested in the nearby city of Tianjin.
The appeal was quickly resolved, and then-Premier Zhu Rongji assured that the practitioners would be released. Media reports inside and outside of China praised the event as one of the largest and most peaceful gatherings in recent Chinese history. However, Communist Party leader Jiang Zemin announced a ban on Falun Dafa three months later and started the nationwide persecution of practitioners for their belief in Truthfulness-Compassion-Forbearance.
At the 18th anniversary, practitioners all over the world have commemorated this event and are raising awareness of the long, brutal, and widespread suppression.
San Francisco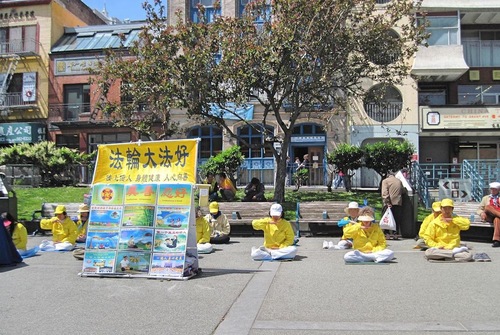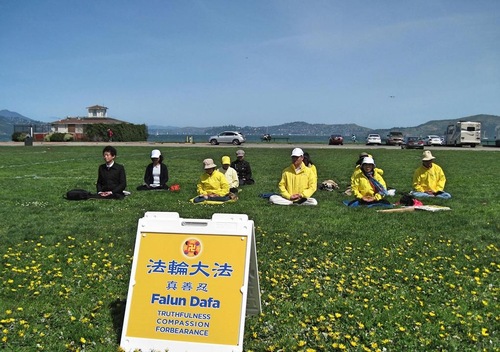 Group exercise demonstration by Falun Dafa practitioners in San Francisco on April 22 and 23, 2017
Linda Campbell, a physical therapist, shared how she started to practice Falun Dafa eight years ago. "At that time, I had uterine cancer. After three surgeries and trying any treatment I could find, I still could not find a cure," she said. One day, she saw a notice at a community center about free instruction of Falun Dafa and decided to give it a try.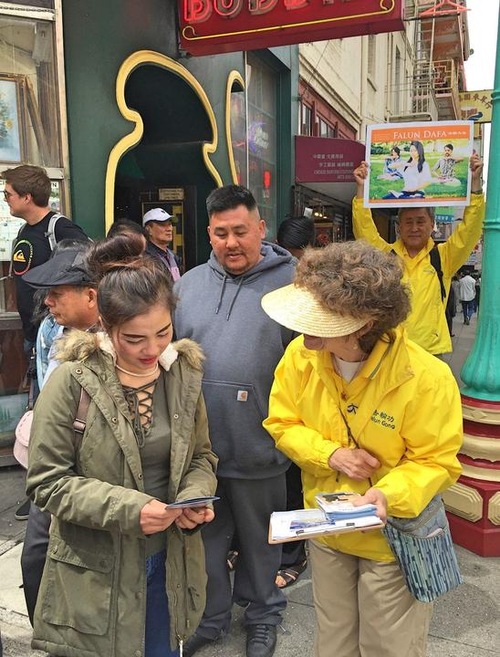 Linda Campbell, a physical therapist, tells passerby about Falun Dafa.
"My health got better, and the cancer was also gone. I was so, so happy," she recalled. With the knowledge that Falun Dafa has been suppressed in China for over a decade, she said she joined the event today so that "more people can learn what Falun Dafa is and hopefully benefit it from it like I did."
Matthew Kang, who lives in the North Bay, heard about Falun Dafa from a friend in 2002. "We talked a lot about it. He told me the principles of Truthfulness-Compassion-Tolerance and how they could change a person for the better. It was fascinating." Following his friend's advice, Kang started to read the book Zhuan Falun. Shortly after, his stomach problems were gone, and he became happier and more open-minded than ever.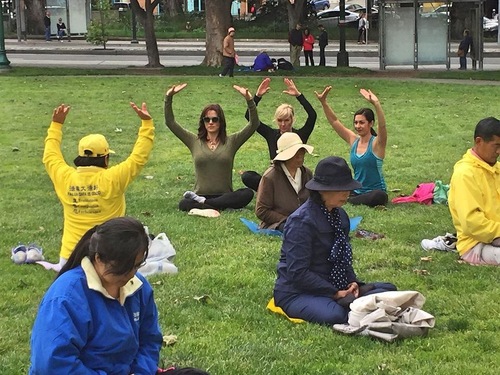 Passersby join the gentle exercises.
Tom, a passerby who works in the IT industry, said he knew that the Communist Party had suppressed traditional Chinese culture in campaigns like the Cultural Revolution. He read posters about the persecution of Falun Dafa and was shocked by its cruelty. He said, "Thank you for sharing these with the public. I can tell you are good people, and you will be blessed."
Chicago
Practitioners in the Chicago area came to the Chinese consulate in the afternoon on April 23 for group exercises. Behind them were banners reading "Falun Dafa is good" and "Stop the persecution of Falun Dafa."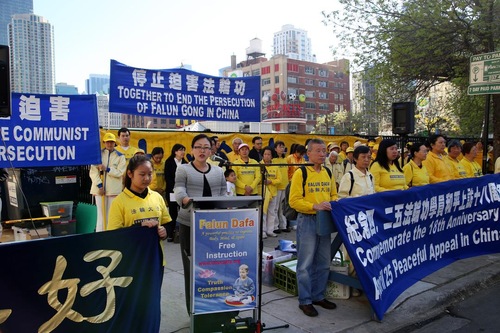 Falun Dafa practitioners rally in front of the Chinese Consulate in Chicago on April 23.
Cui Zijing, a former employee of the renowned Tsinghua University in Beijing, was present at the April 25 appeal in 1999. "I went to the Appeals Office of the State Council that morning and stopped not far from the entrance. More practitioners joined us later, and the line continued along the road. But we did not block traffic, nor did we have any slogans."
Like other practitioners, she knew that Falun Dafa was wronged, and she only wanted government officials to know the truth instead of mistreating innocent people. "Later in the day, we were told that the arrested practitioners had been released. So we cleaned up the surroundings, picked up the trash around us, including cigarette butts left by police officers, and left the site quietly in about 20 minutes. It was as simple as that."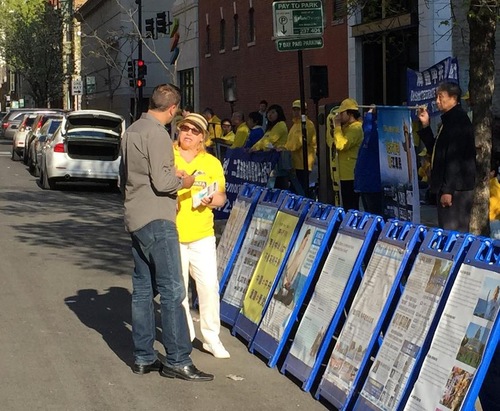 One pedestrian talks with a practitioner to learn about Falun Dafa.
Dai, who works in the financial industry, said there were not many practitioners in Chicago back then. "We were glad to know Falun Dafa and became practitioners, but the practice brought us health and happiness." After the April 25 appeal in 1999, many people, including journalists contacted them in hopes of learning more about Falun Dafa.
"Later that year, we received proclamations on June 25 honoring Mr. Li Hongzhi, the founder of Falun Dafa, from the governor of Illinois, the state treasurer, and the mayor of Chicago. From those experiences, we learned that people's hearts would tell them to support justice once they learned the facts." Since then, he and other practitioners have been reaching out to more Americans and Chinese to tell them what Falun Dafa is.
Daniel Kim works in marketing and enjoys photography as a hobby. Impressed by the group exercises and the rally, he stopped and asked many questions. He said he felt sorry for the suppression in China and was almost in tears upon learning of the killing of practitioners in China for their organs. "I took many pictures of the exercises today, and I'll share them with my friends," Daniel said as he left. "And I'll probably start to practice one day, too."
Washington, D.C.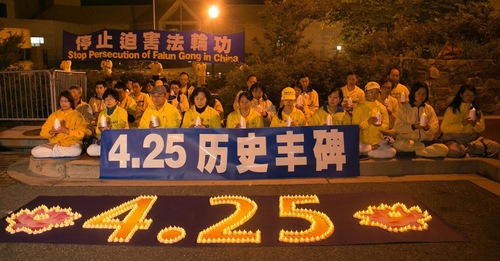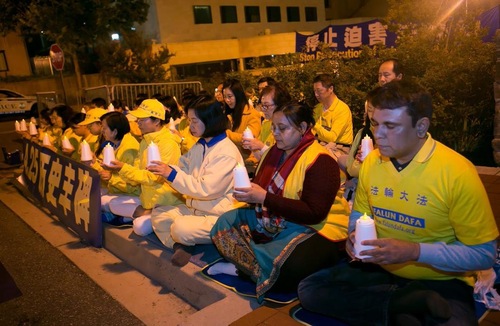 Candlelight vigil by Falun Dafa practitioners in Washington, D.C. on April 23, 2017
A candlelight vigil was held outside the Chinese Embassy in Washington, D.C. in the evening of April 23. With candles in their hands, both Chi Lihua and her daughter Xu Xin were in tears. Before them was a picture of a man–the husband and father of the family–who died in 2009 as a result of the persecution.
"My husband Xu Dawei was a good person," sobbed Chi while holding in her tears. He was imprisoned for eight years for printing Falun Dafa materials. When he returned home in 2009, Xu was in a daze, emaciated, and had bruises all over him. "Only 9 day later, he passed away," Chin explained.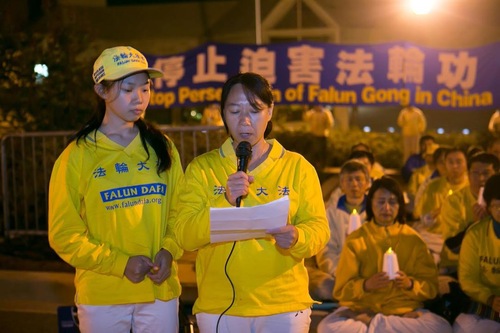 Chi Lihua fled China with her daughter after her husband died from torture for practicing Falun Dafa.
However, the family's ordeal was far from over. Chi's father, mother, and brother were continually harassed and mistreated by the communist authorities. After they died one after another, Chi and her daughter fled to the United States in 2013.
According to data collected by Minghui.org, at least 4,080 practitioners have lost their lives as a result of torture. Gemin, a spokesperson for the Falun Dafa Association in Washington, D.C., said Falun Dafa practitioners have been holding events here every year. "Although across the ocean, we and our fellow Falun Dafa practitioners in China follow the practice because we all want to be healthier and be better citizens. The persecution is wrong, and it must stop," he said.
Rajwev Kumar and her wife agreed with Gemin. Living in India most of the time, Kumar heard about Falun Dafa 16 years ago from a magazine in Mumbai. "To me, Falun Dafa is the best. My life became better, and I haven't been sick in the past 16 years."
Seeing his changes, his wife also began to practice Falun Dafa two years later. "There are many belief systems in India, but none of them can be compared to Falun Dafa," she said. "Master Li (the founder of Falun Dafa) answered my questions about life and much more. I know Falun Dafa provides guidance to me and other practitioners around the world."
Shi Qingyun, 25, who holds a Master's degree from Georgetown University, said he was only 7 when the April 25 appeal occurred in Beijing in 1999. "It has been a long time for all of us, whether you live in the U.S. or in China," he remarked.
"The truth is, Falun Dafa teaches us to always look within and improve ourselves to become better people. This would fundamentally change a person for the better, and I think that is why people like it," he said.
Related reports in Chinese: