Practitioners Around the World Hold Events to Raise Awareness of 18-Year-Long Suppression in China
(Minghui.org) Falun Dafa practitioners from all around the world have participated in rallies or marches over the weekend to commemorate the peaceful protest that took place on April 25, 1999, when 10,000 practitioners gathered in Beijing and held a peaceful appeal to seek the release of practitioners illegally arrested in Tianjin. Three months later, Chinese Communist Party leader Jiang Zemin launched the nationwide persecution of Falun Dafa that continues today.
In addition to events in New York, San Francisco, and other cities in the United States, practitioners on other continents held similar rallies to commemorate the special date.
London, U.K.
A gathering started outside the Chinese Embassy at 11 a.m. Mr. Liu, coordinator of the British Falun Dafa Association, said practitioners have been coming to the location over the past 15 years to demand that the Chinese government stop the suppression.
"The April 25 event 18 years ago demonstrated the courage from practitioners in upholding their belief. And now, the efforts will continue until the persecution comes to an end," Mr. Liu said.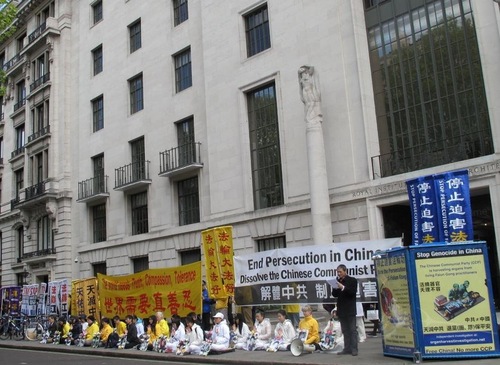 Practitioners gather outside the Chinese Embassy in London on April 22, 2017 to tell passersby about the suppression of Falun Dafa in China.
Several practitioners gave speeches at the event. Ms. Chen spoke of her sister, who was imprisoned two years ago in Guangdong Province in China on a four-year term. Ms. Wang's mother, Meng Xiuer, was arrested in October 2016 and is still held in a detention center. Amy's father, Yu Zonghai, was imprisoned for 15 years. Ms. Yu from Scotland was herself once imprisoned in China for five years for her faith.
John Dee from European Friends of Falun Gong called for support from the public, adding that the persecution targets people who strive to be better citizens by following Falun Dafa's principles of Truthfulness-Compassion-Forbearance.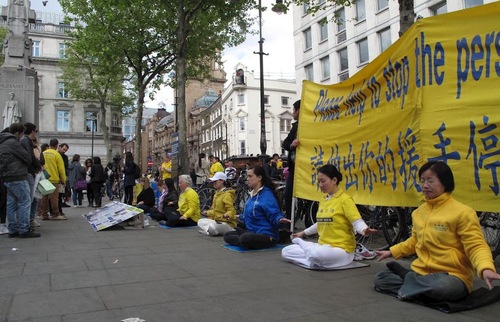 Practitioners sit in meditation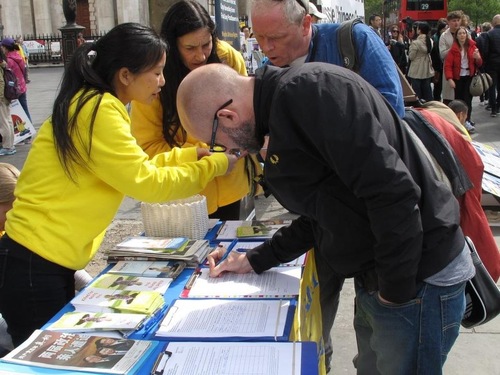 Passersby sign petitions in support of practitioners
Peter and Jennie, husband and wife who live in London, had heard about Falun Dafa in 1990s. They were surprised to hear about the suppression in China, especially the killing of practitioners for their organs.
"My heart is with you," Jennie said to a practitioner, "and I will pray for you."
Muna, who works at a software company, said, "This is very important, and I'll help let more people know about it."
Madrid, Spain
Spanish practitioners gathered at the Chinese Embassy in Madrid on April 22. Human rights lawyer Carlos Iglesias spoke at the rally, urging the Chinese government to stop the brutality against innocent practitioners.
Many passersby and drivers stopped to show their support and said, "Más fuerza (keep it up)!"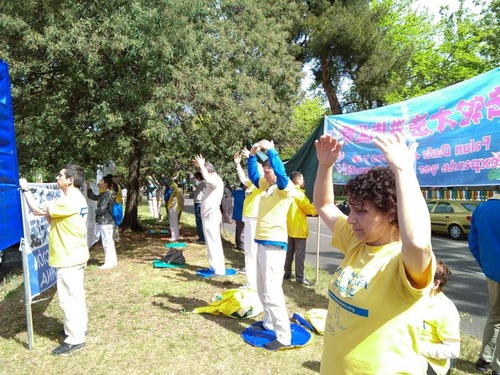 Rally on April 22 outside the Chinese Embassy in Madrid
Auckland, New Zealand
At Aotea Square, practitioners looked back on the peaceful appeal in 1999. Through the event, they hope that more people can pay attention to the atrocities still taking place in China.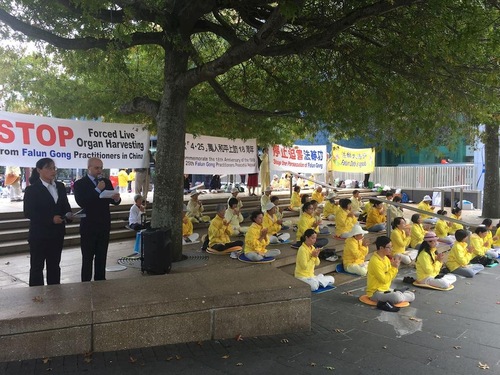 Practitioners tell passersby about Falun Dafa and the persecution in China at Aotea Square in Auckland on April 22, 2017.
Catherine Wilson said she had talked with practitioners previously and knew what was happening in China. "I have watched a documentary called Human Harvest, and it is about forced organ harvesting in China. The persecution is horrible!" She signed a petition before she left.
Malaysia
Practitioners met at the Chinese Embassy in Malaysia on April 23 to inform the public of the Chinese regime's mistreatment of practitioners in the past 18 years.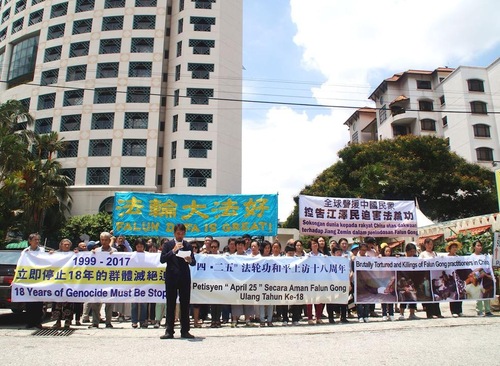 Rally in front of the Chinese Embassy in Malaysia on April 23, 2017
Mr. Xie, who has practiced Falun Dafa for 15 years, said the suppression will end sooner or later. "Forced organ harvesting is so brutal, and it must stop," he said.
Since May 2015, more than 200,000 criminal complaints have been filed against Jiang Zemin for persecuting Falun Dafa. The charges include crimes against humanity, genocide, and torture.
Related reports in Chinese:西班牙法轮功学员纪念四二五和平上访18周年(图)新西兰法轮功学员纪念四二五集会(图)马来西亚学员纪念四二五18周年(图)