Canada: MP Garnett Genuis Introduces Bill to Combat International Organ Trafficking
April 17, 2017 | By Minghui correspondent Ying Zi
(Minghui.org) Canadian Conservative Member of Parliament Garnett Genuis, deputy critic for Human Rights & Religious Freedom, formally introduced his first Private Member's Bill this week, aimed at combating forced organ harvesting from prisoners of conscience in China, the majority of whom are practitioners of Falun Gong, a peaceful spiritual practice being persecuted by the Chinese regime. The bill would have a far reaching impact on international organ trafficking.
Bill C-350 revives former Liberal MP Irwin Cotler's Bill C-561, which also targeted forced organ harvesting.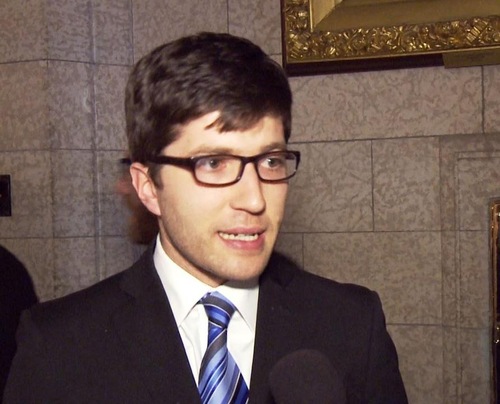 MP Garnett Genuis speaks to the press on Parliament Hill, April 10, 2017.
"This bill seeks to combat the scourge of forced organ harvesting, when organs are taken from people against their will, often gruesomely and without anesthetic and while a person is still living, and often when the individual's only so-called crime is engaging in a particular religious or spiritual practice," Genuis said in the House of Commons on April 10.
The bill amends both Canada's Criminal Code and Immigration and Refugee Protection Act.
"It makes it a criminal offense for a person to acquire an organ that they know was acquired without consent. It also makes those involved in forced organ harvesting inadmissible to Canada," Genuis explained.
"As the government seeks to deepen Canada's relationship with China, this bill is needed now more than ever," he added. "It's very important for Canada to prioritize human rights, and this is one important way we can do that."
Genuis said in an interview with New Tang Dynasty Television (NTD) that the practice of forced organ harvesting from Falun Gong prisoners of conscience in China has been a major concern.
"It's just terrible that people would be targeted for this, having committed no crime, simply exercising their rights under Section 18 of the Universal Declaration of Human Rights to practice a religious or spiritual practice based on their belief. Certainly, that's a concern."
Cotler, a former justice minister who wrote the original bill in 2015, said in a previous interview with NTD that the bill "will deter the Chinese engaged in this from continuing this criminality because it will send a message that they will be held accountable. It will combat the culture of impunity that has reigned thus far with regard to the organ harvesting and criminality that underpins it."
"Regarding Canada," he added, "it will ensure that we are not complicit in this and that Canadians do not engage in this practice, and they will be put on notice that they will be held accountable if Canadians are engaged in this practice.
"So it sends a dual message, both to those engaged in that criminality in Canada and those in Canada who are complicit in it. On both sides they will be held accountable."
MP Genuis said that his fellow Conservatives "are very much behind" the issue, but stressed that all-party support is needed for the bill to pass.
"To make it all the way, we need to build those bridges across party lines. We are well on our way to doing that. We have got clearly some strong support in other parties. Getting it all the way is going to require us to keep building on that. But there is no reason any party should be reluctant to do this. This is a basic human rights issue. It's something that all parties should get behind," he said.
Genuis already has Liberal MP Borys Wrzesnewskyj's support to second the bill. Wrzesnewskyj has in the past twice proposed a similar private member's bill to combat forced organ harvesting in China.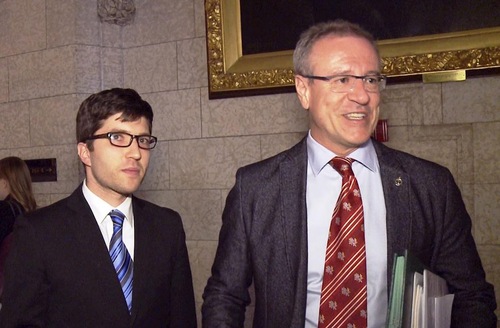 Liberal MP Borys Wrzesnewskyj (right)
"We will be cooperating and working hard to make sure we finally have a Parliament to pass this legislation," Wrzesnewskyj said.
The bill was inspired by more than 10 years of research done by two Canadians, human rights attorney David Matas and former Secretary of State David Kilgour, on state-sanctioned organ harvesting from Falun Gong practitioners in China, which kills the victim in the process.
Matas and Kilgour, along with investigative journalist Ethan Gutmann, released a report in June 2016 which estimated, based on evidence such as hospital data and doctors' statements, that Chinese hospitals have performed some 60,000 to 100,000 transplants a year since 2000, with the source for most of the organs coming from prisoners of conscience, primarily Falun Gong practitioners.