Bulgaria: Practitioners Share Cultivation Experiences at Sixth Annual Falun Dafa Experience Sharing Conference
April 16, 2017 | By practitioners in Bulgaria
(Minghui.org) Falun Dafa practitioners gathered in Stara Zagora, Bulgaria on April 2, 2017, for the sixth annual Falun Dafa Experience Sharing Conference.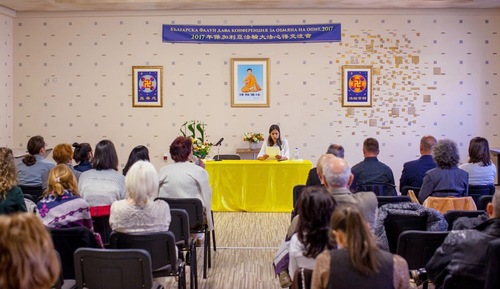 One hundred practitioners from all over the country, as well as Serbia and Russia, attended the conference. Nineteen practitioners presented formal papers, sharing their experiences in Falun Dafa cultivation. The papers touched on many areas of cultivation practice, including raising moral standards, improving health, eliminating karma, and raising spiritual understanding.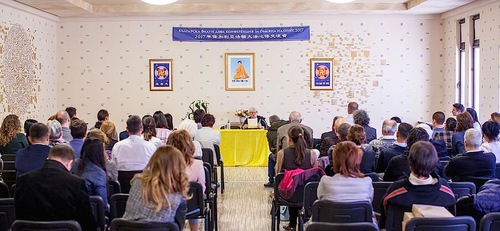 Falun Dafa practitioners attend the sixth annual experience sharing conference in Stara Zagora, Bulgaria on April 2, 2017.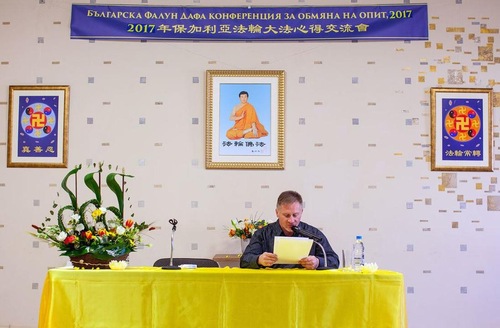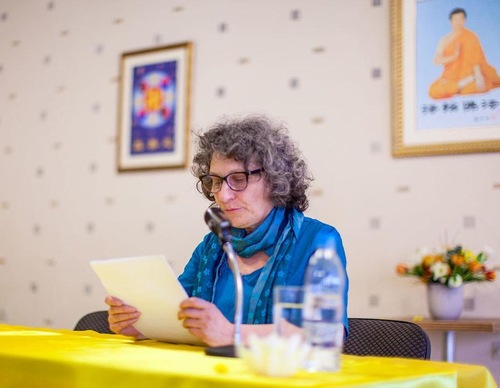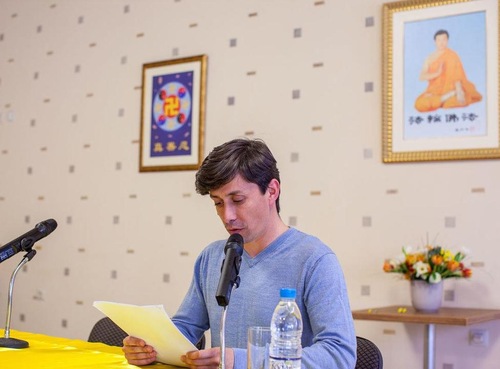 Practitioners share how they have improved over the past year by following the teachings of Falun Dafa.
Taking Responsibility and Improving Relationships
Kerka from Plovdiv shared how she first saw the book Zhuan Falun in a bookshop. It was during the time that she had been talking with her partner, the father of her child, about leaving him.
"Little by little everything in my life began to transform," writes Kerka. "We never parted, but in fact, Dafa helped me to understand what a family truly is. We got married and started over. All aspects and relationships in my life received blessings. The situations which seemed impossible and complicated, improved."
Iliana also shared her experiences about living with a partner, before and after getting married. She realized from the teachings of Falun Dafa that it was wrong to live together without being married. "After getting married my husband and I became more responsible in life, and to our family and children. Before, my partner was often missing or somewhere with friends. Now, he often declines when asked out, and prefers to stay home with the family."
Zdravko from Stara Zagora shared how he quickly quit smoking after he became a practitioner. He'd been smoking at least one pack of cigarettes a day for the past 25 years. He also told about how he slipped in the bathtub and broke two ribs. The pain was so severe that painkillers didn't help. He decided to watch Master's lecture videos. The day he finished all the videos, the excruciating pain stopped.
Zdravko had had a failed marriage and decided to live with his partner and not get married. But after practicing Dafa he wanted to put an end to this degenerate behavior and planned a civil wedding. On the day of his wedding, he saw with his celestial eye many of Master's fashen there smiling at them. After that experience, he found that his understanding of the Fa improved.
Reaching Out to Prison Inmates
Zdravko was recently asked to teach Falun Dafa to prison inmates. Twice a week he and several other practitioners helped minor offenders learn Falun Dafa. Later, the prison authorities noticed the significant positive influence of Falun Dafa on these inmates and asked the practitioners to teach the felons who were sentenced to life in prison. The felons, after learned Falun Dafa, changed and became totally different people. After seeing the dramatic changes in the inmates, Zdravko realized that he shouldn't judge them based on the crimes they committed. They were all people waiting to be saved.
One of these men, Kostadin, shared his story at the conference via a paper read by another practitioner. Kostadin started practicing Falun Dafa some months ago after it was introduced in the Stara Zagora Prison. He wrote, "It's my ninth year in prison, and before, I didn't know what to do, what to think about, or how I would make it through my life sentence. I had a lot of accumulated anger and hatred in my heart, related to past and present events in my life.
"Dafa helped me see the light at the end of the tunnel, to become aware of my existence, to understand the meaning of my life, the pain, and suffering, and see the overall picture and accept things lightly." Kostadin's 70-year-old mother also became a Falun Dafa practitioner, which has benefited her physical condition.
Becoming Mature
Dido from Varna shared, "Before I started cultivating I did not take responsibility for my words and actions, and I was afraid to make a decision so as not to expose myself and lose face in front of other people. I later realized that I should be responsible for everything I do, stand behind my words and actions, and base them on my understanding of Dafa's principles of Truthfulness-Compassion-Forbearance. Understanding that one is responsible in all situations helped me to take action."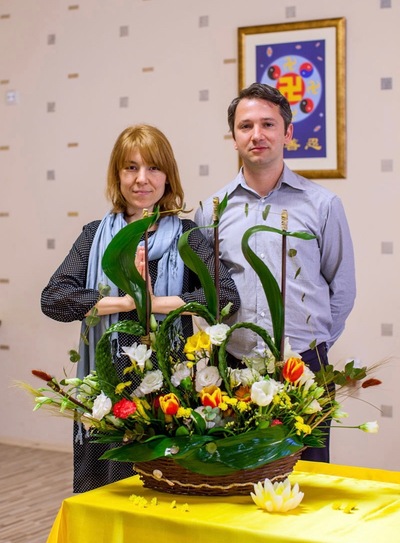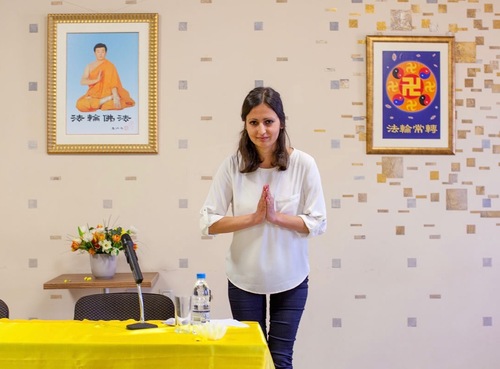 Several of the speakers at the sixth annual Bulgarian Experience Sharing Conference.
Vladmir is a new practitioner from Sofia. He stopped practicing Falun Dafa for a few months because of severe interference. After a while he was able to study the Fa again. After constant study he realized that the interference from the thought karma was gone, as well as some stubborn attachments. He understood then that studying the Fa was crucial to the practice.
Rositsa, who has practiced for over five years, said, regarding how to improve, "The key is to look within ourselves. When we come across difficulty, illness, or ordeals, we look first at the things we can change and improve in ourselves. We follow the principles of Falun Dafa, and don't blame others. It is a complete cultivation system for improving mind and body."
Exposing the Persecution of Falun Dafa
Dejan from Serbia shared how he made the film "Blacklist" with his daughter to expose the persecution in China and overseas. The film began with the Serbian police, under the pressure of the Chinese Embassy, arresting practitioners who were peacefully protesting in Belgrade at a summit between China and 15 Central and Eastern European countries at the end of 2014. The film then focused on the 17-year persecution of Falun Gong in China.
Dejan's daughter's school arranged to have the film debut online. Dejan promoted the film on the Internet and every day about a dozen people watched the film. The movie was submitted to hundreds of film festivals in many countries and was played on a cable television network in the U.S. In a period of two years it was viewed 75,000 times on social media and was "liked" by 12,000.
Everyone Benefits from Group Sharing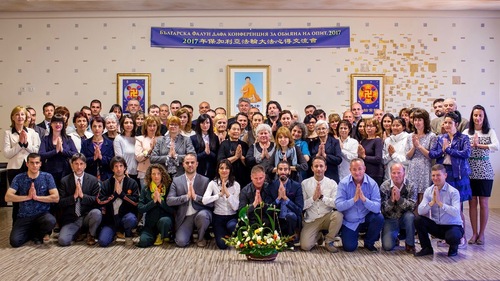 Attendees at the sixth annual Bulgarian Experience Sharing Conference pose for a group picture and show their appreciation to Falun Dafa's founder Master Li Hongzhi.
Ivelina, one of the main organizers of the conference, felt that all of the participants at the conference were very focused and united throughout the event.
Victoria, who has practiced Falun Dafa for over six years, noted after the conference, "I feel great – energized and full of enthusiasm. There is no trace of fatigue despite a very active day."
A Russian practitioner said that the conference helped her improve in her practice of Falun Dafa. She felt more calm and peaceful, with less interference when she meditated.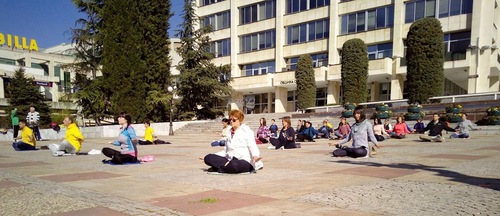 In downtown Stara Zagora, practitioners promote Falun Dafa and expose the persecution the day before the conference.
The day before the conference, practitioners gathered in downtown Stara Zagora to introduce Falun Dafa to the public and expose the persecution in China. Many people inquired about the practice during the exercise demonstrations. Practitioners gave out Falun Dafa literature to passersby, including the police.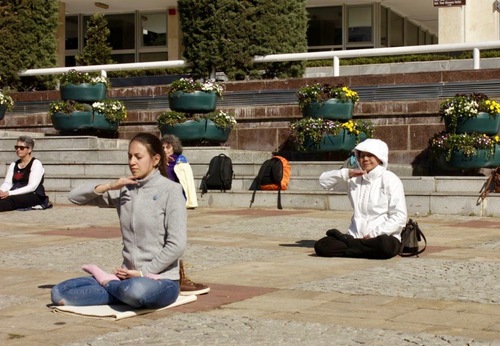 Practicing the exercises at the Stara Zagora City Hall.
Early in the morning on the day of the conference, practitioners gathered at City Hall to do the exercises. A young woman stopped and observed the group for a long time. When she was invited to take part in the exercises she said, "I also saw you do them yesterday, which is why I came again today. I like watching the slow movements. I won't take part now but I assure you that the right time will come for me, too. Thank you!"