Mr. Zheng Huiwang Brutally Tortured in Baoding Prison
March 09, 2017 | By a Minghui correspondent in Hebei Province, China
(Minghui.org) Mr. Zheng Huiwang has been incarcerated in Baoding Prison, Hebei Province since March 2008 for practicing Falun Gong. He has been brutally tortured and is now on a hunger strike to protest the horrific abuse.
The prison guards often tortured Mr. Zheng for shouting "Falun Dafa is good." He was sent to a special room where they physically abused him. Several guards came at night while he was asleep. They dragged him off the bed and slapped his face. They also stuffed his mouth with towels or socks and verbally abused him. They forced him to sleep with a thick dictionary under his hips, causing severe bruising to his buttocks.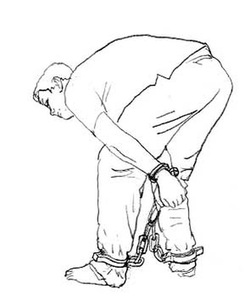 Torture illustration: Handcuffs and shackles
The guards put handcuffs and shackles on Mr. Zheng, tying them together with a rope so that he could only sit with his back bent. He could not stretch out his legs at all. Sometimes the guards made the handcuffs so tight that they were deformed.
Mr. Zheng was frequently denied use of the restroom. The prison guards did not allow him to sleep for five consecutive days and nights around October 1, 2016. He was also force-fed with feces.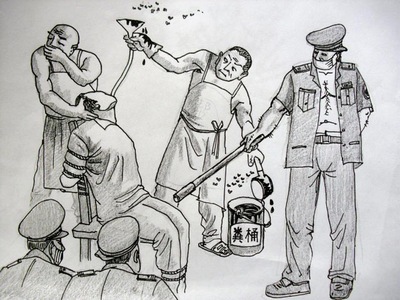 Torture illustration: Force-feeding feces
In order to pressure Mr. Zheng give up his belief, the prison forced him to watch videos that slander Falun Dafa. The volume was turned up as high as possible. If Mr. Zheng closed his eyes, the guards would slap him. They also tormented him by writing the name of the founder of Falun Gong on pieces of paper, then stuffing the paper between his buttocks.
Mr. Zheng is now on a hunger strike to protest the brutal torture. His wife tried to visit him on February 10, but the prison refused to let her see him. Mr. Zheng is currently being subjected to brutal, punitive forced-feeding, which is intensifying his suffering.
Related Articles:Appealing for the Release of Mr. Zheng Huiwang—Sixth Year of Illegal ImprisonmentMr. Zheng Huiwang Secretly Given a Ten-Year Sentence; Family Visits Are Denied