Sydney, Australia: Chinese College Students Interested in Learning Falun Dafa
March 09, 2017 | By a Falun Dafa practitioner in Sydney
(Minghui.org) When Australian universities started their new semester in March, many student clubs and organizations set up booths during the orientation session to let new students know about the various extracurricular activities they could join. Among them, the Falun Dafa Club at the University of Sydney drew a great deal of interest from both Chinese and Western students over the course of the event.
When two Chinese students first saw the Falun Dafa booth, they were very surprised because of the defamatory propaganda they had heard back in China. Nonetheless, they stopped to look at the materials and talk with practitioners. They asked many questions and showed great interest in Falun Dafa. Upon leaving, they took some materials and said that they'd look further into the practice.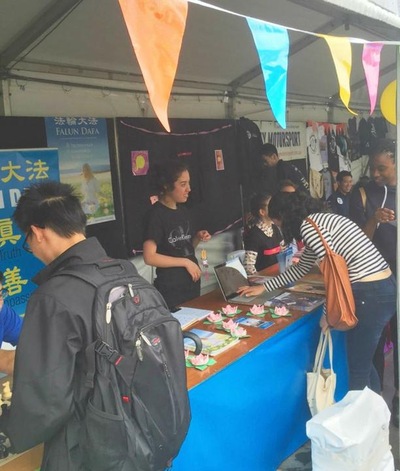 Chinese students sign up for the Falun Dafa Club during a recent orientation at the University of Sydney.
Another student said he was confused because what he had learned in textbooks back in China was very different from the peaceful scene he saw here. A practitioner talked to him about Dafa's popularity before 1999, which was followed by the massive suppression that has continued over the past 17 years. The student listened attentively then thanked the practitioner and subscribed to the Falun Dafa Club's Facebook page.
A Chinese girl keen on traditional culture chatted with practitioners for a long time. She was hesitant at first, because back in China she was told that Falun Gong was against China. She expressed relief when she learned that the communist party had slandered Falun Dafa through its nationwide news media, and said she would follow up to find out more.
Many Western students also stopped at the booth for more information. Despite the continuous drizzle, more than 80 students signed up for the club over the three days of orientation.