Appealing for the Release of Mr. Zheng Huiwang—Sixth Year of Illegal Imprisonment
February 05, 2014 | By a Minghui correspondent from Hebei Province, China
(Minghui.org) Family and friends of Mr. Zheng Huiwang recently discovered that he is suffering brutal torture in prison, where has been unlawfully detained for his belief in Falun Gong. They are circulating a petition calling for Mr. Zheng's immediate release.
Mr. Zheng was arrested at his home six years ago and within two months was illegally sentenced to a ten-year prison term.
He is being held in the Baoding No. 1 Prison.
When family and friends from his hometown recently obtained information about his situation, 282 people signed and/or fingerprinted a petition demanding that he be immediately released.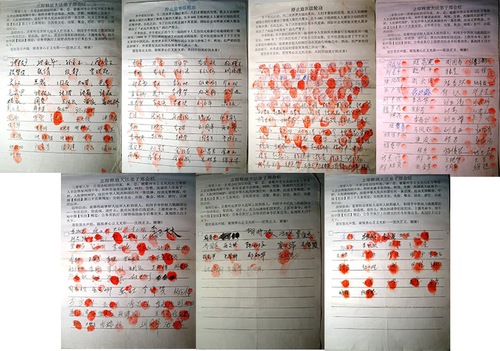 282 people signed and fingerprinted a petition demanding the immediate release of Zheng Huaiwang.
Relentless Persecution
Mr. Zheng Huiwang, 43, is from Wangbo Village, Wangzhuangzi Town, Bazhou City, Hebei Province.
He went to Beijing to appeal for the right to practice Falun Gong in 1999 and was arrested and sentenced to a three-year term at the Gaoyang Labor Camp.
He was later detained in the Langfang Brainwashing Center, where he was force-fed and given unknown drugs, which caused dizziness, nausea and vomiting.
Mr. Zheng was arrested at home by officials from the Wangzhuangzi Town local government on January 20, 2008, claiming to have received orders from the Political Security Department of the Bazhou Police Department.
His family was not notified until March 2008, when the Baoding No.1 Prison informed them that he was sentenced to a ten-year prison term.
The family demanded answers as to why a law-abiding citizen who lives by the principles of Truthfulness-Compassion-Forbearance was sentenced to prison and why they weren't notified about the trial. The response was that the court informed the detention center, which immediately transferred him to the prison.
Mr. Zheng's father went to visit him on December 22, 2008, but was not allowed to see him. Mr. Zheng's son died in a car accident in January 2009, and Mr. Zheng was not informed, nor would they grant the family his release to attend the funeral. Guards with the surname of Chen and Li refused to tell Mr. Zheng about the death of his son, because they thought it would be more difficult to "transform" him if he found out.
The family was allowed to see him on October 26, 2010. He appeared very weak and was bedridden. The family requested medical parole, but the prison officials refused.
Prison involved in the persecution: Hebei Baoding No. 1 Prison, 2 nd Prison district: 86-312-5923421
Related article:
Mr. Zheng Huiwang Secretly Given a Ten-Year Sentence; Family Visits Are Denied