Falun Gong Stands Out in Vancouver Santa Claus Parade
December 08, 2017 | By Zhang Ran, Minghui correspondent in Vancouver
(Minghui.org) Falun Gong practitioners participated in the annual Santa Claus Parade in downtown Vancouver on December 3, 2017. As the largest parade in the Vancouver area, this holiday event attracted some 300,000 spectators this year, according to media reports.
The Falun Gong procession was composed of the Tian Guo Marching Band, a waist drum troupe, an exercise demonstration team, and a decorated float. The practitioners' amazing performance was warmly received by the spectators. Many people took pictures or video footage of the Falun Gong procession. Some copied the exercise movements. Some pressed their hands together in front of their chest to express respect and gratitude. Practitioners distributed informational brochures along the route. Several Chinese spectators called out joyfully, "Falun Gong is coming!" "Their group is so large!" "Great job!"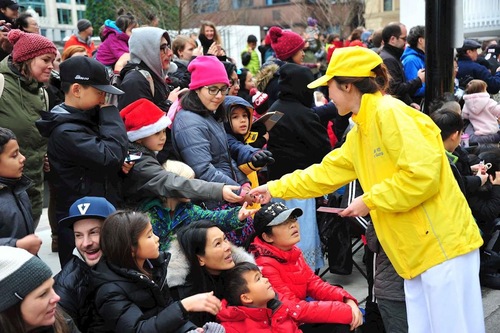 A Falun Gong practitioner distributes brochures to parade spectators.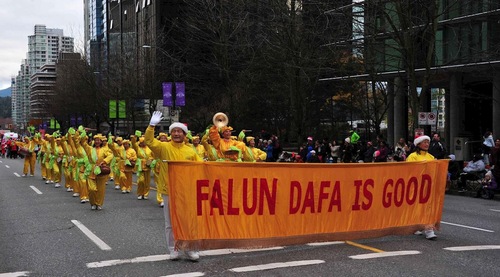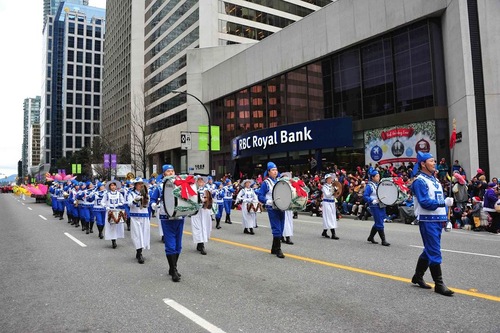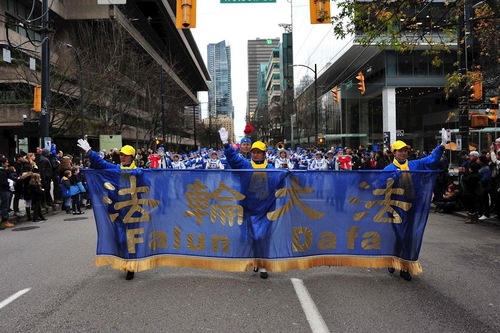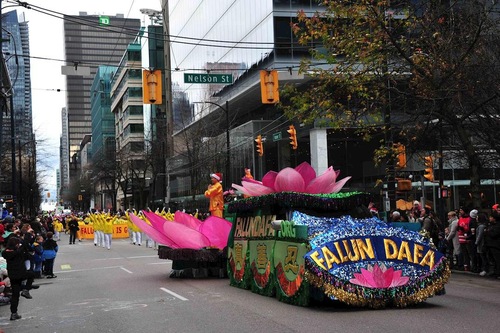 Falun Gong procession at the Vancouver Santa Claus Parade
Mrs. Anna Nyce, her husband and their grandchildren watched the parade together. Anna was happy to see Falun Gong, and cheered as the Falun Gong procession moved past. She told a reporter that it was great that the practitioners brought traditional Chinese culture to Vancouver and such a unique style to the Santa Claus Parade. She added that she enjoyed the colorful presentation and peacefulness of Falun Gong.
Pat, another local resident, said that he would like to learn more about Falun Gong. He had seen many Falun Gong activities calling for an end to the persecution in China. He thought the practitioners were terrific and had shown great spirit in the parade.
Vancouver resident Laurence told the reporter, "Today's parade is the best gathering of multiple cultures. Falun Gong has a large and exciting group! Their performance is wonderful!"