Denmark: Falun Gong Practitioners Call for End to Persecution in China
December 13, 2017 | By Minghui correspondent Shu Hui in Denmark
(Minghui.org) Falun Gong practitioners from Denmark and Sweden held a rally in Copenhagen's Town Hall Square on December 10, International Human Rights Day. They raised awareness of the 18-year persecution of Falun Gong by the Chinese Communist Party (CCP), in particular the regime's state-sanctioned organ harvesting of practitioners for profit in the organ transplantation industry.
Chinese writer Mr. Chen Yangchao, who resides in Denmark, spoke at the rally to show his support. "China's human rights have reached to such an extent; how can it be right if we don't voice our concern and appeal?" he said.
Practitioners demonstrate the Falun Gong exercises.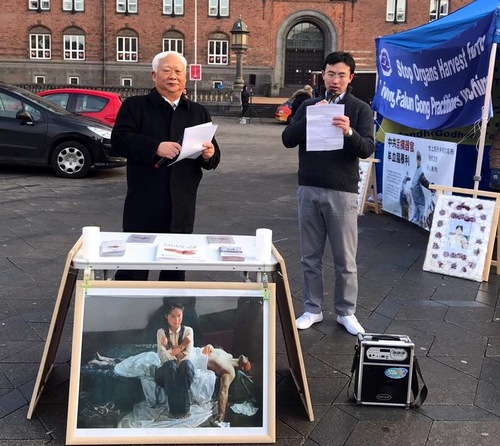 Chinese writer Mr. Chen Yangchao speaks at rally to show his support.
Survivors of the Persecution Recount Their Experiences
Falun Gong practitioner Ms. Chen recounted her seven-year ordeal in a Chinese prison for her belief in Falun Gong. Ms. Bao talked about her two close calls with possible organ harvesting.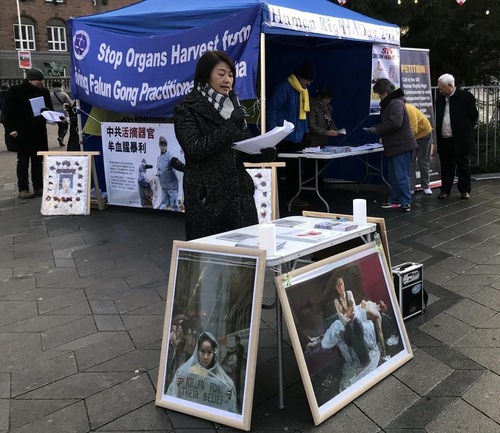 Ms. Chen recounts her seven-year ordeal in prison in China.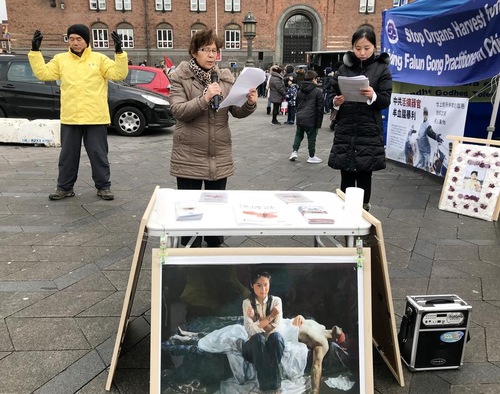 Ms. Bao talks about being a potential organ harvesting victim.
Ms. Bao recalled her two experiences of undergoing special physical examinations for Falun Gong practitioners when she was held in Shanghai Women's Prison. She said that the practitioners had each of their organs carefully examined, and were put through a variety of tests. "It's abnormal because Falun Gong practitioners were on one hand brutally tortured, and on the other hand they were given such a special physical examination," said Ms. Bao. "Some practitioners who were arrested and refused to tell their names [due to the regime's implication policy] disappeared after the examination. They were likely to have been killed for their organs."
Local Resident: Live Organ Harvesting Is about Every Human Being on this Planet
Local resident Zeenshan said, "I was surprised to see the ladies and this gentleman explain to me about what all this is about. This is completely shocking that something like this is happening in China. It relates to the whole of humanity, not about China alone. It's about every human being on this planet."
Many people were as shocked as Zeenshan when they learned about the live organ harvesting crimes, especially that it is state-sanctioned. They signed a petition calling for an end to the atrocity.
Background
Falun Gong was made public in 1992 and soon spread across China due to its beneficial effect on health and morality. Nearly 100 million people were practicing it by 1999. Out of jealousy, and fear of losing his control of the people, Jiang Zemin, former head of the Chinese Communist Party, initiated the persecution of Falun Gong on July 20, 1999.
The persecution has led to the death of many Falun Gong practitioners over the past 18 years. More have been tortured for their belief. The CCP even conducts state-sanctioned live organ harvesting for profit in the organ transplantation industry.
Jiang Zemin is directly responsible for the inception and continuation of the brutal persecution. Under his personal direction, the Chinese Communist Party established an extralegal security organ, the 610 Office, on June 10, 1999. The organization overrides police forces and the judicial system in carrying out Jiang's directive regarding Falun Gong: ruin their reputations, cut off their financial resources, and destroy them physically.
Due to the CCP's information censorship, the exact number of practitioners killed in the persecution is not known.