Hong Kong: Rally and Parade on Human Rights Day Call for Ending Persecution in China
December 13, 2017 | By Minghui correspondents Sun Bai and Su Rong
(Minghui.org) Falun Gong practitioners in Hong Kong held a rally and parade at Edinburgh Place on Human Rights Day, December 10, 2017, to oppose the ongoing persecution of Falun Gong in China. Numerous legislative council members and renowned human rights advocates spoke at the event to urge an end to the atrocities taking place on the mainland.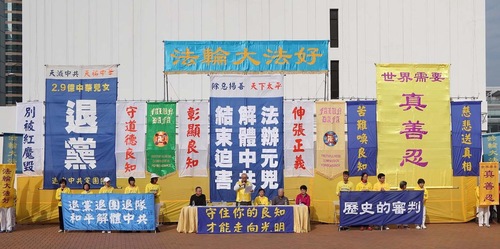 Falun Gong rally at Edinburgh Place in Hong Kong on Human Rights Day, December 10, 2017.
Over 2.6 Million Signatures Collected in Support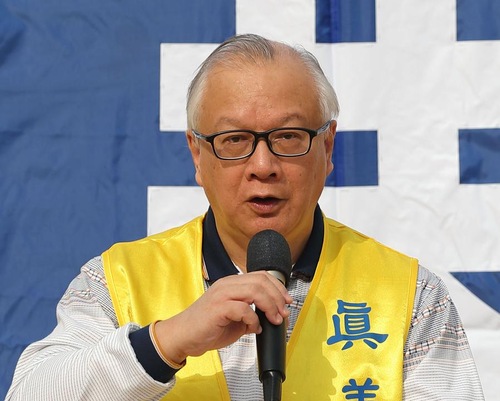 Kan Hung-cheung, spokesperson for the Hong Kong Falun Dafa Association.
Kan Hung-cheung, spokesperson for the Hong Kong Falun Dafa Association, said that China has the worst human rights record among major countries in the world. "The brutality ranges from persecuting Falun Gong practitioners who believe in Truthfulness-Compassion-Forbearance, to forced organ harvesting of practitioners for profit, along with the recent campaign of driving migrants out of Beijing. All of this is linked to the violent nature of the communist party, which harms innocent people," he said.
Mr. Kan called for support from the international community to stop these tragedies by bringing key perpetrators such as Jiang Zemin (the former Chinese leader who started the persecution) and Zeng Qinghong (one of the main perpetrators of the persecution) to justice. "The principles of Truthfulness-Compassion-Forbearance should be upheld, not suppressed," he affirmed, "as that is the only way that will lead us to a bright future."
Jiang Zemin, who banned Falun Gong in July 1999, has recently been the focus of numerous lawsuits and criminal complaints in recent years. "As of December 8, over 2.6 million signatures have been collected to support these initiatives," said Theresa Chu, a Taiwanese human rights lawyer and coordinator of the petition drive in the Asia-Pacific region. The criminal complaints have been submitted to China's Supreme Court and Supreme Procuratorate.
Over 291 Million Quit Communist Organizations
While Jiang gave the order to persecute Falun Gong, the nationwide, systematic suppression could not occur without the Chinese Communist Party (CCP) framework. "Since Nine Commentaries on the Communist Party was published in 2004, a large number of people have gained a better understanding of the Party's barbaric history and more than 291 million people have renounced their membership in communist organizations," remarked Yi Rong, president of the Tuidang (Quitting the CCP) Center.
The Ultimate Goal of Communism, a recent book published in Chinese by the editors of the Nine Commentaries, includes updated information that illustrates how the CCP has jeopardized mankind and civilization.
Dr. Wang Zhiyuan, founder and president of the World Organization to Investigate the Persecution of Falun Gong (WOIPFG) said that many Chinese officials have stopped participating in the persecution of Falun Gong and some have contacted the organization for remediation efforts. "I hope more people will stand up, act on their conscience, and protect the innocent. I also hope that volunteers will help gather evidence that will be used to bring the key perpetrators to justice," said Dr. Wang.
Basic Human Rights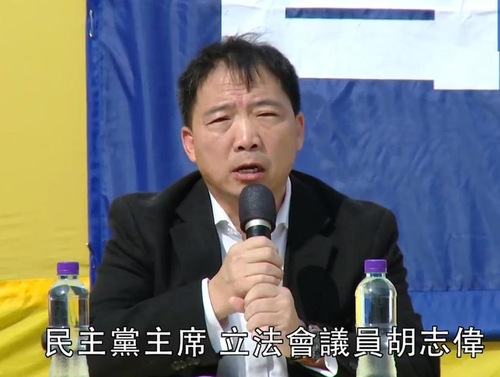 Legislative Council member Wu Chi-wai hopes that Chinese people will regain human rights.
Wu Chi-wai, Chairman of the Democratic Party and member of the Legislative Council, praised practitioners for their persistence and peaceful manner in the face of the harsh persecution. He said that the Hong Kong government should not allow pro-communist organizations such as the Youth Care Association to interfere with practitioners' civil rights. "I hope that the Human Rights Day we are celebrating today will become a reality in mainland China, so that people no longer live under lies and terror," he added.
Leung Kwok-hung, former Legislative Council member and long-time supporter of Falun Gong, agreed. "Unfortunately, we have seen the spread of the persecution policy from mainland China to Hong Kong. One example is the Youth Care Association, an organization funded by the communist party that has harassed Falun Gong practitioners many times. We cannot let this continue," he remarked.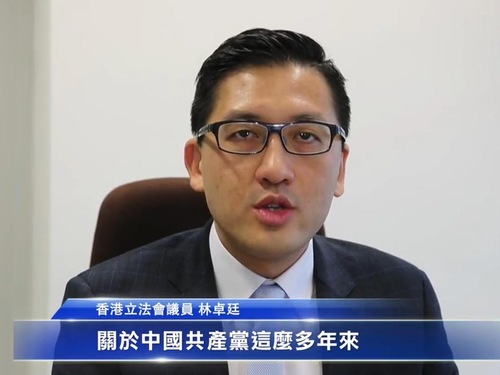 Legislative Council member Lam Cheuk-ting.
Another Legislative Council member, Lam Cheuk-ting, said that freedom of belief and freedom of speech belong to everyone. "I think that the international community should fully investigate the persecution, including detailed facts and how many victims were impacted. I believe the day will come for us to see the entire truth," he said. "I hope that people from different backgrounds and religions all pay attention to this, as basic human rights is something we should all cherish."
Leung Yiu-chung, a member of the pro-labor Neighborhood and Worker's Service Center, is also a Legislative Council member. He is aware that the CCP has arrested, detained, and tortured Falun Gong practitioners for their belief. "This violates human rights and these actions are against mankind. We have to stop this brutality," he declared.
Chu Fuqiang, an officer from that Hong Kong Government Records Service, said he admires practitioners' courage to safeguard their belief. "The CCP is a vicious organization with massive power. I am surprised that Falun Gong practitioners have been safeguarding their belief with great courage for such a long time. I think that this is rooted in their faith in Truthfulness-Compassion-Forbearance. That is why I think they [Falun Gong practitioners] are extraordinary," said Mr. Chu.
Media Professionals: This Is Important for Everyone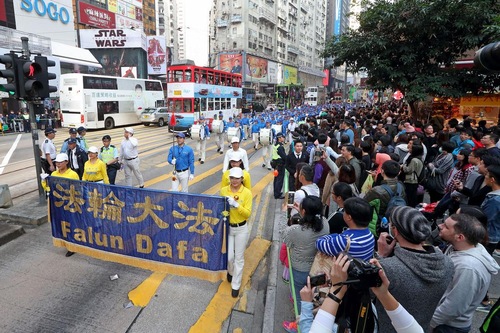 About 600 practitioners took part the Human Rights Day parade in Hong Kong. A specific focus of the parade was the fact that Falun Gong is well accepted in more than 100 countries worldwide, and is only persecuted in China.
Huang Jinqiu, a renowned news media professional, said that events like this will encourage people inside China to protect their own rights and end the totalitarian regime. "This is important for everyone because it helps us to act according to our conscience," declared Mr. Huang.
With Falun Gong practitioners among his personal friends, Huang said that he is impressed that their belief has made these people kinder and more compassionate. "Nowadays it is hard to find such kindness in the Chinese people, let alone endurance and perseverance. I think that [Falun Gong practitioners] represent the best of the Chinese people," he added.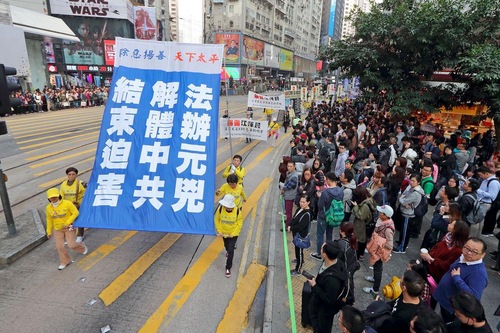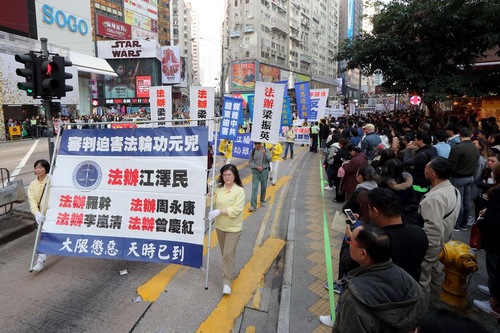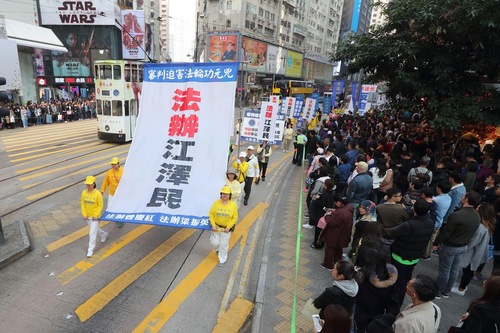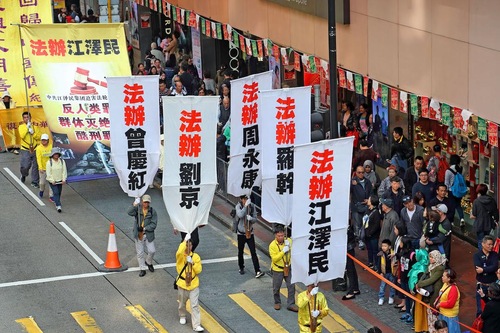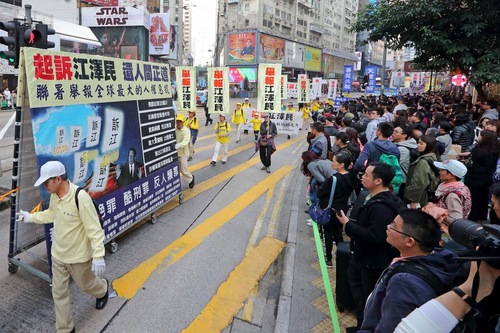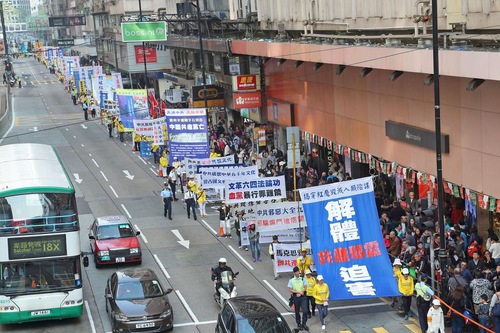 Banners in the parade urge an end to the suppression and call for the perpetrators to be brought to justice.
Ma Xiaoming, a former editor at Shaanxi Television Station, said that he was heartened to hear about the lawsuits against Jiang. "I also noticed that what practitioners requested is to bring Jiang and other perpetrators to justice, instead of simply lifting the ban on Falun Gong," he said. "This makes sense because Jiang and his followers are criminals, and the only fate awaiting them are trials in the courts of law."
Jing Chu, a writer from Guangxi Province, said that the communist party has been despicable since its birth, which is highlighted in the Chinese regime's state-sanctioned forced organ harvesting. "This horrible incident is the worst of the worst," said Mr. Jing. "This crime is against humanity and no one can be allowed to evade the consequences."
Many tourists from China were surprised to see the Human Rights Day events. Mr. Zheng from Shenzhen City said that it is hard to imagine such a grand parade in China, with 600 Falun Gong practitioners. "I can feel the fresh air here," he commented.
Mr. Chen, who works in the retail business in Guangdong Province, agreed and said, "Inside China, police arrest practitioners; but here they help make sure the parade goes smoothly. It's a different world."