India: While Ladakh Changes, People's Hearts for Falun Dafa Remain Strong (Part 1 of 3)
November 22, 2017 | By a practitioner in India and a practitioner in the United States
(Minghui.org) After a two-year absence, a Falun Dafa practitioner, who lives in another part of India, ventured once again to Ladakh, which she has been doing nearly every summer for the past 27 years.
Ladakh—the land of many mountain passes and freezing high barren landscapes—is among the highest of the world's inhabited plateaus. Remote yet never isolated, this Trans-Himalayan land is a repository of a myriad cultural and religious influences from mainland India, Tibet, and Central Asia.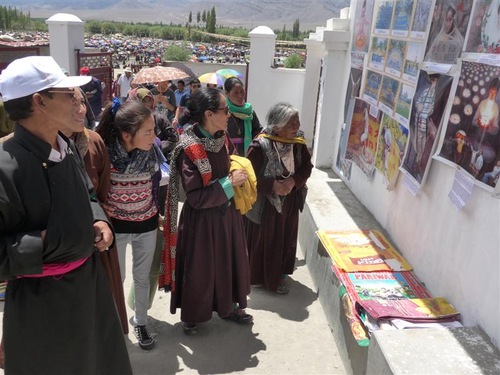 While leaving a Buddhist event, many attendees stop at a Falun Dafa display.
Rapid Changes Have Taken Place
This was the practitioner's first ever two-year absence in all these 27 years. This summer, the practitioner stayed in Ladakh for nearly four months, and another practitioner from the United States joined her for one month. The rapid changes that have taken place in the region during her two-year absence were shocking and nearly unbelievable, especially in the main town of Leh.
The changes in Ladakh, compared to many other parts of India and the world, have been incredibly fast, like going from walking to flying in an airplane without any intermediate steps such as bicycles, scooters, motorcycles, cars, etc. They of course have brought many "side effects," such as masses of domestic Indian tourists from all over India to what used to be a remote area.
Hotels have sprung up just about everywhere, getting higher and higher, bigger and bigger, often right next to each other. Fields have been disappearing or lying barren. Gardens, if they still exist at all, are getting smaller and smaller. Cars are everywhere and traffic jams happen in many places. Often one cannot see the mountains, the sky, or the famous Leh Palace, due to the high buildings. All of this was simply unthinkable a few years ago.
Most importantly and tragically, of course, is the widespread loss of traditional values and culture.
For the practitioner, these changes are just "heart-breaking"—at least that's how she feels about them—and many other visitors raised similar voices, as did many local people. The confrontation with these issues is looming continuously everywhere, not only materially visible in the form of cars, buildings, etc., but is also audible in many of the conversations initiated by locals.
Nevertheless, from the beginning to the end of her stay, enduring considerable agony due to the heart-breaking self-destruction of the area, the practitioner decided to stay and focus on spreading Falun Dafa and its principles of Truthfulness, Compassion, Forbearance, and raising awareness of the persecution happening in China.
The Heart for Dafa Is Still Strong
Despite all these rapid changes, many local residents of all ages and from various places still have a deep heart for Falun Dafa and express shock and deep concern about the human rights violations against Falun Dafa in China. With some, it seemed that their understanding and concern had deepened over the years, as well as their respect for the practitioner, whom they have seen for years carrying around loads of materials to distribute.
A local film producer said, "It's very commendable what you have been doing. Many people now know about Falun Dafa. It is very easy to talk about Falun Dafa in Mumbai or Delhi, but here, it is close to China."
Several locals commented that the practitioner didn't seem to age over the years. A close friend said she was even looking younger each year. Others told them that this was all due to Falun Dafa.
In many parts of the world, a lot of people still don't know what Falun Dafa is. In Leh, however, most local people have heard of the practice. When one of the practitioners needed to make photocopies, the shop owner noticed her yellow Falun Dafa T-shirt. He had never met her before, but he said that he knew Falun Dafa and immediately offered her a discount on the copies.
Posters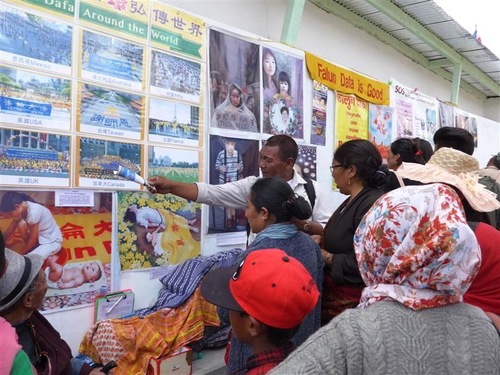 Having heard about Falun Dafa and how it is persecuted in China, a man translates the information for other people.
Posters were put up in many places, and it was touching to still see many of the posters and stickers that were put up years ago—many still in perfect condition. For the very first time this year, information about Shen Yun Performing Arts was put up. A travel agent even put up a Shen Yun poster on the wall of his travel agency—framed and behind glass. Others were given pictures and articles, and they put them up on their front windows.
The favorite poster for years has been the "Sit by My Side" poster with the English text and a photo of the annual candlelight vigil at the Washington D.C. Monument. People everywhere just seem to love it.
It was impossible to put up all of the various sizes and designs of posters, as many other activities were waiting. Nevertheless, all the various posters were successfully distributed to shops, restaurants, and schools.
Along with the posters, flyers in more than thirty different languages were given to restaurants, shops, hotels, and travel agencies, and handed out during displays and school visits. At a small restaurant where the two practitioners often ate, the owner himself, full of enthusiasm and big smiles, encouraged all of his customers to take the flyers. The box, specially made for the flyers, could hardly be kept filled, as so many people were taking the flyers. Many other locals were similarly helpful.
Displays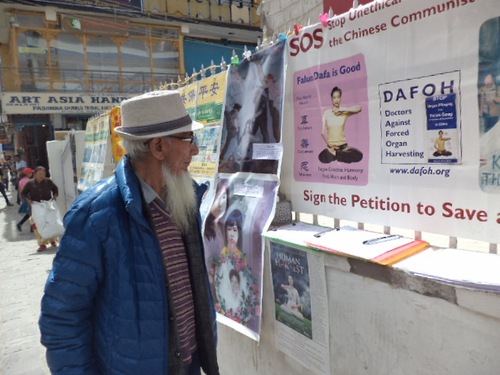 At a display on the Main Bazaar in Leh, an older man reads the posters.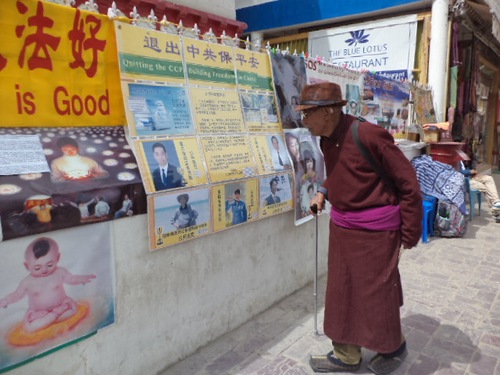 An older man in traditional Ladakhi dress passes by the Falun Dafa display at the Bazaar in Leh.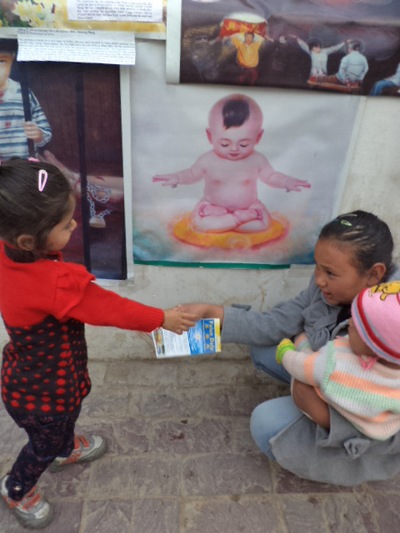 A girl holds a baby while sitting in front of a poster with a baby doing the Falun Dafa meditation exercise.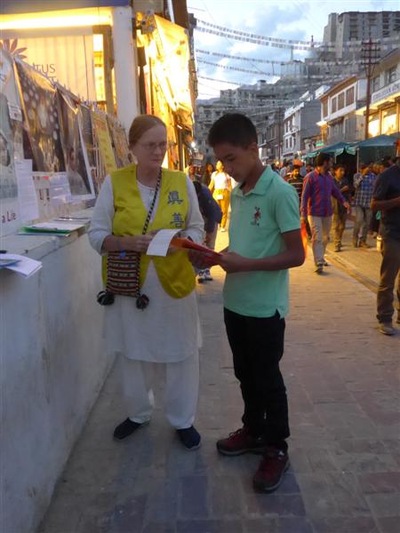 A young man learns about Falun Dafa at a display on the main street of Leh, with Leh Palace in the background.
At the Main Bazaar, which is the main street in Leh and the only pedestrian zone in town, displays were held on six Sundays, starting with the most important one around July 20 (the date in 1999 when the persecution of Falun Dafa started). This was quite an ordeal, due to the high altitude, intense heat, the many people stopping by, eager to understand, and most of the time with only a single practitioner being there on her own.
As in previous years, many school children passed by, as well as many locals and tourists from other parts of India and all over the world. Many children remembered that the practitioner had visited their school. Some sang "Falun Dafa Hao," and many people signed the petition by Doctors Against Forced Organ Harvesting (DAFOH) addressed to the UN, intended to help stop forced organ harvesting from prisoners of conscience in China.
Many people took flyers for their families and friends in far-away places. Most people looked very attentively at the posters for a long time, or came back again and again, especially the children, to read all of the content.
It was touching to see and hear how sometimes very young children explained to their parents what Falun Dafa is, including how Falun Dafa practitioners in China are persecuted, when they recognized the posters they had been shown in their schools.
A Tibetan shopkeeper passed by and said, with tears in his eyes, "I support everything you are doing. I have read everything you've given me for the past ten years. You are doing a very good job."
Outside of Leh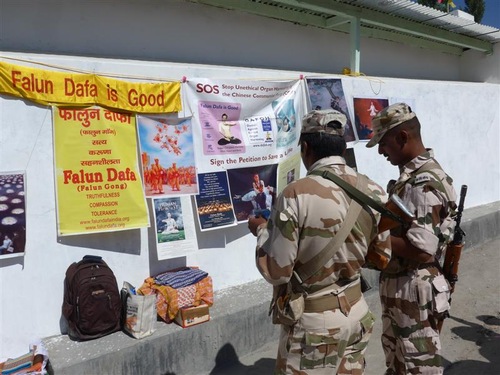 In front of a display in northern India, two Indian soldiers read information about the human rights violations in China.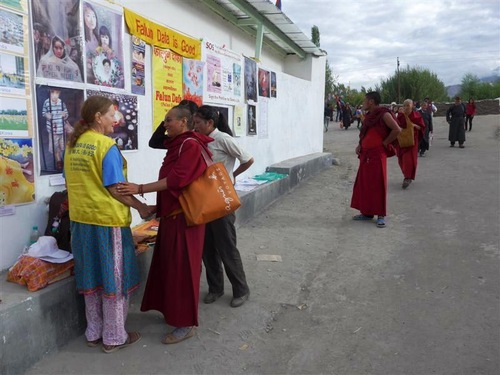 A Buddhist nun recognizes and greets a Falun Dafa practitioner.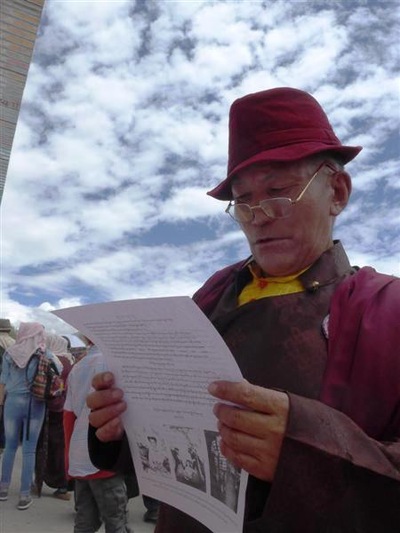 A Buddhist monk reads information about Falun Dafa, written in his language.
A special display was presented outside of Leh during a three-day Buddhist event, attended by thousands. The two practitioners assembled the display just outside one of the main entrances, near the main road. Well-organized lines of people continuously passed by, viewing the display and taking flyers.
This was completely unexpected for the practitioners and appeared like a perfect arrangement.
Here, too, the heat was intense, and much endurance was required, as the activities started at around 6:00 a.m. and continued non-stop until mid-afternoon. The people seemed to deeply appreciate the display and the flyers, written in their own language, which is considered sacred. This overwhelming response made it easier for the practitioners to bear the hardship.
A Tibetan lama stopped at the display on the second day. One of the practitioners mentioned the Tuidang movement (the worldwide movement that helps Chinese people quit the Chinese Communist Party), and said, "If China is free, then Tibet will be free." "And the whole world," the lama immediately added.
Continued in Part 2