India: While Ladakh Changes, People's Hearts for Falun Dafa Remain Strong (Part 2 of 3)
November 26, 2017 | By a practitioner in India and a practitioner in the United States
(Minghui.org) Continued from Part 1
People in Dha Learn about Falun Dafa
Dha and Hanu are part of a group of charming villages nestled along the steep banks of the Indus River, about 100 miles northwest of Leh and Ladakh, in northern India.
They are home to a tribal community called Drokpa, who are believed to be descendants of a lost Aryan tribe. The Drokpas have preserved their features and fair complexions, as well as their colorful dresses and spectacular headgear.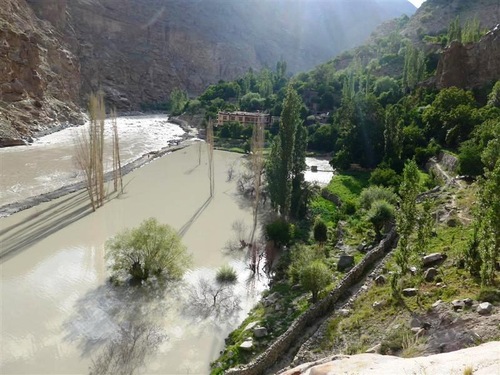 The Indus River floods the road and land near Beama Village, northern India.
The Drokpas are racially and culturally distinct from the rest of Ladakh. They have preserved their ancient traditions and way of life through celebrations of harvest and other festivals, songs, and hymns.
This area, too, has been affected by the changes in Ladakh. Many people from Dha and Hanu now live and work in Leh and send their children to outside schools. Yet not many tourists seem to visit, and the area is still very natural, quiet, and unspoiled.
This was the first time that any Falun Dafa practitioners have come to this remote region.
The eight-hour-long journey by local bus, which was packed with locals, was quite eventful. The bus stopped before reaching its scheduled destination since the road was flooded. Carrying heavy luggage and exhausted from the bus ride, the two practitioners had to walk up and down rocky paths through orchards and across small streams back to the road, where they were picked up by the son of the guesthouse owner.
After a few miles, they began walking uphill for a final twenty minutes to reach the guesthouse, which is peacefully situated among grapevines and apricot trees.
By the end of their stay, another part of the road was completely washed away by a massive landslide.
Dha Children Learn Falun Dafa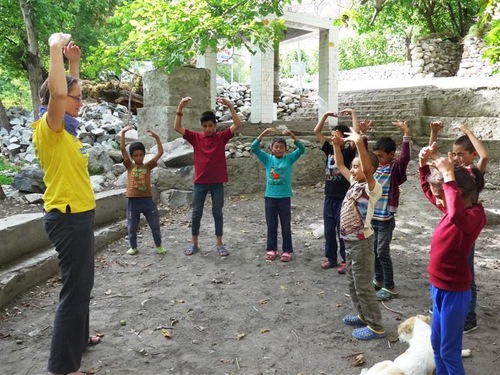 Children learn the second of the five Falun Dafa exercises.
Dha has an outdoor meeting place for the villagers, which is situated around two big trees. It was here that they practiced the Falun Dafa exercises twice daily. A girl, whose father was known before by one of the practitioners, spread the word around, and thus children of all ages came to learn the Falun Dafa exercises. The girl who is in class 12 now, had previously practiced Falun Dafa in a hostel in Leh.
On the first day of the practitioners' stay, more than twenty children came to hear about and learn Falun Dafa. It was rainy and the exercises were practiced in the village's small temple.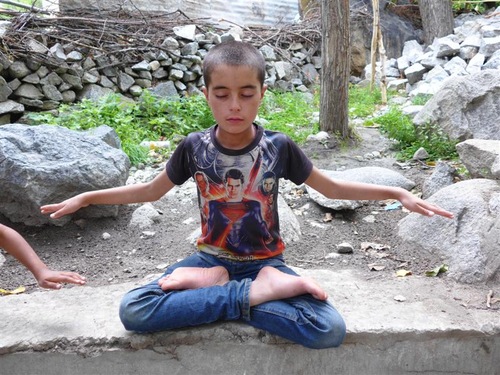 A boy practices the fifth Falun Dafa exercise.
Four Drokpa girls practice the Falun Dafa meditation.
The next day, the practitioners went to the meeting place under the big trees at 6:00 a.m. and they were impressed that four children showed up, while in the afternoon at least ten children came. Some children came earlier, wanting to help put up posters and the Falun Dafa banner.
Many children were readily able to sit with their legs double-crossed in meditation, and when they closed their eyes it seemed as if they had been familiar with the practice for a long time.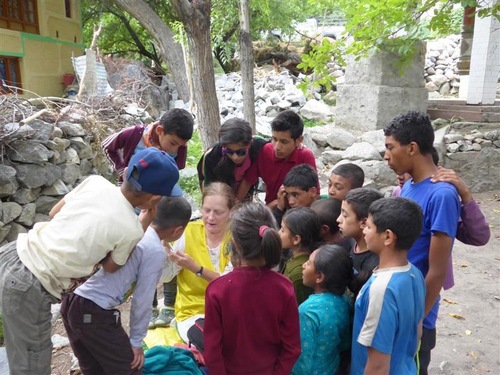 A Falun Dafa practitioner shows short videos on her iPad to children in Dha village.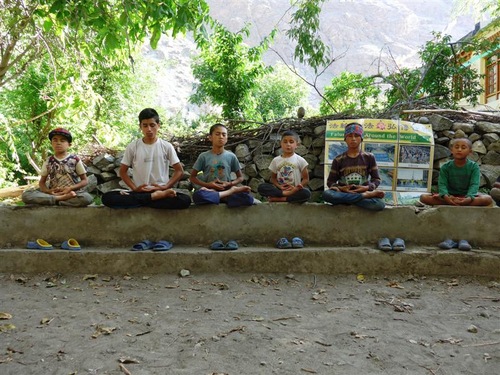 Boys practice the fifth Falun Dafa exercise.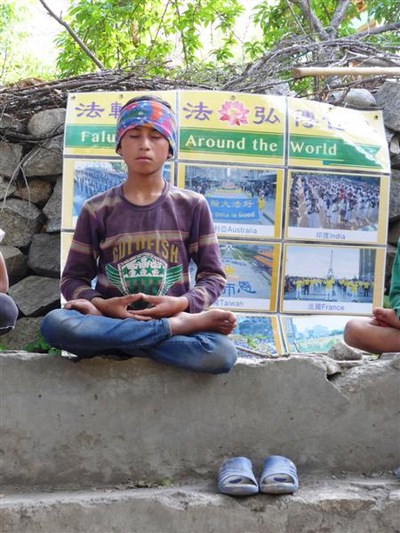 A boy practices the fifth Falun Dafa exercise in front of a poster showing people around the world practicing Falun Dafa.
In the end, all the children were given a bookmark, a lotus flower, and two balloons. Falun Dafa informational materials were also left at the guesthouse.
The lotus flowers were particularly welcomed by the village women with their headgear traditionally containing flowers. One woman hung the lotus flower she had been given around one ear, and requested a second flower for her other ear!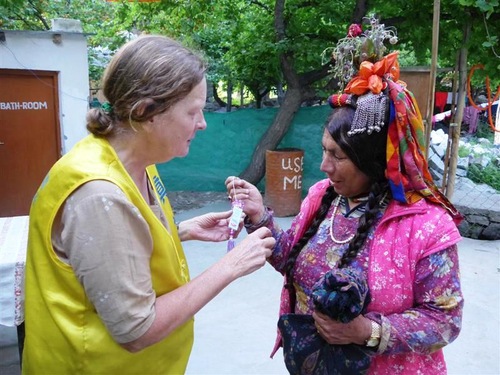 A lady with the traditional flower headgear obtains a Falun Dafa lotus flower.
Loads of Materials
This year around 330 pounds of materials was sent by cargo to Ladakh. More flyers were sent later, and many more materials were printed and photocopied in Leh itself. The small room where the practitioner stayed was filled with cardboard boxes containing all these various materials, including posters, banners, bookmarks, etc.
It took much painstaking effort to carry these materials around and distribute them, especially as in Leh, as there are no city buses or rickshaws running, only taxis, which have become very expensive. Only a few places outside of Leh can be reached by bus, and few other transport options are available, unlike most other parts of India.
Sometimes when seeing all the boxes in her room getting emptier, then filling up again, the practitioner wondered how to "empty" them, as there was no way to take them back. It was indeed a miracle that all the boxes were totally empty by the time the practitioner left Ladakh, and the empty boxes filled more than half of her room.
All of the more than 2,000 balloons, reading "The World Needs Truthfulness, Compassion, and Tolerance," were also distributed. They were flown from a monastery near Leh by monks and one of the practitioners, and given to teachers, schools, even VIPs, and others.
The many lotus flowers, made of paper and plastic by practitioners in Taiwan, were also all distributed.
The need for so many materials was due to the fact that the Internet in Ladakh is expensive, slow, oftentimes not working, or—in far-away places—not available at all. People in Ladakh thus depend more on actual flyers, books, and DVDs than people in other parts of the world. And they genuinely treasure the materials.
The burden of carrying loads of materials was also made out of respect for those who helped provide them. The materials came from the United States, other countries, and various places in India, including South India. Some were collected from all over New York, which required much running around, payment of extra luggage fees at airports, and carrying of heavy loads.
The "final" packing in Varanasi's intense summer heat, before heading to Ladakh, was also very challenging. Every year, traveling to Ladakh with all these materials is tough, and every year the practitioner decides "this is the last time," yet the following year the same story starts all over. She keeps recalling other practitioners' advice "better to suffer than to regret" and "continue this work."
We are providing this report to report how, despite the changes happening in Ladakh, people still have their hearts open for Falun Dafa.
We would also like to tell all of the practitioners who contributed various materials with trust and goodwill, hoping and knowing that they would be given to people in remote areas of India, that the materials were delivered. On behalf of all who have received and passed on these materials, a heartfelt thanks to everyone involved!
Continued in Part 3