From London to Lima: Introducing Falun Dafa to Students in the UK and Peru
October 09, 2017 | By Minghui correspondents in the United Kingdom and Peru
(Minghui.org) As the new semester starts, students in different corners of the world had the opportunity to to learn about Falun Dafa, an ancient meditation practice from China. At Kingston University in London, practitioners introduced Dafa during an on-campus event on September 21-22, 2017. And across the globe, practitioners were invited to introduce the practice to high school classes in Lima, Peru.
Kingston University, London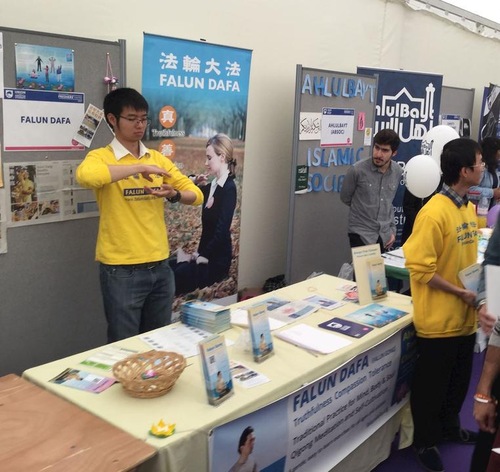 Practitioners introduced Falun Dafa during new student orientation at Kingston University.
More than 100 student organizations attended the new semester orientation at Kingston University on September 21. Four students from the Falun Dafa Society, a campus organization, introduced the practice. They shared Falun Dafa's principles of Truthfulness-Compassion-Forbearance, and the physical and spiritual benefits that practitioners have experienced. Many students also appreciated the beautiful hand-made paper lotus flowers that practitioners offered them.
One practitioner said that he met several students from China during the event, some of whom had been misled by the defamatory propaganda from the communist party. "I told them the facts of Falun Dafa and my own personal experience. Many of them changed their attitude about the practice and took pictures of us," said the practitioner.
The Falun Dafa Society holds weekly sessions where this traditional meditation system is taught free of charge. Within two days of the new student orientation event, more than 200 students signed up for these sessions.
IE Teresa Gonzalez de Fanning, Lima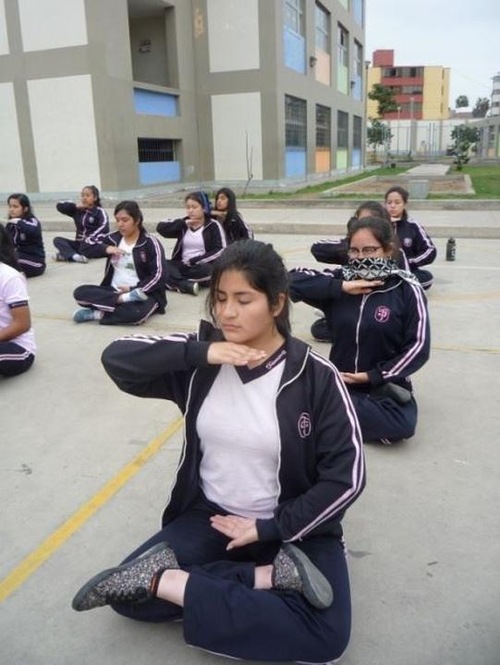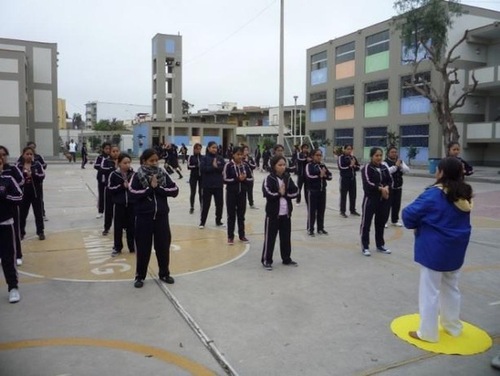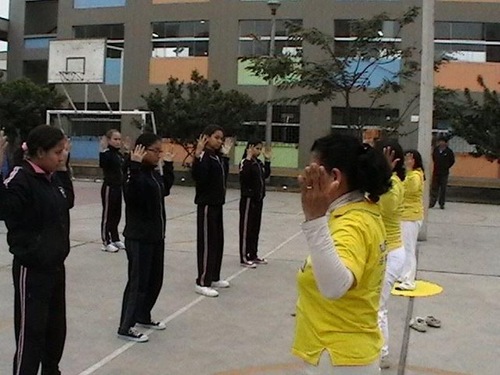 About 180 students from IE Teresa Gonzalez de Fanning in Lima, Peru leaned about Falun Dafa between September 4-22, 2017.
Several Peruvian practitioners went to IE Teresa Gonzalez de Fanning between September 4-22, to teach Falun Dafa in classrooms. About 180 students in 9 classes learned the exercises.
The IE Teresa Gonzalez de Fanning is a national women's college located in Lima, the capital of Peru. Physical education teacher Pablo Cullanco once saw practitioners meditating as he walked past Campo de Marte, a nearby park. He talked with practitioners about the gentle exercises, and was impressed by the principles of Truthfulness-Compassion-Forbearance on the pamphlet that he received.
Pablo asked practitioners if they could come teach the exercises at his school. He then contacted the college administration and arranged for practitioners to introduce this self-improvement system in his physical education classes.
Attracted by the beautiful music and graceful exercise movements, teachers and students in other classes were also very interested in learning Falun Dafa. To meet the interest, the school administration formally invited practitioners to teach the exercises to all 1,500 students at the college in November.