New Year, New Beginning
January 04, 2017 | By Fei Ming
(Minghui.org) As 2016 becomes history, there are many things we can reflect on. The 12,200 greetings published on Minghui between December 29, 2016 and the first day of 2017, in particular, offer a unique perspective of what we have been through and where we are heading.
Coming from various parts of the globe such as North America, Europe, Australia, and Asia, these greetings highlighted the benefits Falun Dafa practitioners have received to their physical health and moral character. For example, one article contained greetings from 28 countries while another one included greetings from 22 provinces, four municipalities, and five autonomous regions throughout China.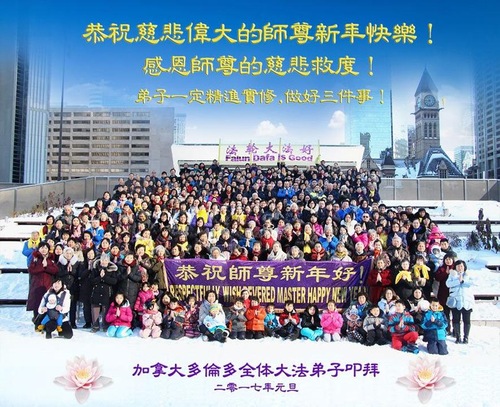 Toronto practitioners wish Master Li a Happy New Year
Testimonies from All Walks of Life
Although submitted by individual practitioners, these greetings represent all sorts of families, Fa-study groups, and communities. Among tens of millions of Falun Dafa practitioners in China, there might be more who would send their greetings, but were unable to do so because of the internet blockade.
Even from these published greetings, we can get a glimpse of the impact of the peaceful practice. One article consists of practitioners from nearly 30 industries who sent their best regards to Mr. Li Hongzhi, founder of Falun Dafa, to express their gratitude and wish him a Happy New Year. Among them was a practitioner who works as an executive in a foreign company in Shanghai. He is very thankful because Falun Dafa gave him good health and uplifted his mind.
"I have benefited so much in Falun Dafa and it is beyond description," wrote this practitioner. Despite the persecution in China, he said he will uphold his belief and adhere to the principles of Truthfulness-Compassion-Forbearance.
These 12,200 greetings serve as testimonies to confirm the positive changes Falun Dafa has brought to practitioners. They also prove the 17-year-long ban in China is groundless, let alone that a large number of practitioners have suffered severely for their belief including arrest, detention, imprisonment, torture, and even forced organ harvesting.
Blessings to the Entire Society
Since being introduced to the public in May 1992, Falun Dafa attracted a large number of practitioners in a short time. By the time it was banned in 1999 by Jiang Zemin, former Chinese leader, about 100 million were estimated to be practicing it in China.
Contrary to what Jiang and his followers had anticipated, the peaceful and apolitical nature of Falun Dafa not only enabled it to withstand the harsh persecution, the clear contrast between good and evil also pushed Falun Dafa into the spotlight on the world's stage. Now, 18 years after Falun Dafa was banned in China, the teachings have now been translated into dozens of languages and is practiced in more than 100 nations.
Furthermore, these positive changes are not limited to practitioners. As many people in China learn the facts about Falun Dafa and break away from defamatory propaganda of the Communist Party, they have also received blessings, both physically and spiritually, for taking a righteous stance. For example, an elderly man developed a severe bone spur problem in 2008 and was afraid of a recommended surgery. He followed his wife's advice and began to recite "Falun Dafa is good." Before he knew it, his symptoms were gone. He is now as strong as a young man.
An Opportunity for Everyone
As more practitioners keep telling people about Falun Dafa, based on their own experiences, many officers in the justice system in China began to take a fresh look after a decade-long propaganda campaign from the communist regime. When a Chongqing resident recently appeared in court for the second time to face charges of "using a cult to undermine law enforcement," a standard pretext used by the Chinese communist regime against practitioners, his attorney provided a strong defense making the prosecutor acknowledge that practicing Falun Dafa is indeed lawful.
Once free of prejudices and following our conscience, it is not difficult for us to find out the real story of Falun Dafa. As a new practitioner from the Shandong Steel Company in Laiwu City wrote in his greetings, "I was very fortunate to come across Falun Dafa when I was at a low point in my life. Now I know that Falun Dafa goes beyond this world, and is something more far-reaching. In fact, it's the best thing in the universe!"
History comes and goes, but justice will eventually prevail. The New Year, is a new beginning for every one of us.